The Final Day is now the finest day of the Cup Carnival with three Group Ones worthy of the tag.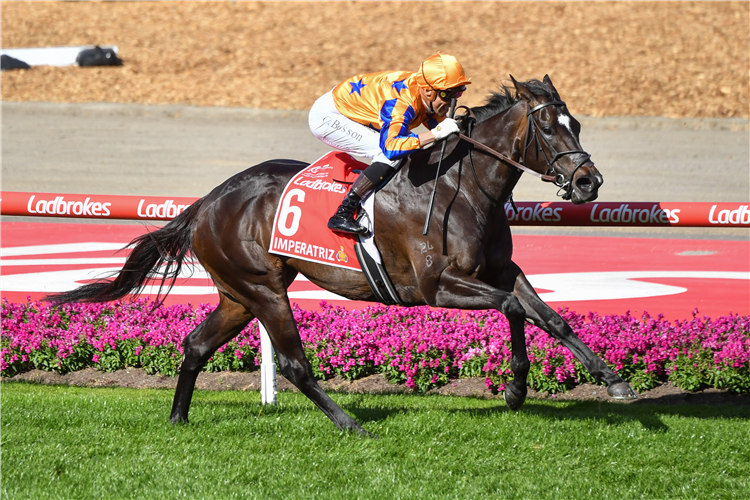 One of the stories of the Melbourne Spring Carnival to date has been the quality of the winners.
A look at the open Group One winners from this spring highlights the point - Without A Fight, Romantic Warrior, Mr Brightside, Gold Trip, Imperatriz, Alligator Blood and Attrition. Not a soft name among them, all having run and won in fast times and spectacular fashion this spring.
There are three to go and hopefully nothing will change. Imperatriz goes as the headline act in the sprint. You know her form claims are strong when the general knock is that she has to prove that she is just as fast a couple of suburbs down the road.
Imperatriz has been fast from 5 f to 1 m and on going from heavy to fast. To attempt label her a specialist of any kind seems foolish.
She is the headline horse but the Mile is the headline race as Mr Brightside and Fangirl go again. The latter always in need of her slice of luck and the former as loveable as any horse in the land bar perhaps Alligator Blood, last year's winner, who also goes again.
Established stars like these are also established in markets and edges, if they exist, are bound to be fine.
The Champions Stakes lacks the same sort of talent at the top but a bit of form from here, there and everywhere makes for potentially more interesting betting.
West Wind Blows is about as reliable as they come and has placed in a Hardwick, an Eclipse, a Turnbull and a Caulfield Cup among other feats in 2023. He's a good favourite but well enough found.
Fellow blow-in Buckaroo is interesting enough at prices around $21 to be thrown up here as an each way play.
The King Charles was yet another top flight race won in fast time this spring and the way that it unfolded looked to do Buckaroo no favours.
Fangirl broke 94 seconds in a race where Buckaroo's wheels were spinning, home in 33.44 and that not quick enough to lay a glove on the primary players.
Buckaroo had come off a mile in Ireland that took a full 5.1 seconds longer to complete. A different test, and perhaps one more in line with what he will face on Saturday.
2000m at Flemington should give Buckaroo a chance to find his feet and his flow. When he does he is smart and, more importantly, he is unexposed - steadily brought along this year and always shaping as though there was more to come. He's good enough to be around the mark already and if there is a bigger shot in the locker he can turn around the mark into the winning mark.
Buckaroo was sent out 3/1 in the Irish Guineas in 2022, such was the regard in which he was held, but he failed to run his race (unseen for over 300 days thereafter) and finished sixth, a place behind an improver by the name of Duke De Sessa. 18 months on and they both find themselves at Flemington.
Duke De Sessa has shaped well in front of a very high bar in all four runs in Austraila so far. The Doncaster, Memsie, Turnbull and Caulfield Cup have all been beyond him, particularly having settled a long way back in all, but he has finished with enough purpose to think that he is as good now as he has ever been and that his promising profile is one that he can build on.
Now he is given his chance. He may not have to improve an inch but there is every chance that he does as he should surely settle closer this time. A low draw helps on that front and a field of slower rivals helps even more.
4/1 is a bet on known form and we have the unknown up our sleeve.
THE MELBOURNE MAIL
Bet Of The Day: Race 4 #2 Duke De Sessa @ $5.00 with bet365*
Each Way Play: Race 8 #7 Buckaroo @ $21.00 with bet365*
*Prices correct as of 3:35pm AEST 9/11
bet365 also have these additional offers and boosts for Champions Day.
bet365's 25% winnings Boost token race this Saturday will be the Champions Stakes (Race 8 Flemington)
Jockey Mega Boost: Jamie Kah to ride 1+ winners at Flemington (Saturday) – was $1.57 boosted to $2.40 (boost prices available from 10am Saturday – prices subject to change/singles only/max stakes apply/eligible customers only)
Horse Mega Boost: Race 2 – Parisal to finish in the Top 2 – was $2.00 boosted to $3.40 (boost prices available from 10am Saturday – prices subject to change/singles only/max stakes apply/eligible customers only)
Horse Mega Boost: Race 3 - Schwarz to Win – was $2.90 boosted to $4.00 (boost prices available 1 hour before the race – prices subject to change/singles only/max stakes apply/eligible customers only)
Horse Mega Boost: Race 6 - Imperatriz to Win – was $2.00 boosted to $2.60 (boost prices available 1 hour before the race – prices subject to change/singles only/max stakes apply/eligible customers only)