Handicapper, hearthrob, and Coongy enthusiast Adam Blencowe runs the rule over the runners for the 2023 Coongy Cup.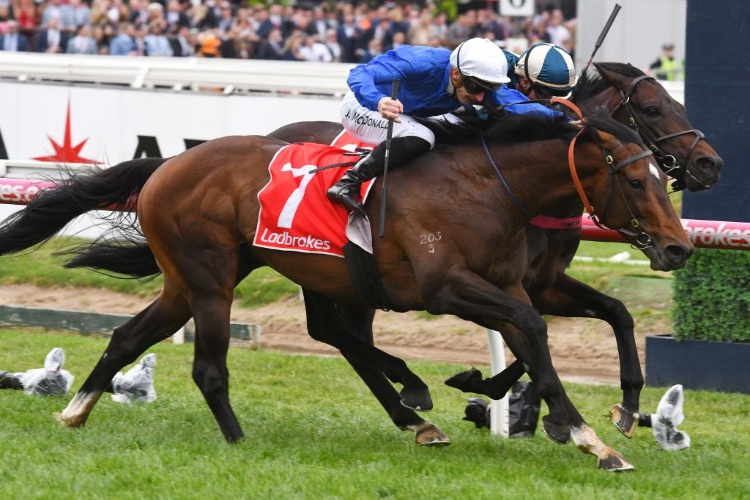 Diamil
At the start of any new season, sharp stables will identify key runners for the majors; a Cups horse, an Everest horse, a Coongy horse. Few have identified them with the same ruthless efficiency of John O'Shea who has sent three runners to the Coongy and walked away with two winners – Lightinthenite and Contributer. The loser, It's Somewhat, finished third and used that Coongy platform to win the Doncaster two starts later. Such is the power of Coongy form.
O'Shea's two winners have come at 2.27x the expectation of the cunning marketplace. Remarkably (we are talking about three runners so remarkable could be replaced with meaningless, but we can let that slide for now…) that is even sharper than the record of Epsom (aka the Sydney Coongy Trial) runners in the Coongy - the Epsom has produced five Coongy winners this century at a hair better than twice the rate of market expectation.
Horses off the Epsom have won the Coongy at 4.27x the rate of chance and have beaten home 16.7% more runners at Caulfield than they did in the prep run at Randwick - O'Shea's Lightinthenite one of the five winners that used the Epsom as a platform to Coongy glory.
Diamil looks another sharp bit of Coongy placement for the yard. Twice in his career he has switched up in trip to 1 1⁄4 m, improving seven and eight pounds in those runs to land a pair of Group Threes. Neither as illustrious as the Coongy, of course, but the seeds have been sown.
Kukeracha
It may not have had the success that the Epsom has had, but the Queensland Derby (the Coongy Trial of the North) has a strong relationship with the great race having provided 18 runners this century. Reclaim won it in 2004, and Shocking famously rattled the crossbar in both before dropping in class to win the Melbourne Cup in 2009, but the two Derby winners that have fronted here have had to settle for seventh and 13th.
The last Queensland Derby runner to turn up here was Paternal, for Chris Waller. He hit the race third looking likely to improve, until we noticed while writing this very piece for last year: "Third up is the spot for him to peak and it feels smack bang in the middle of the Waller zone – or is it? Third up at 1 1⁄4 m over the past couple of years has returned the stable nine winners when a bit more was expected by the market. Filter that to just Group races, the target races, that will show it Alas, just two winners at half the expected rate and they were back in March 2021."
Have things improved in 12 months? Two from 34 at 6% has returned 0.69 wins per expected win in the 12 months since. Paternal is now in Hong Kong under the name Rapid Rabbit. FWIW.
Ho Ho Kahn
There have been 24 horses run in the Coongy with a three-word name this century. Two winners – Mask Of Time and Best Of Days – came in the same year but the best performance came from 2006 runner up King Of Ashford who returned a rating of 113.
That is the same rating as Ho Ho Kahn's career best which came in the Australian Cup behind a Coongy champion in Duais. But that was in 2022 and, while there has been a flicker in his past two, settling in front of just five of 54 rivals since his return and drawing the outside makes last of 13 look his destiny on map.
Horses from 13th over the Caulfield 1 1⁄4 m win less than a quarter of the races that they would be random chance. It's just a terrible spot to be.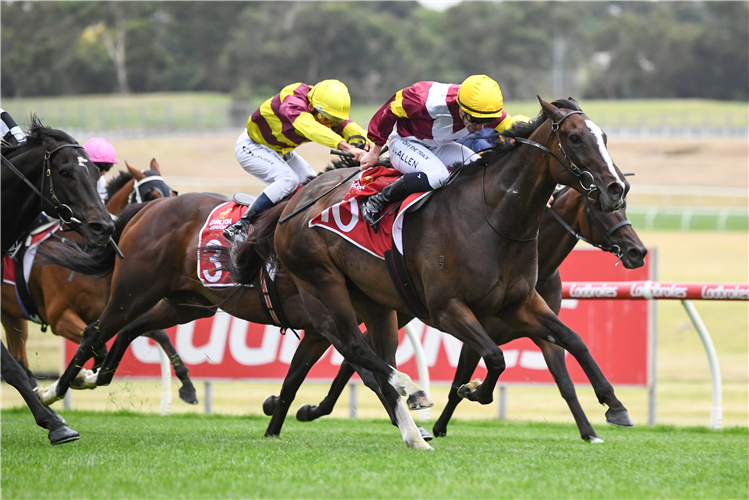 Steinem
The Peter Young and the Coongy have a strong relationship (Stratum Star and Foreteller the two to have done that double) but much of it flows one way - from Coongy to Young. Just eight have run in the Young prior to going to the Coongy this century with the great Baughurst the one winner – running second in the 2009 Peter Young in between his two Coongy triumphs.
Fifth in the first of those Baughurst triumphs was the lone Peter Young winner to contest the Coongy, Our Smoking Joe, though he was a few years longer in the tooth by the time he got there.
Steinem's win over Gold Trip is a compelling piece of form and one backed up by a rating in line with what is expected to win the 2023 Coongy. But what to make of two runs this spring?
Not much, would be the short answer. But the same could have been said at the same point of her spring campaign in 2022. Well held runs over 7 f and 1 m were quickly left behind when Steinem pitched up at 1 1⁄4 m, only a rampant Atishu able to round her up in the Matriarch where Steinem's rating was quickly labelled by some (me) as Coongy competitive.
She backed that up in the west. Of 14 horses to run in both the Coongy and Northerly Stakes this century, only one has finished better than Steinem's third placed effort in the west. That was Stratum Star – a Young-Coongy double winner no less.
Sir Lucan
Coming back in trip from the Bart Cummings to tackle the Coongy seems an unconventional path, but Gai Waterhouse has been laughing in the face of conventional wisdom for quite some time now. Gai entered the Australian Sporting Hall Of Fame in 2018 and celebrated by turning around and winning the Coongy with Wolfe who was coming back in trip from (you guessed the Bart Cummings. He is one of two winners from just four to try – the other is a (Coongy) hall-of-famer himself, Baughurst.
This year, Gai has been elevated to Legend status in the Australian Racing Hall of fame – her two Coongy winners surely playing a key role in getting that over the line – and she may just turn around and celebrate by winning the Coongy once again. I say 'may' as Wolfe hit the Coongy off a upward-trending 109 in the Bart Cummings whereas Sir Lucan arrives off a much more modest 102 - tiring all the way…
Earlswood
Won a pair of Curragh Coongys back in Ireland and added a third Group Three straight off the boat in the Carlyon Cup – an early Coongy qualifier of sorts – but he hasn't fired in the past 12 months, with no rating beyond 98 in six runs, and that doesn't appeal as the recipe to win the big one.
/p4/
Makram
Has spent 2023 scratching about for form, his fresh run this time in hinting that he still had something to offer, but two since have been fairly uneventful. His most recent win, last September, returned a rating bang on the 10-year winning average for the Coongy, so he's about good enough, and horses starting with the letter M have been tied for the most successful in the race (I got back to 1980 before the sense of futility really kicked in…)
Affaire A Suivre
It is the 40th anniversary of the last French-named winner of the Coongy (I Googled Duais, it's Irish) but they used to come along about every five years; La Mer, Jan's Beau (half French, half Ferntree Gully…) and Bon Filou all hitting the honour roll within two decades.
No one likes a restoration like the French and Affaire A Suivre will be out to restore their pride (sort of…) as the fifth Australasian Oaks winner to have a go here. She does so with a rating shy of three of the other four, her 103 a pound ahead of last year's eighth, Media Award, who was rated 102. Tempest Morn ran to 108 in Adelaide before finishing third, Princess Jenni (107) finished seventh and Glint Of Silver (107) ran fourth.
The Summit
You get back to 1992 (or at least I did) before you find the name Hayes (there have been many iterations and I may have missed one?) on the Coongy honour roll. There have been 25 horses try for a version of Team Hayes since Fraar laid the foundations for his 1993 Caulfield Cup win in the Coongy of 1992 for no winners.
Those 25 runners have had an average finish position of sixth and landed six seconds. The Summit is currently sixth pick in the market for the 2023 Coongy. Which seems about right.
Arran Bay
I would make the case that Arran Bay is in career best form. But I would quickly counter that with the fact that he would want to be.
Arran Bay is a Finals Day winner, and that carries a lot of prestige, but this would be his finest moment by far enough that it seems unlikely and a few rolls of the board less likely than early prices suggest.
/p3/
Muramasa
Deep Impact has been one of the most influential sires in world racing over the past decade, with major prizes from across the racing world going to his progeny. One trophy he is yet to land is the Cup awarded to the winner of the Coongy.
Deep Impact has only sired one Coongy contender, last year's fourth Glint Of Hope who ran for Trent Busuttin and Natalie Young; themselves Coongyless from just that one runner.
They clearly learned something from last year's race. The dominant winner, Gunstock, arrived with a career best rating from the past season's Caulfield Classic and second-up, 24 days on from a winning return over 1 m at Flemington.
"To know the road ahead, ask those coming back" is an ancient Chinese proverb that doesn't quite fit in with the Japanese-themed horse as well as I hoped when I loosely thought it sounded like Japanese rather than Chinese wisdom, but it works for the situation and it's certainly better than the tortured metaphor about Gunstock being followed by Muramasa which is a sword. That would have been awful.
Gregolimo
Much like Muramasa but a fraction worse, would be the quick read of both Gregolimo's Australian debut and his chance here. Like Muramasa, Gregolimo was first up at Flemington and ran really well, staying strongly after tracking a good pace. The third horse was the best closer and has since come out and won nicely.
That all reads well, but the good pace leaves that looking a very true result. Little weight swing or not, Muramasa was a bit better there and, on face value, seems every bit as likely now.
There is a bit more to the Gregolimo story, however, as he has ratings ahead of what he produced at Flemington, which gives us more reason to think that he will go on from and the marketplace showed its hand prior to that race. $12.50 to $4.60 in the last 30 minutes of trading on the exchanges was a move with meaning.
Foujita San
Not least but last is Foujita San, who has run nice splits from last at his latest couple - good enough to land him that prize last time but in far calmer waters.
Good splits are nice but it's never easy from last, and Foujita San may just find himself in a stirring duel with Ho Ho Kahn and Kukeracha to grab that horrible spot.
Given that, and the fact that he is also the last horse to be previewed by a quickly tiring previewer, his chance, interesting as it may is quickly glossed over here. Let's hope one of the ones that came up when we all had more energy wins the great race.