The September meet at Churchill Downs rolls on with another nine-race program this Wednesday, presenting some intriguing handicapping puzzles. I attempt to draw out some value and offer some winning wagers for five of those races below.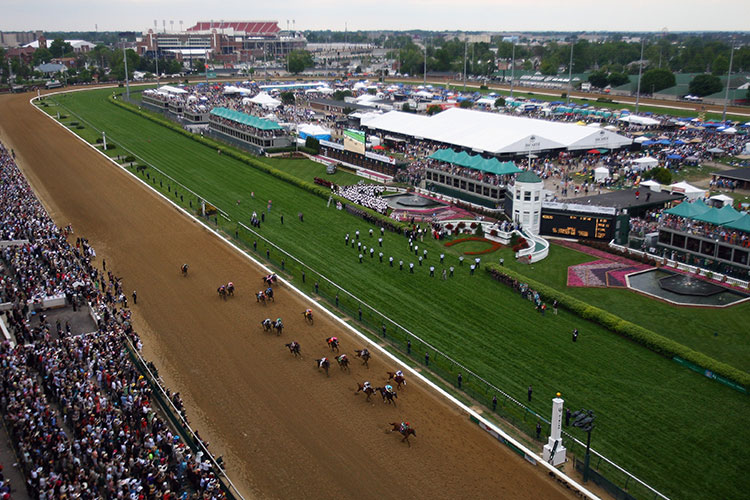 Best bet: Run Smitty Run (Race 1)
Best value bet: Blue Squall (Race 6)
Race 1
No. 4 Run Smitty Run (8-5, morning-line favorite) goes second off the claim for Robertino Diodoro, a 22 percent winner who's off to a solid 8: 2-0-4 start at the meet. He might have won but for a nine-wide trip last time out, and the speed figure he earned that day would crush these. Blinkers are added and hot-riding Cristian Torres, a 23 percent winner, takes over. 7 Bolt Above (3-1) may have moved too early into a fast pace when last seen, consider underneath. 2 Born Flawless (5-1) was just a length behind Bolt Above last time out and gets a five-pound weight break with Jamie Torres aboard.
How I'd bet it (based on a $100 budget): $14 exacta 4/7, $6 exacta 4/2
Race 2
No. 10 Jubilant Joanie (6-1) has drilled sharply for her first start since April and her initial dirt try. She should make an impact off the class drop. 2 Witch of November (4-1, morning-line favorite) has hit the board in each of her last two dirt sprints and lures 21-percent winning jockey Gerardo Corrales, so he is a logical alternative. 6 Storm Haven (8-1) and 7 I'm Beth Dutton (8-1) fit well with these and should be forwardly placed. Either or both could last for a share.
How I'd bet it: $6 exacta box 2/10, $2 exacta 2,10/6,7
Race 5
No. 1 On a Spree (5-2, morning-line favorite) looks for a fourth straight victory for his fourth different trainer going first off the Diodoro claim. He fits in quite nicely in this spot and is squarely the one to beat. 2 Moment (7-2), 4 Tiger Moon (3-1), and 6 Nordic Light (6-1) all rate a chance to hit the board based on their recent winning form. With Nordic Light being conditioned by 32 percent trainer Brad Cox as the longest shot of the three, there's value in playing the trifecta with this one in both of the lower rungs.
How I'd bet it: $3 trifecta 1/2,4,6/2,4,6
Race 6
No. 5 Blue Squall (10-1) is by $10,000 stallion Tapwrit but cost $300,000 at auction. The works are quite promising and Randy Morse fires at 16 percent with first-time starters. 6 Beautiful Mischief (5-1) is a half to $800,000 earner Engage with a solid worktab ahead of her unveiling, making her worth considering. 12 Silver Rose (9-2) is by red-hot stallion Constitution, an 18 percent winner with debut runners, and her morning drills have been strong. She also has the dynamite team of Corrales and Cox, 34 percent winners over the last 29 starts together, backing her.
How I'd bet it: $3 exacta box 5/6/12, $4 win 5
Race 9
No. 8 Red Sun Dress (10-1) could fly under the radar in the betting considering the modest purchase price ($18,000) and underrated trainer John Ortiz, who wins 14 percent of the time at first asking. The worktab is encouraging. 1 Tempting Lady (3-1, morning-line favorite) has an experience edge with two solidly-rated races. She goes first time out for Joe Sharp, who names 28-percent rider Tyler Gaffalione. 6 Cheyenne Moon (12-1) shows several bullet works ahead of her debut. The $40,000 son of Tonalist intrigues at this price.
How I'd bet it: $5 exacta box 1/8, $4 win 8, $3 exacta 1,8/6