It's about 3000km from Casterton in Victoria's west to Cairns, but Jenna Edwards feels right at home in Far North Queensland.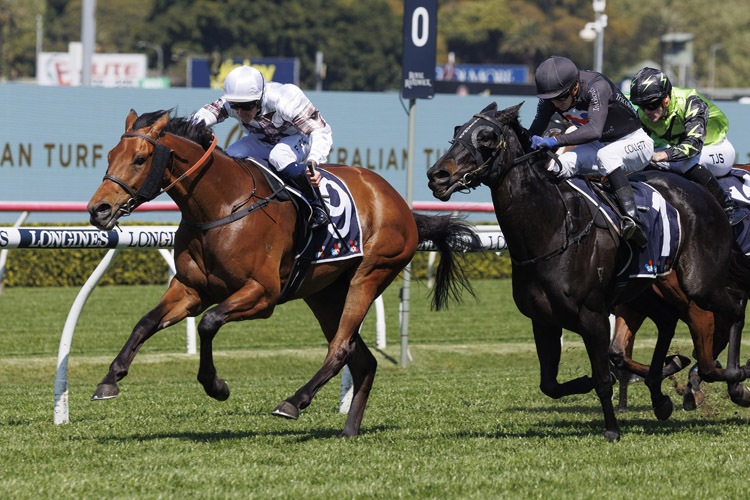 The apprentice jockey is on board with local trainers Rodney Miller and Scott Cooper at their Cannon Park stables, having made the move north with partner and fellow hoop Nathan Day.
It's not her first stint riding in the Sunshine State, after taking a break to return home to Casterton earlier this year.
Jenna Edwards was fresh off a third career Mount Isa double back in March but decided to head back to the tiny town near the Victoria-South Australia border for personal reasons.
"It would have been about June I was at my home with my family in Victoria," Edwards said.
"My mum's a trainer herself (Kaye Edwards) and she had some surgery and needed some help so I was down there, and as she was on the mend, I moved up here.
"To be honest it was my partner Nathan - he was coming up here and doing a lot of work for Stephen Massingham.
"There was a gap here and Rod sort of reached out that he had some work here for me and plenty of support.
"Nathan was already here and I came up and we said we'd give it a couple of weeks and see how it goes and so far, it's been terrific."
The 25-year-old has 16 career race wins to her name, one of which included a miraculous victory at Mount Isa on Mister Larrabee back in March, where the gelding missed the jump and mowed down the field from seven lengths back.
Edwards has a strong book of rides for Friday's meeting at Ewan for premier Cairns trainer Stephen Massingham.
She is thriving in the easy-going nature of racing in the tropics, something that could transform into a permanent move
"I haven't put a lot of thought into it - I love Queensland, absolutely love it and Cairns is looking very positive, I'm really enjoying it," Edwards said.
"When we arrived my first comment was the weather, definitely - the lifestyle that comes with it is second to none.
"You're obviously racing seven days in Victoria and there's big stables, big numbers.
"It's probably a lot more laid back up here, a bit more relaxed."
For trainer Rodney Miller, bringing the talented young hoop on board was a no-brainer after his former apprentice Scott Gittos stepped away from the industry.
"She's apprenticed to Scott Cooper, but she rides all my track work and she's a very good rider and a very good judge," Miller said.
"She's going really well and has got good comments when she comes in and she backs it up so she's a big help."
It's invaluable experience for Edwards, who appreciates the opportunity as she works towards obtaining her provincial license.
"Rodney's been super and I've had a lot of support since I've been here," Edwards said.
"He's really good - he lets me think for myself a lot and doesn't bombard me with instructions a lot but when he does say something it's worth listening to."
It's the influence of Day that has also helped Edwards gain confidence in the saddle.
She'll be the only one in the house riding for at least a little while after Day broke his arm during a trackwork fall earlier this month.
"He's broken his humerus just below his shoulder, he's in quite a lot of pain," Edwards said.
"He's just resting and he's going to be out for a little while, just day by day with him at the moment unfortunately.
"Nathan's a great help to me with my riding - career wise he's never had a problem helping me or when I go for advice or anything he's a brilliant help.
"He's a great mentor along with a beautiful partner, so yeah I suppose he's on mentoring duties for a little while."
As one career takes off, another one might be coming to an end.
After 53 years in the racing game, Miller is considering the possibility of hanging up the reins as a trainer and taking a well-earned break.
"I reckon another year will pull me up - if I have a holiday, I'll probably come back fresher with different feelings," Miller said.
"I want to spend time with my kids - one's in Tasmania and one's in Melbourne so I'd like to spend a bit of the time with them and see a bit of the country myself.
"I've been in the game since I was thirteen and I'm 68 now, so nearly time I think."
The former jockey says he's yet to broach the subject of retirement with the prominent Jorgensen family who own several of the horses he trains, including gun geldings Santa Marinella and Spirit Meister.
"I rode here for 20 years and I rode for Brian - he's a very good man, honest man and very reliable," Miller said.
"He's been a big help for me and when I come up here I rung him up and he said 'yeah I'll get you a couple of horses straight away,' but I've had a lot of luck over the years.
"Once I have a break and freshen I might have different thoughts so I'll just leave it for now."
While Miller says he wouldn't be lost to the industry entirely, he'd be looking forward to taking on a role where the alarm clock didn't go off quite so early.
"I won't miss the early starts but once it's in your blood you can't get out," Miller said.
"When I rode here and went back to Melbourne, I tried to give it away a couple of times but it's in your blood, you've just got to keep going with it.
"I'd try to stay involved and be a starter or something like that, keep me involved with the horses because this is your life and passion for them."