On the back of three straight victories on the country circuit, trainer Bonnie Thomson believes the rejuvenated Aura Gold deserves the chance to step up in class in Friday's Ewan Country Stampede qualifier.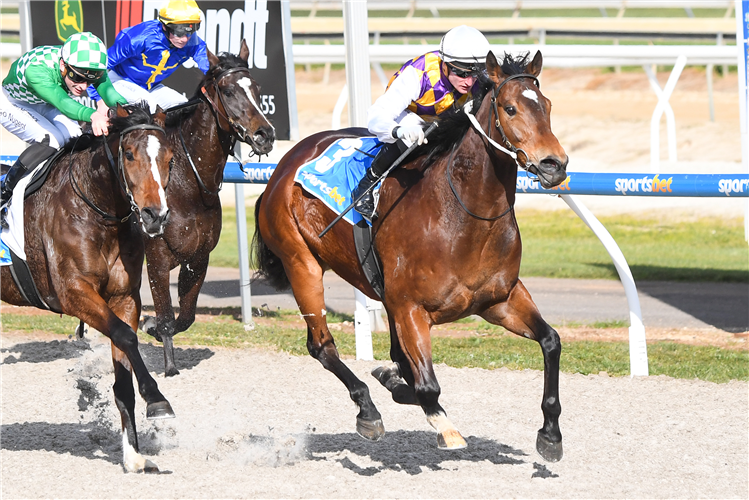 The lightly-raced mare has sprung to life since landing at Bonnie Thomson's Black River stables in North Queensland, winning three on the bounce.
The seven-year-old has only had 20 starts after making her first race day appearance in August of 2021.
The 45-year-old trainer thinks Aura Gold is ready for an opportunity against the seasoned Open class gallopers following wins at Corfield, Prairie and Mareeba in recent months.
The daughter of Reward For Effort is only a Class 4 horse in an Open Handicap over 5 f but Thomson is looking forward to seeing how the in-form mare performs.
"It is a big step up for her but you have to have a go," she said.
"You are not going to know the ability of the horse until you keep stepping up in grade to find out how good they are.
"The owners want to have a crack at this race and she is going good.
"The owners want to go to the Country Stampede Final if we were to qualify so we will have a crack at it if we can."
The Country Stampede qualifier at Ewan on Friday is the first of 16 heats to be conducted across the state ahead of the Country Stampede Final over 5 1⁄2 f at Doomben on December 2.
Aura Gold is dual nominated for the two-day Ewan meeting, also entered for the QTIS Class 5 Handicap over 5 f on Saturday.
Thomson's preference is to race on Friday – which is a TAB meeting – if the mare can sneak into the field, which she looks likely to do so.
The first Country Stampede heat of the year over 5 f has attracted 11 nominations on the seven-race program which also includes the Ewan Cup, a Benchmark 70 race over 1750 metres.
The first day of the popular Ewan carnival will be broadcast as a TAB meeting before Saturday reverts back to a non-TAB program.
Thomson is set to take a team of four north to Ewan for the weekend races.
Aura Gold raced for three different trainers in Victoria, New South Wales and Queensland before she arrived in Townsville with Thomson.
The three previous trainers could only manage one victory between them and Thomson has picked up three in succession.
Thomson is dual licensed as a trainer and a jockey but a fall at Mackay earlier this year has put her on the sidelines from being in the saddle.
Thomson can still train her small team out of Townsville but has called upon apprentice jockey Rebecca Wilson, among others, to ride her track work.
Wilson and Thomson have found the formula to get the best out of Aura Gold.
"When we first got her, we were told that we could not work her on the track and she had to be worked at the beach," Thomson said.
"We were told that she pulls and you could not do anything with her.
"And, me being we went against all that and took her to the track.
"We like a challenge and it paid off well, Bec Wilson is the only one that has been on her and she has done an exceptional job with the horse.
"She gets on the bit still and is a strong mare but with a few gear changes and that – we added ear muffs to her – to chill her out and she is quite good to work at the track now."
Aura Gold has led throughout and won in her last two race starts and Thomson was taken with her performance at Mareeba earlier this month where she scored in Benchmark 60 grade.
"Her last win was probably her toughest, having to step up in class," she said.
"That was a race against good strong horses that have been racing around the provincials here.
"She has been pulling up good and doing it pretty easy in her runs, so you cannot really fault her."
The Ewan Amateur Turf Club over the last decade have transitioned from being a picnic grass fed meeting into a professional meeting.
In the middle of 2015 after almost 100 years of grass fed racing, Ewan officials made the difficult decision, after serious deliberation, to run a corn fed non-TAB meeting from that year forward, which has since been elevated to a TAB day.