The Group One racing season in Melbourne kicks off in the same way the Group One racing season kicked off in Sydney; with a strong Group Two.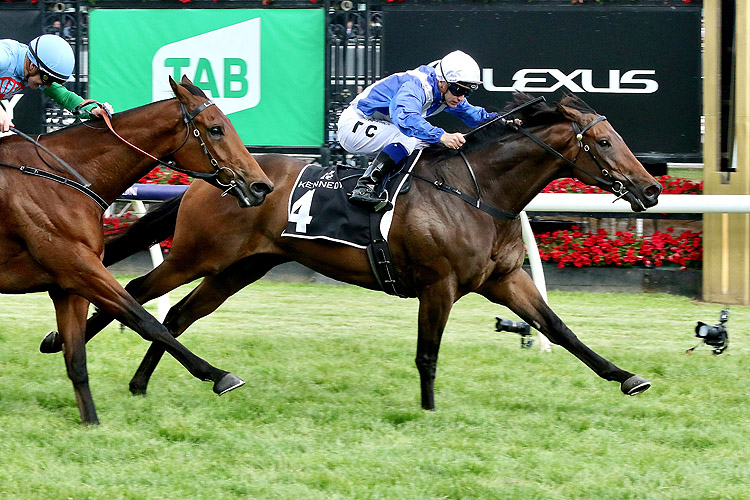 The Memsie is a terrific race, boasting a trio of bona fide Group One horses - Mr Brightside, I Wish I Win and Alligator Blood. But it is not a destination, and the game for punters is not predicting new, top-class peaks but rather figuring out how far from those top-class peaks the heavy hitters will land.
This is perhaps untrue of Mr Brightside, already back winning the Lawrence with a performance that could be described as at or near his best, and that they rolled along there and he coped with a good pace and ran a warm time can be a bonus for him against those resuming in the Memsie.
He trails Alligator Blood 4-3 head-to-head and while that is very much a simplification of things it does speak to a simple truth - there ain't a lot between them.
Mr Brightside is fit. Alligator Blood will go forward. They have their positives. I Wish I Win's positive is that his peak performance, winning the TJ Smith when last seen, was outstanding and better than anything that other pair have ever produced.
Ranked by peak performance he is one of the best sprinters to race in Australia post Black Caviar - and he might just be a miler!
And there's the catch. I Wish I Win raced 36 horses last campaign and didn't settle in front of a single one of them in the run. When they came back to him he stayed powerfully over the top and posted world-class form but from barrier one, with the mountain race meaning that he stays sprinting for now, he runs the risk of getting into a sticky spot if he lets it all unfold ahead of him.
He ran big splits over 5 f first up in the Lightning and he was awesome winning over the Caulfield1400m on debut for this stable, he could do if set the task, but the Memsie is not his destination - he has not been set this task and seems more likely to be set a task...


The Memsie bubble graph above - which you can also see here - shows the top-heavy nature of the ratings and hints at the consistency of Mr Brightside making him an appealing bet, but the power of two underneath him steadies that view a bit in the eyes of the Melbourne Mail and the race is passed over for 'best' purposes.
Magic Time is well fancied (too well fancied I'd guess) in the early betting for The Heath and she was the only horse to beat home Parisal in a four-run autumn prep where she improved from a Racing and Sports Rating of 87 through to 106.That she was able to return to winning ways with an even better effort in the Toy Show gives her a good platform for a Cockram in which those with higher peaks have questions to answer.
Those with higher peaks are C'est Magique, courtesty of her outstanding Coolmore effort last spring but at 40-1 and some 308 days ago now, and Benedetta, who has a similar profile to Parisal being already back a winner but with a higher career best rating from last campaign.
Given that, claiming Benedetta the rightful favourite is an angle with merit. But what of her return? Just a win would be the throwaway line. She did more than scramble in but others were finishing with more vigor and the time was nice rather than better than nice.
It was just a start with bundles of improvement to come. Few would have been expecting her to be at the level of her big summer peak but she was well off it and the form behind her has confirmed as much - six have stepped out from behind and all gone the wrong way.
It's soft enough to leave Parisal's winning return (not perfect by all measures itself mind) look an attractive place to land the pin - and so that is where we stick it.
It is another soft-looking return that opens the door for our each-way play in the McNeil.
Blue Diamond-winner Little Brose was a little on the nose (see what I have done there?) in the Vain and it is easy for the eye to wander down the page upon seeing that. The first stop, Barber, has his peak rating alongside Little Brose - keep rolling...
At the bottom we find Legacies, an appealing profile with a big winning rating last time that carries some statstical and historical heft, but she might be one for next time but a couple up from her, at stop number nine, we find Heman unwanted and perhaps largely unknown but with a profile and a platform.
A debut win was nothing of note but he quickly improved up to Brisbane next time, sticking on in a well-run race around horses who had better grounding than him. The time there was good and the formlines solid.
A McNeil won't be won with the same, so he will need to have gone the right way since, but that he fronts up here is a push and that he does so just 84 days on from Brisbane is ideal. Racing in Brisbane in the winter is an advantage.
Sharpening skills while others stand in cold paddocks simply has to For all of the plaudits for patience, practice beats it. Heman can be better for having had it and there looks a nice chance that Heman can become master of the Mcneil.
THE MELBOURNE MAIL
Bet Of The Day: Race 7 #2 Parisal @ $3.50 with bet365
Each Way Play: Race 5 #9 Heman @ $21.00 with bet365
Prices correct as of 1:00pm AEST 31/08