Trainer and jockey quotes following the Group 1 EVA Air Kingsford Smith Cup won by Think About It at Eagle Farm on Saturday.
Race Result:
1st: Think About It (Sam Clipperton/Joe Pride) - $5.50
2nd: Converge (Tim Clark/Gai Waterhouse & Adrian Bott) - $14
3rd: Rothfire (Blake Shinn/Robert Heathcote) - $7
Winning Time: 1:16.11 Last 600m: 34.66
Margins: ¾L x Short Neck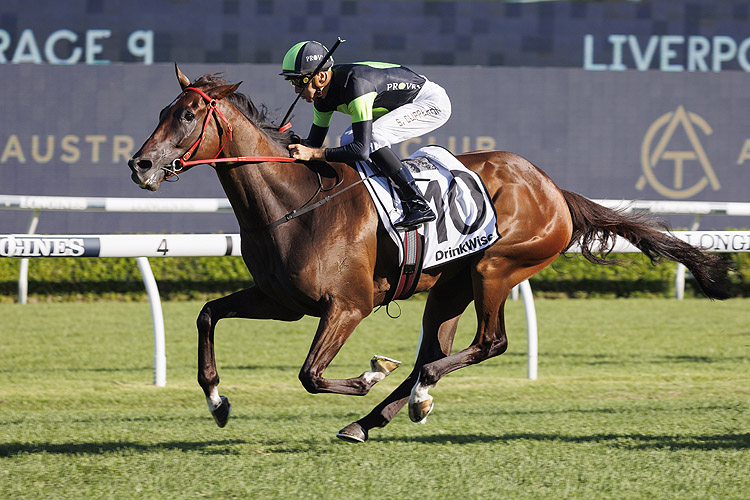 Winning Trainer: Joe Pride
"It's hard watching a race like that because I had Eduardo fading out at the end and sort of mixed emotions. But we will let the dust settle and see how he pulls But this horse here is just going from strength to strength.
"I wasn't surprised with his pre-race behavior but he has travelled up well and been really good here at the races but just the last few minutes he got a bit excited.
"But wow what a performance. He sat three deep. He got a bit of cover but he was exposed and had to get past a proper horse in Rothfire. He took care of that and he was strong through the line. You'd think 7 f will be no problems for him in a couple of weeks time.
"Somewhere in that field you probably have (seen the Stradbroke winner) and let's hope it's Think About It was a dynamic performance and he will only improve, he was three weeks between runs, and he is not going to take a backwards step from there. As long as he pulls up well we will get him home to Warwick Farm, his favourite training destination, and bring him back up here in a couple of weeks time.
"His second dam is actually a Zabeel mare and just the whole way through I sort of thought he would get over ground but he's a bit explosive to do that isn't It's sort of hard to believe that a horse like this would run beyond a mile, you'd think he would run a mile, and there will be opportunities for that down the track."
"They are easy to place good horses. They make us look like we are doing a really good job. And the team has done a good job with this horse. Justin who rides him at home has done a marvellous job. The whole team deserve a big thanks. It is so exciting to have a horse like this ripping through the grades.
Winning Jockey: Sam Clipperton
"He's the sort of horse that we get out of bed for. I'm a bit speechless. He potentially could do wonders for my career, and I've just won a Group One on him so he has already done wonders for my career, but he's just got so much untapped ability."
Towards the Stradbroke: "He drops five kilos, I think he gets 54 in the Stradbroke. Not often Group One weight-for-age races are used as progression to a handicap and he's just ticked off a big Group One weight-for-age race with plenty of old, hard-headed, weight-for-age horses in that field."
"You see him in the yard and you just think my god what a mess but he never sweats that's just him, he's just a big wrecking ball ready to let the shackles off - that's the best way I can describe him. As much as he does that he always just keeps a lid on things in terms of sweating He never sweats he's just a big bull ready to have the shackles unleashed."
"I can't thank Proven Thoroughbreds and Jamie Walter enough. I have ridden for Jamie since I was 38kgs claiming four. And Joe Pride as well. He has been a great supporter of mine and just places his horses magnificently through the grades. This was his acid test today and he has delivered in spades."
Beaten Jockeys:
Nash Rawiller (Eduardo): "Nothing stood out. He's a horse that has been so good to He has put his heart and soul into it twenty runs of his career. Although physically I can't fault him it is like his heart is just not as strong as it used to be."
Mark Zahra (A Case Of You): "I think he felt the firm track. Got a bit keen in parts but didn't hit the line."
Ben Melham (Paulele): "The plan was to switch him off from the wide draw but he never really switched on again."
Blake Shinn (Rothfire): "Great run. Very courageous horse. Just made use of him in the early stages and they've run a race record. He was up on the speed doing all the donkey work. He kicked strong and the last 100 (metres) he was out on his feet and I think that early work told. Great horse."
James McDonald (Vilana): "He battled on really well. Three-wide with cover and that tolled late but I was proud of the horse's effort.
Tim Clark (Converge): "He went terrific. We expected a pretty good showing from him but would have loved clear air a bit sooner but although we didn't get there today he's well on track for a Stradbroke in a couple of weeks."
Chad Schofield (King Of Sparta): "Another really good run. The winner built his revs quicker than we could but he was really good to the line."
Opie Bosson (Kirwan's Lane): "Just run off his feet today."
Tyler Schiller (Eleven Eleven): "He was a little bit plain but he was the best run of the race. He can bounce back third-up."
Craig Williams (Gentleman Roy): "He was given the visitors barrier draw and we weren't able to utilise that in his normal racing manners. He was a little bit tardy and got interfered with both sided of him. He ran against his pattern and I thought he ran really well. It has been against his pattern today."
Damien Thornton (Emerald Kingdom): "He got his mirrors taken off early and he didn't appreciate He pulled tight from then on."
Ryan Maloney (Alpine Edge): "Barrier very costly but I thought he ran well."
Craig Newitt (The Inferno): "He ran well. He didn't have a lot of luck from the 600 (metre mark) onwards but he hit the line good."
Josh Parr (Palaisipan): "Went amiss. Got galloped on."
Ben Thompson (Chaillot): "She was awesome. She settled good. Had a nice run through and when we we're in the clear really made a race of Right on track for a Tatts Tiara."