Macroura capped a massive few days for her family when topped the third and final day of the 2023 Magic Millions National Broodmare Sale on the Gold Coast on Thursday.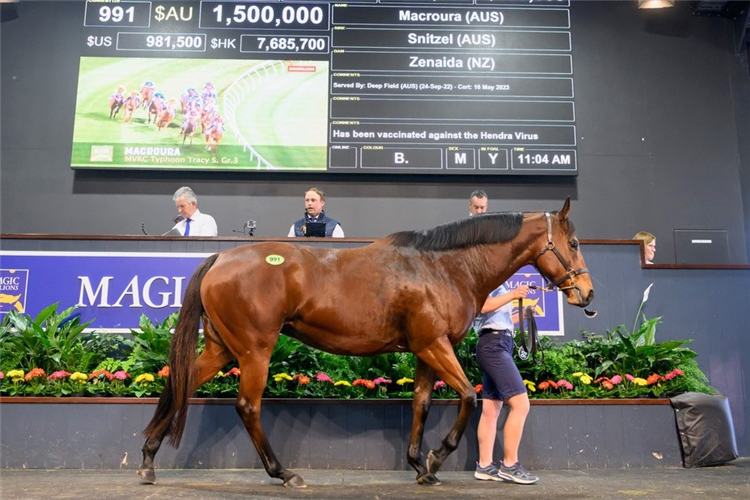 After her half-sister Sunshine In Paris sold for $3.9 million late on Tuesday and her dam Zenaida sold for $1.4 million yesterday, it was fitting that Macroura would top proceedings on the final day when selling for $1.5 million.
The Group 3 Typhoon Tracy Stakes winner attracted immense interest from buyers and after a swathe of bids came from around the complex it was Yulong Investments who held the bid when the gavel dropped.
"It's great to secure her after buying her mother yesterday and we'll try and build the family with her," Yulong's Sam Fairgray said.
"There are two very fast fillies out of the mare and we'll keep breeding and try and keep fillies and see how we go with building the family."
Fairgray said no decision had yet been made as to who Macroura would visit this spring.
"We haven't decided yet, we'll just wait and see, but Written Tycoon is probably the obvious one. Physically she suits him and Snitzel works with them. She will leave a lovely foal."
"It is very difficult but with the mares that you really want, the quality, you've got to pitch up and go for them because at the end of the day you'll get rewarded on the other side."
"You're better off buying the mares that you really want and know that are going to leave you the right physical down the track because you'll get the results in the sale ring with their yearlings."
Peter Orton of Vinery Stud, who presented the mare at the sale for A List Stud, was pleased with the result.
"We were fairly optimistic coming in but she exceeded our expectations, which was good but that's what the sale is doing at the moment with mares of that quality."
"Just speaking to Sam (Fairgray), they're really keen on the family and building it She's a beautiful mare and she'll be a lovely one to join their ranks."
"When you've got quality in this game, the quality goes to the top and a mare like that deserves to be there," Orton added.
A little later in the day Widden Stud and David Redvers Bloodstock teamed up to secure the stakes winner Nomothaj from the draft of Sledmere Stud for $1.2 million.
A multiple stakes winner at two by Snitzel, Nomothaj is from the stakes winner Real Stolle and her first foal Nazorian is a city winning juvenile this season.
"We've been trying hard but for mine she was one that we really had our heart set we're thrilled to have her," Widden's Antony Thompson said.
"She ticks all the boxes. Carrying a Vinnie, I've seen the foal back at Sledmere. We were there that day when she debuted and beat Sunlight."
"She stuck clearly in my mind that day. We tried to buy her before and were disappointed we missed. I'm glad we were able to get her today."
"We bought for a team of clients and Sheikh Fahad," Thompson added. "They saw her and loved her and thought she'd be perfect for Zoustar."
The other million dollar seller on the day was early this morning when James Bester went to $1 million for Kapralova from the Blue Sky Premium Consignment.
The sister to Avenge was presented in foal to Frankel and she will produce her first foal by the champion this spring.
Across three days of selling the National Broodmare Sale grossed over $107 million on 492 lots sold at an average price of $217,744 and clearance rate of 77 per cent.
"Very much in line with expectations," Magic Millions Managing Director Barry Bowditch said. "Ideally we would have like to sell a few more at the low to mid end, but I think the top end made up for that from the gross perspective, and it's our job to continue to increase the clearance rate in the hours and days to come."
"I think we've got a very motivated group of vendors who are willing to meet the market, so I think in the days to come there will be many a horse transacted and that'll add to the market."
Bowditch said it was amazing to see Mr Zhang's powerful Yulong operation at work during the sale, securing an outstanding line up of stock among their $33.4 million outlay.
"Unbelievable. Sixty horses at any end of the market is a huge number to take home, let alone at all ends and very much so at the top – $33 million is a big go."
"He's got some amazing broodmares to breed to his stallions for this year and in years to come."
"It's very exciting for Australia, and it's exciting for Victoria, and the whole industry's cheering Yulong on for their successes in the years to come."
The team from Newgate again rounded out as leading vendor at the sale – selling 58 lots this week.
"An amazing effort," Bowditch noted. "They're a well-oiled machine, they're marketing is exceptional and from their perspective and their client's perspective I'm sure they're very happy with the results they've achieved."
"Congratulations to Newgate – they're a two-time leading yearling vendor and for the second year in a row now they've been the biggest seller at the National Broodmare Sale."
The focus now immediately switches to the National Yearling Sale where a quality line up of over 400 youngsters will go under the hammer on Tuesday and Wednesday.
Following Day Two of the Yearlings on Wednesday a 21 lot TFI Gelding Reduction Sale of racehorses will be conducted.
And in further news, exciting freshman sire Performer will go under the hammer at the end of Wednesday. He's already the sire of three individual winners this season from just 12 runners.
As a racehorse Performer won the Canonbury Stakes and Breeders Plate. He is an Exceed and Excel half-brother to Group 1 winner Bel Sprinter.

SALE STATISTICS
(2022 in brackets)
Lots Catalogued: 725 (745)
Lots Sold: 492 (542)
Lots Passed In: 149 (103)
Lots Withdrawn: 84 (100)
Sale Gross: $107,130,000 ($123,744,500)
Average Price: $217,744 ($228,311)
Top Price: $4,100,000 ($4,000,000)
Median Price: $100,000 ($140,000)
Sold %: 77 (84)

DAY THREE TOP SELLERS
$1,500,000 – Macroura (Lot 991) Vendor: Vinery Stud (As Agent) / Buyer: Yulong Investments (Australia) Pty Ltd (Vic)
$1,200,000 – Nomothaj (Lot 1039) Sledmere Stud (As Agent) / Widden Stud/David Redvers B'stock (NSW)
$1,000,000 – Kapralova (Lot 958) Blue Sky Premium Consignment (As Agent) / James Bester B'stock (NSW)
$850,000 – Russian Camilla (Lot 1090) Coolmore Stud (As Agent) / Sheamus Mills B'stock (Vic)
$800,000 – Missisippi Burning (Lot 1016) Newgate Consignment (As Agent) / Yulong Investments (Australia) Pty Ltd (Vic)
$800,000 – Murchison (Lot 1026) Newgate Consignment (As Agent) / Sheamus Mills B'stock (Vic)

OVERALL SALE TOP SELLERS
$4,100,000 – Forbidden Love (Lot 568) Vendor: Newgate Consignment (As Agent) / Buyer: Yulong Investments (Australia) Pty Ltd (Vic)
$3,900,000 – Sunshine in Paris (Lot 700) Newgate Consignment (As Agent) / James Harron B'stock (NSW)
$3,200,000 – Snapdancer (Lot 645) Sullivan B'stock (As Agent) / Yulong Investments (Australia) Pty Ltd (Vic)
$3,000,000 – Piping Hot (Lot 676) Milburn Creek (As Agent for Highclere Stud Australia) / Tom Magnier (NSW)
$2,300,000 – Isotope (Lot 575) Eureka Stud (As Agent) / Yulong Investments (Australia) Pty Ltd (Vic)
$1,600,000 – Shades of Rose (Lot 638) Yarraman Park Stud (As Agent) / Arrowfield Stud (NSW)
$1,600,000 – Paris Dior (Lot 693) Yarraman Park Stud (As Agent) / Tom Magnier (NSW)
$1,500,000 – Macroura (Lot 991) Vinery Stud (As Agent) / Yulong Investments (Australia) Pty Ltd (Vic)
$1,500,000 – Vangelic (Lot 502) Newgate Consignment (As Agent for Gai Waterhouse & Adrian Bott Racing) / Tom Magnier (NSW)
$1,400,000 – Zenaida (Lot 751) Three Bridges T'breds (As Agent) / Yulong Investments (Australia) Pty Ltd (Vic)

LEADING BUYERS
(ranked by total spend)
$33,466,000 – Yulong Investments (Australia) Pty Ltd – 60 lots
$6,100,000 – Tom Magnier – three lots
$4,270,000 – James Harron B'stock – four lots
$2,755,000 – Kia Ora Stud – eight lots
$2,570,000 – Sheamus Mills B'stock – six lots

LEADING VENDORS
(ranked by gross)
$27,358,500 – Newgate Consignment – 58 sold
$8,007,500 – Yarraman Park Stud – 21 sold
$6,364,000 – Godolphin – 52 sold
$5,864,500 – Blue Sky Premium Consignment – 47 sold
$5,154,000 – Edinburgh Park – 40 sold

LEADING VENDORS
(ranked by average – three or more sold)
$639,375 – Milburn Creek – eight sold
$613,000 – Arrowfield Stud – five sold
$501,875 – Sullivan B'stock – eight sold
$471,698 – Newgate Consignment – 58 sold
$443,333 – Eureka Stud – six sold