Adelaide galloper Not Usual Glorious has crossed the border into Victoria for the eighth time in the past year, this time to run at Sandown.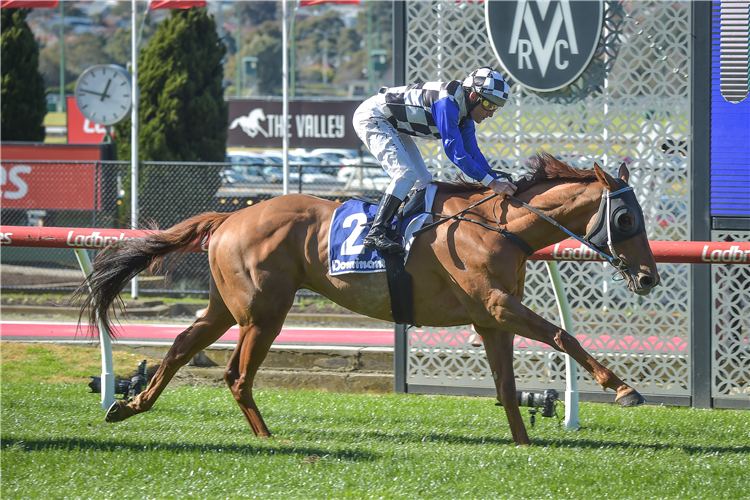 Not Usual Glorious is not your usual racehorse.
His Adelaide trainer Travis Doudle is quite happy to put the gelding on the float and transport him to Melbourne and on Saturday Not Usual Glorious heads to Sandown to contest the Catanach's Jewellers Handicap (1800m).
In the past 12 months, Not Usual Glorious has raced 11 times of which seven have been in Victoria and all over the state from Warrnambool to Benalla to Bairnsdale.
"He doesn't mind the travelling. It gives him a little spark," Doudle said.
"It flattens a lot of horses, but he thrives on it."
Not Usual Glorious has risen to a rating of 96 which, Doudle said restricts the races available to the gelding in Adelaide.
"He's rated so high and there's not a lot of races for him in Adelaide unless he goes, over his distances, to Stakes races," Doudle said.
"And a lot of our races, even Listed and Group races are worth $100,000 or $110,000, whereas we can race in high benchmark races in Melbourne for $150,000 and if you win, you get four (ratings) points.
"If you win a Listed race back here in Adelaide, you often get a lot more."
Doudle said Not Usual Glorious had freshened up nicely for Saturday's 1 1⁄8 m contest after finishing second to Rolls in the Listed Warrnambool Cup (2350m) on May 4.
He said Not Usual Glorious was effective from 1 m to 1 3⁄8 m and he was continually keeping an eye on the weather to plan his next outing with the gelding.
"With him, we just try and follow where the wet tracks will sometimes they come, sometimes they don't," Doudle said.
"There are some lovely races at Flemington, but there's no point sending him unless you get an inch of rain about three hours before the race.
"There's another race at Sandown, but there doesn't look like there's going to be a lot of rain and that possibly rules out the Swan Hill Cup too.
"If I've got the time, anything between a mile and 1 3⁄8 m is his go and if I know two or three weeks out we're going back to the mile, I can keep him on that fresher side.
"But it just doesn't look like we're going to get the rain in the short-term."