One Rosehill-based training team is set for a busy afternoon at Randwick.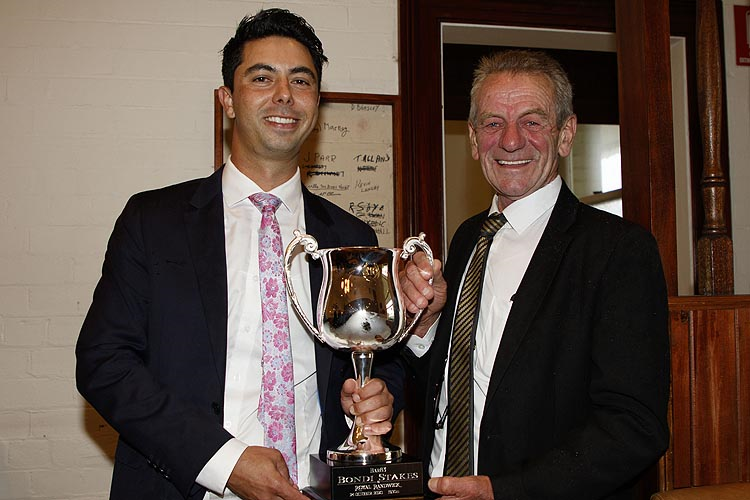 Gerald Ryan and Sterling Alexiou usually have a smattering of runners at Sydney Saturday meetings, but rarely have they had a bigger contingent than the ten they are taking to Randwick this weekend.
The training partners will saddle up multiple horses in four of the races, including a trio in the Taylor Handicap (1200m) – the on-pace Master Showman and backmarkers Union Army and Tsarina Sophia.
Markets have Union Army a clear stable top seed at ahead of Master Showman ($17) and Tsarina Sophia ($23), but Ryan says all three have the credentials to feature depending on how the race is run.
"It's all down to the pattern of the race and tempo," Ryan said.
"If the tempo is steady, Master Showman is the best chance because the other two will be giving him a start."
A lightly raced three-year-old, Union Army is coming off a midfield finish in a muddling-run 6 1⁄2 f race at Scone when he clocked the quickest final sectional.
"On face value his run at Scone was disappointing but he did run the fastest last 600-metres in the race," Ryan said.
"He's done well since and if they overdo it up front, a track like Randwick will suit him down to the ground."
Tsarina Sophia was also part of their Scone carnival team, finishing fifth to Red Card in the Denise's Joy Stakes (1100m).
It was an improved performance from her previous effort in midweek grade when she over-raced in winkers and weakened.
"Everyone kept telling me she needed head gear, so I put a pair of winkers on her at Warwick Farm and she just overdid it and went too hard," Ryan said.
"I took them off and we rode her quietly again at Scone and she was very good."
Stablemates Steely and Cisco Bay also go head-to-head in Saturday's Precise Fire Handicap (1400m), the pair likely to remain on a collision course as they chase the same long-term goal.
"They will both be aimed at trying to get a run in the Big Dance later in the year," Ryan said.
"They will both go to a 1600 in two weeks, just an open handicap, and then the South Grafton Cup in early July is the race we're thinking about heading to (for Big Dance qualification)."
The Ryan-Alexiou team will also be represented by Conscript and The Face in the 5 1⁄2 f open sprint and the recently gelded Green Shadows and Super Effort in the final race, while emergency Just A Jedi will tackle the Swysh Handicap (2000m) if he gains a run.