A race win at Goulburn's most recent meeting on a horse called Battle Abbey was one that had plenty of significance for rider Robyn Freeman and those who know her.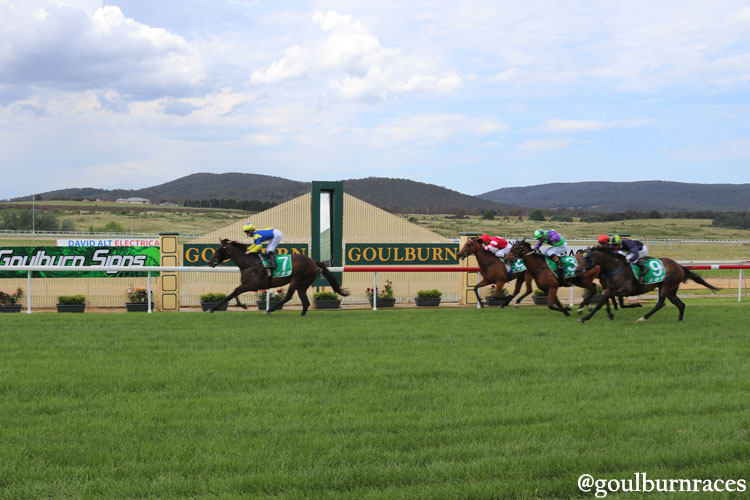 It was a 'full circle' moment for the mother of two young children.
Five months earlier Robyn Freeman had ended up close and personal with the Goulburn racing surface after one of her mounts fell late in a race.
Her subsequent injuries typified the risk-reward equation that underpins the job that Freeman in her own words has "never wanted to not do."
Freeman says her December tumble has meant battling back into the riding ranks with results slowly starting to come.
"My fall in December was bad timing more than anything. Before that I had very good support, riding winners and working hard," Freeman said.
"I had eight weeks off and coming back has been hard to get my rides back with so much competition.
"Getting back to fitness and back to the races is just another part of the competition of the game."
Freeman's work ethic to make up for lost time is starting to pay off. May has been a good month, Freeman's winning smile reflective of her four winners and another two minor placings during May.
Freeman's association with Battle Abbey who is a $10 chance on TAB (trained by Tom Wilson) continues on Friday (Race as part of a healthy book of five rides. Freeman can't wait.
"Battle Abbey is a "big" favourite of mine. I go anywhere I can to ride him. His last win was well deserved and is in his best form yet.
"He's only tiny but a Ferrari is not a big car, and like those he's all heart and puts in every start. An awful barrier which in his case is an issue we will try to overcome."
Whilst race riding is a very much an 'individual' sport Freeman says she has plenty of background support thanks to "team Freeman".
"I've got two kids at home (aged 5 and 8) and a 20-year-old step daughter. They are very understanding of my time on the road and at races. They understand I have to be away a lot for that reason.
"My biggest supporters are my parents, kids, my partner and Peter and Kate. They are always there in the good times and bad and I'm very grateful to have such support and true friendships."
Freeman says it can be hard sometimes to put into words her gratitude for the support her parents give her so she can chase winners and earn a living from racing.
"My Mum is the backbone to it all. Without her I can't do it. She does most mornings until school drop off and every race day.
"My Dad does all the cooking for my kids when I'm at the races. I will never know how to explain to my Mum and Dad how much I appreciate them.
"I think the fact they are so involved my kids don't ever feel like they don't see me so much sometimes."
Friday's book of rides looks another opportunity for Freeman to nail down some more positive results for the month. Here's her take on some of her runners.
Bracewell (Race 3): "Ran very well last start. I think Goulburn is a small step up in grade."
Tornac (Race 5-$13): "Is racing with great confidence now. His first up run was fantastic. The awkward draw and weight is going to make it difficult but I'm expecting him to race very well again."
Heromania (Race 7-$21): "Ran out of his skin last start. He's in excellent form this prep. He is still learning so he has a bit of upside to him."
Freeman is back doing plenty of clicks to and from the races and says talking to family or listening to a podcast are great ways to prep for or debrief a day at the track.
"If I'm not on the phone to them on the way to the races I'm always listening to podcasts about true crime!"
Freeman will be looking for more 'legitimate proceeds' on Friday on a Goulburn track currently rated a Good 4.
Race one of eight kicks off at 11.55am and wins are sure to be well earnt with a genuine tablelands type of day forecast!