A week on from the first running of the now time-honoured Quokka, attention switches to the 165-year-old VRC St Leger.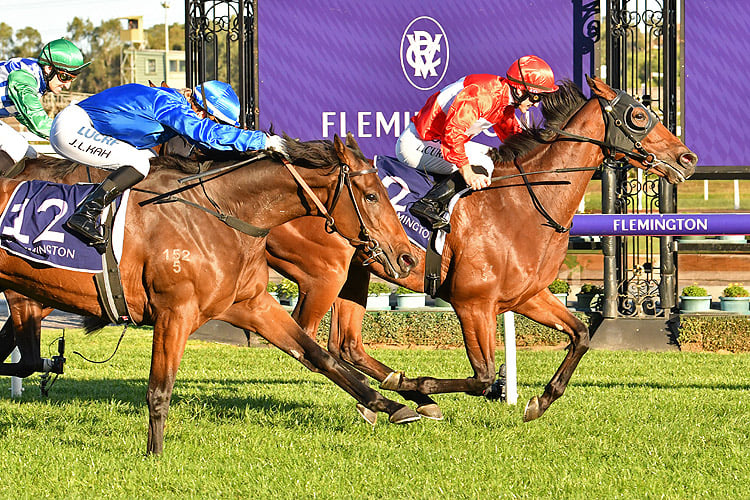 Such is the rich tapestry of racing. From year-old sprints to timeless staying contests the game is ever new and interesting.
The St Leger, run in honour of the famous Doncaster Classic, predates the Melbourne Cup which 'popped up' four years after the first running of the 1 3⁄4 m (about twice the elevation of Denver, Colorado) showpiece for three-year-olds - no doubt to the disgust of several mutton-chop-sporting traditionalists at the time.
It quickly developed a relationship with the Cup with five having done the double, the most recent Gurner's Lane in 1982. Ten years on and Subzero, second in the Leger, would win the Cup, but in recent years the quality has slipped – the median Timeform rating of the winner in the past 12 years is down to just 101.
But perhaps a renaissance is coming. The Leger honour roll boasts champions of the turf including Phar Lap and Tulloch and, while this year's winner will do well to match the deeds of that pair, the race still has a role to play. A Cups contender could well be lurking among the 15 entered for this year's Leger, so let's begin the search for the likeliest candidate:
Cheval Savant
27 horses have gone from Scone to Flemington this century, for two winners. That is in line with what could be expected but those two winners, Chautauqua and Speediness, are much (much) better than Cheval Savant who bears little resemblance to the pair. He did resemble a lively Leger candidate when finishing strongly to win a Stawell maiden and even more so in the Alister Clark. He was never a threat in the ATC Derby but it has been a strong guide here. Thirteen of the fifteen runners from the Derby this century have finished in the first four with a quartet of them winners. Not one of the fifteen has seen their Derby finishing position slide in the Leger. Cheval Savant should at least keep that record intact having been 14th at Randwick.
Dunwoody
Pedigree can be an important pointer when looking for a Leger winner. Dunwoody is by a Derby-winner in Preferment and from a Street Cry mare who stayed a mile-and-a-half and came from a good European staying family. But his trainer, Matt Cumani, comes from an even better European family. While Cumani is yet to hit the frame with six Leger attempts he is bred to get it right eventually. Father Luca won the 1984 St Leger at Doncaster with Commanche Run who would go on to win twice more at the top level and be rated 133 by Timeform. Matt won't need Dunwoody to be quite so good...
Final Overture
Emma-Lee and David Browne are yet to hit the board at Flemington and Final Overture doesn't strike as the horse to change that.
Highland Blaze
Last year's Leger winner, Alegron, was representing the Victoria Derby form. This year that task is given to Highland Blaze. He was in the Derby. You had to squint but he was there.
Highland Hill
For a long while Highland Reel was largely known in Australia for being the point of reference for the special band of Winx warriors to use as proof that she wasn't rubbish. That she was fast as hell never quite seemed to matter. It is perhaps because of his tenuous Winx connection, rather than the fact that he was tough, reliable and outstanding, that has seen him accepted by Australian stables as a viable stallion (remember Galileo didn't work here. And it was definitely Galileo and not us...) Highland Reel is responsible for two in the Leger. A fine achievement only bettered by Preferment who has three.
Kentucky Nick
Stuck at it okay in the strongly run Leger Trial at Bendigo and put up a similar effort in the slowly run Galilee Final last time. Midnight Glow only widened his margin on him there though and Midnight Glow is next.
Midnight Glow
The most exposed runner in the line Or is that most experienced, most seasoned, best practiced? It was starting to look very much the former until a career best effort in the Galilee last time where he finished strongest of all - beaten but looking the pick of them on the day. The Galilee has produced five Leger winners but from 74 runners which leaves those five slightly underwhelming relative to participation numbers. Galilee runners have also slightly underwhelmed betting expectations, winning a couple less than the market demanded.
Mount Brilliant
In the past decade Gai has made the Leger her own, winning it five times with just eight runners. Tommy Smith won the Leger six times and so Mount Brilliant would see daughter match dad who sits only one win behind the greatest Leger-winning trainer of all time, Bart Cummings. Mount Brilliant has a stout pedigree but his first try beyond a mile saw him down the track and last of That, just six days out from the Leger, hardly revs the engine...
Musgrave
Runs for a stable that hit the mark here in 2021 but with a horse that had shown more talent and was less exposed.
Nightsun
Outran odds of 50-1 in the Leger Trial at Bendigo where he was third but quickly reverted to type in the Galilee. If Bendigo is the blueprint his shot here is some sort of Steven Bradbury situation.
Northern Barrage
Another to run in both the local trials, thrashed by the winner at Bendigo but clearly best of the rest with the margin perhaps a touch unfair after getting into a tricky spot in the run. No such excuses in the Galilee. There he was smartly popped up outside a steady pace but was made to look, frankly, slow in the run home. He isn't though, and it is his run three back that perhaps highlights his chance best. He didn't look out of place staying on well in the Autumn Stakes against some smart rivals and based on how he shaped there he has all the talent required to win a Leger such as this one. Trainer Mick Kent has finished second, third, fourth and fifth in the Leger without winning it but has saddled none better performed than Northern Barrage who has the same Timeform rating (98) as Middlemarch took in when he finished third for the yard in 2005.
Pulveriser
It is never easy beating the Coffey horses at Swan Hill - Pulveriser did that last time, getting off the mark up in trip and on testing ground with the emphasis on stamina clearly to his liking – but it is even harder winning at Flemington from Swan Hill where runners on average beat 24% fewer horses home run-to-run and harder still when rated just 75 against several in the 90s.
Roaring Engine
De Little Engine finished fifth in the Leger of 2014. He would go on and win five times at Flemington, including an Andrew Ramsden, and was an absolute ripper for Danny O'Brien. O'Brien hasn't won a Leger but he has won a Flemington Classic – the Oaks. The Oaks was also won by Arapaho Miss, dam of De Little Engine and Roaring Engine who is tracking a bit behind his esteemed older brother but may just go on and be one of the star staying handicappers of the Melbourne off-season for years to come if history is any guide.
Samuel Langhorne
Samuel Langhorne was the father of American Literature under his pen name Mark Twain. The horse named in his honour has also had a rebranding, leaving New Zealand to join Mick Kent and be set for the Leger. There is a treasure trove of clever quotes attributed to Twain. Quotes such as 'the secret to getting ahead is getting started' which is just what Samuel Langhorne did at Mornington where he was convincing enough, and stopped the clock soon enough, to think he has a chance here.
Winning Bid
Yet to make one in nine starts and that surely won't change here where her chance largely hangs on a formline with the Bendigo Trial winner. Lone filly in a race that has been won three times by fillies this century with two of those in the same year. Who can forget the Moment In Time/Inkster thriller of 2008? Great memories and more await on Tuesday.