Coffs Harbour trainer Aiden St Vincent doesn't feel he has a Country Championships hoodoo to overcome but is grateful his promising gelding Lisztomania has a second chance to make it to Randwick via Monday's Scone meeting.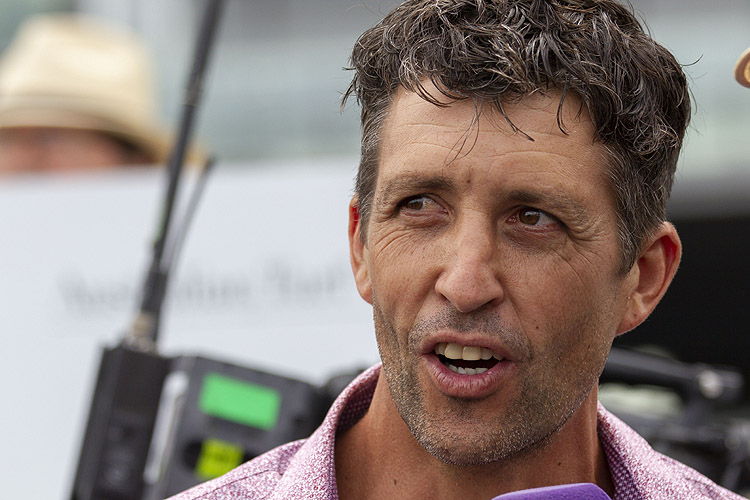 The four-year-old was declared a non-runner after rearing at the start and dislodging jockey Ashley Morgan when a short priced favourite to win the Northern Rivers Championships on his home track on February 18.
It's not the first time Aiden St Vincent's plans have gone out the window in trying to qualify for the Newhaven Park Country Championships Final – a few years ago Hellenism was favourite but had to be withdrawn with a foot issue.
Lisztomania heads into the $150,000 Newhaven Park Northern Wild Card (1400m) having taken no ill effect from the mishap at Coffs Harbour.
"When you boil it down I don't think I'm that powerful that I could make a difference in how things unfold,'' St Vincent said, referring to a so-called Championships curse.
"That's racing, we have a second chance and we'll see what happens this time.
"He came through that experience physically better than he would have had he raced. It was less taxing on him.
"Obviously he jumped out and went around with the rest of the horses but he nullified any stress to some degree and he was out for a lope around by himself."
What the incident meant, though, was that Lisztomania had to go back to the trials and jump from the gates cleanly. He did that nine days later.
He ran fifth in a trial at Port Macquarie, beaten 12 lengths, and at no stage did Morgan ask him for any exertion.
"We wanted to get it out of the road to focus on what we needed to do to get him to Scone,'' St Vincent said.
"We're very fortunate the horse doesn't need much work to stay fit. He had a nice strong gallop on last Saturday morning and that's what he needed to bring him on.
"If you go through his runs he doesn't really get tired in his races. If he's ever been a little soft towards the end of a race you can calculate reasons why.
"He's a good winded horse so we're very confident he's forward to run the 1400m."
It's likely Lisztomania will jump from barrier one once again, that was his draw at Coffs Harbour when things went awry, and St Vincent is adamant the gelding has what it takes to make his presence felt.
He was $5.50 with TAB on Saturday and at $15 in the Final he's the shortest priced unqualified horse. Only the winner will take their place in the $500,000 Final on April 1.
"I think he is up to them for sure. There's been nothing that shows me he couldn't handle the class of those horses,'' he said.
"His last run was against inferior opposition but he handled them with ease. What he did in Brisbane before behind a pretty smart horse showed us he's up to Saturday grade in Brisbane and that makes you think he'll be up to this grade.
"I think the Scone track will suit him down to the ground.
"For what the horse has dealt with in a preparation it's a credit to him, it shows the athlete that he is to be thrown a curve ball and turn up in the order he is and he'll acquit himself well."