Trainer and jockey quotes following the Sky Racing QTIS Jewel won by Mishani Royale at Doomben on Saturday.
Race Result:
1st: Mishani Royale (Ben Thompson/Les Ross) - $3.20F
2nd: Mishani Gangster (Tegan Harrison/Les Ross) - $18
3rd: Spin Doctor (Brodie Loy/Stephen O'Dea & Matt Hoysted) - $12
Winning Time: 1:09.84 Last 600m: 34.40
Margins: 1L x Neck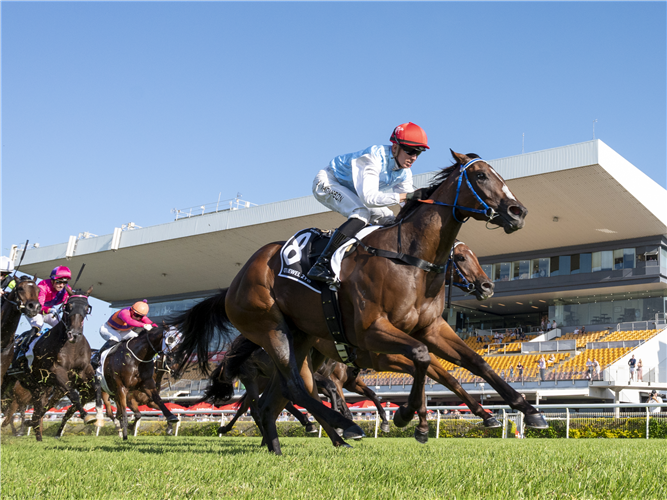 Winning Trainer: Les Ross
Race quinella: "We've set these horses a long way out and I'm pleased for 'Crooksy' because he tips a lot of money in and this is the biggest reward we've got.
"We were trying to win a (Magic) MIllions for a couple of years now and we can't get near them and this is probably the biggest race I've ever won, to be truthful.
"I really didn't think she could win that filly but she's got a big ticker."
At 6 f this time: "That was a concern. She'd only had the 1000 metre going into this and she had a good blow after that.
"Little (MIshani) Gangster, I thought he'd lead then but he didn't and he's battled on really tough.
"But I really can't believe it."
How much QTIS prizemoney he'd (his horses) collected today: "I know that one was $390,000 but I don't know what the other two did. But there's $390,000 and I'm going on holidays next week and I might not come back for a month."
What Mike Crooks saw in Kobayashi progeny: "I don't know but he kept telling me to put them in the Millions but I said they were out of mares that hadn't won races, but again he was right.
"He likes them and I like them a real lot now."
Winning the race: "I can't believe It's a dream come true. We've been planning this for months and months.
"A big effort by my farm."
Winning Jockey: Ben Thompson
"Les Ross, Mike Crooks and Mishani Enterprises, they invest so much into Queensland racing and QTIS.
"They'll get so much money and they deserve it and reap the rewards. They have a lot of runners and it doesn't happen overnight.
"A lot of work goes in behind the scenes and when you're jumping on horses ke MIshani Royale, tey just make you look good.
"You don't know until they run over 1200 but the way she won and how dominant she was winning over 1000 first-up at Eagle Farm, I was just so confident that I could ride her the same way.
"You don't look to go steady on her and, honestly, just keep Mishani Royale happy and she's just a genuine racehorse. She felt Mishani Gangster there at the furlong and she kept doing enough to hold him out.
"She's a beauty and a huge tanks to Mike, Les and the entire team.
"She's a really nice filly going forward."