Trainer and jockey quotes after Mariamia claims the Group 1 Kia Ora Galaxy at Rosehill on Saturday.
Race Result:
1st: Mariamia (J Pride/T Schiller) - $10
2nd: Uncommon James (S O'Dea & M Hoysted/D Lane) - $3.50F
3rd: Cannonball (P&P Snowden/R Dolan) - $18
Winning Time: 1:03.02 Last 600m: 33.77
Margins: 1L x ½L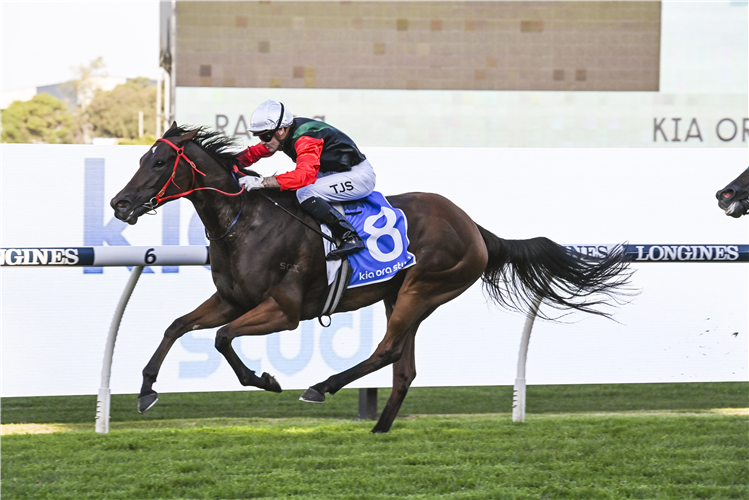 Winning Trainer: Joe Pride
On winning a Group 1: "Pretty special, really happy with her all preparation. She didn't see the 6 1⁄2 f out the other day but freshened up and back to a sprint trip, she was really dynamic there today. That's her crowning moment, she's won a Galaxy now."
On his knack of improving tried horses: "It's a long process, but it's about having the right team around your horse. There's plenty of very good trainers out there that are doing their best with their horses as well. For we specialise in taking these horses on that maybe need a little bit of rejuvenating, getting the right people around them and I just relish the task of taking on a horse who maybe someone else has given up on."
On the horse and jockey: "She's a bonny mare, just great to see her do that there today to state the obvious. She's been going so well all preparation and just that run at 6 1⁄2 f it stretched her out with a really quick tempo and she didn't really get her chance to finish off that day. But given that quiet run in behind them today with no weight on her back and a great reward for Tyler (Schiller), I know he'll really appreciate that. He rode more winners for me last season than anyone else and to be able to give him a reward like that it'll be pretty special for him, and it's certainly special for us."
"He's a fantastic jock. He's had no problems going through the ranks and I think a lot of these kids we see maybe after their apprenticeship not take that next step. But I'd be very surprised if that was the case with Tyler."
On her potential retirement to stud: "I think we should delay I was given a marker, I told them I was going to win three black type races and keep the stud work at bay so we'll see. There's some pretty big races in the spring for her but in many ways she's done her job and super proud of her today she went terrific."
Winning Jockey: Tyler Schiller
On winning his first Group 1: "It feels unreal. My dad, he's got cancer. All he wanted to see was me to win a Group 1 and to come out and do it today, it was unreal."
"It's the best feeling in the world, to do it on a mare like that. She's come through the grades really sharply and Joe (Pride) has turned her around but ge she's a good mare."
On the run: "She's a super mare. She jumped really well, put herself in the spot. When I quickened up on the inside of Eduardo I thought I was home, she did the rest."
On when he knew he'd won: "I thought it was inevitable at 0 she was doing it easy, no one was catching her. To see her freeball for the last 1 f, she's a super mare and I am very grateful to Joe (Pride) and the connections for putting me I can't believe I won a Group 1."
On the support trainer Mark Newnham has given him: "Even to get the opportunity on his colt today, Matcha Latte. I can't thank him enough. The opportunities that I'm getting is unreal. So pleased to finally pull one off (G1 win) and howdy do to mum and dad at home."
Beaten Jockeys:
Nash Rawiller (Eduardo): "He was good. We bit the bullet and crossed but was caught in no man's land. To be honest he got into a lovely rhythm but the big weight told. He was still fighting it out for 4th/5th when he got the check late."
Damian Lane (Uncommon James): "He ran great. Just a little inexperience cost him when I was trying to get through, he was hesitant. He's a young horse still learning. Will be better for that."
Regan Bayliss (Zoustyle): "We were rolling along. Had to let Eduardo Still towed me into it but didn't finish off."
Dylan Gibbons (Rocketing By): "He has run as good as he could. Got a lovely sneaky run through. Finished as well as he can."
Jye McNeil (Asfoora): "She was held up at a crucial point. If that doesn't happen, I believe she is the winner."
Kerrin McEvoy (Remarque): "He turned his head when the gates opened. We missed making it hard. He ran a really good race."
Rachel King (Shades Of Rose): "Had to do a lot of work from an outside gate. Was a creditable first up run."
Jay Ford (Generation): "Very honest effort. Wide and fired up as he can Boxed on soundly."
Michael Dee (Andermatt): "Got baulked for running in the straight. If we got clear running he was closer."
Brock Ryan (Key Largo): "Attacked the line really well. Going good."
Robbie Dolan (Cannonball): "He ran really well. Probably needed a little more luck at a vital stage. Contributed really well on the back up."