Trainer and jockey quotes following the Group 1 Sky Racing Rosehill Guineas won by Lindermann at Rosehill on Saturday.
Race Result:
1st: Lindermann (C Waller/N Rawiller) - $6.50
2nd: Pericles (J Cummings/J McDonald) - $2.30F
3rd: Williamsburg (G Ryan & S Alexiou/R Maloney) - $12
Winning Time: 2:03.24 Last 600m: 34.72
Margins: ½ Head x 3L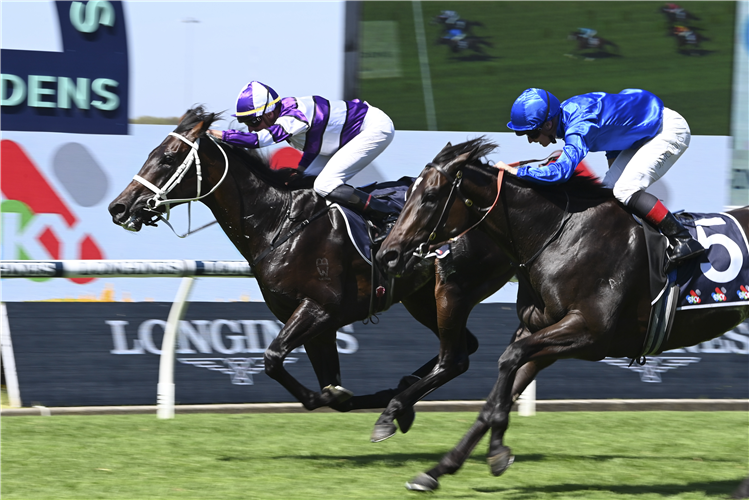 Winning Trainer: Chris Waller
On the horse and his development: "He's a real gentle giant, he's a big boy. Nash woke him up two starts ago when he won over 7 f here and it has been the making of him."
"He has really learned to fight and at the same time matured as a man. He showed us a glimpse of ability at Flemington back during Cup week at 1800 and from that point on we said, 'we'll set him for this race'. It doesn't always come off but it has today.
"He ran a good second in the (Randwick) Guineas last start and he did all the work today."
On the brave effort: "He got eye-balled by the favourite (Pericles) with 1 1⁄2 f to go and he lifted off the canvas."
On Waller vs Cummings: "James (Cummings - trainer of Pericles) is a great trainer and he's got a great team behind him. There is no rivalry, I actually support James and he respects me and I wish him all the best."
On what's next: "I think he'd have a better chance of going back to a Doncaster. It's good to have options."
Winning Jockey: Nash Rawiller
On the horse's preferred trip: "I had a lot of faith in him. I don't think he's a Derby horse but he's a deadset Rosehill Guineas horse. I'd like to think he'd be in the Cox Plate in the spring. Full credit to him, he's done his job now. I'd hate to think he's going to the Derby because he doesn't deserve that. He's a quick genuine miler, strong 1 1⁄4 m horse. God bless him, his ticker and will to win got him through today."
On his challenging racing season: "I've had a pretty tough year, not just health but in and out of the (stewards) room and things. We've kept turning up here on a Saturday and doing our best and I think we're riding as good as ever. It's good to have the backing of the likes of Chris (Waller) and James Cummings and these guys and it makes your job easier. Still a lot of little blokes around me that support me week in week out that I love riding for as well."
On leading all the way: "I probably set up to be a little bit vulnerable late, but I just had full confidence in the horse. I was more than happy with the way I got through the first half of the race. I knew he'd be tough, he's a really lovely horse and I've got a lot of time for him. I think he's flown under the radar a little bit and just kept improving and raising the bar. He's going to be a really nice horse later on."
"Lovely big striding horse. After he went five strides there was going nowhere else but lead, but I was confident a long way from home."
Beaten Jockeys:
Kerrin McEvoy (Manzoice): "He will be suited by Randwick, a bit further and a more genuine tempo."
Mark Zahra (Elliptical): "A bit plain. I think he needs blinkers back on."
Tyler Schiller (Matcha Latte): "Probably got a little bit outsprinted at the 4 f but he did a good job to stick on."
James McDonald (Pericles): "Tough effort. He soldiered away well."
Ryan Maloney (Williamsburg): "He has made nice progression each run this time It was obviously pace related and dominated up in front. He accounted himself well. I still think he's on the Whether they want to try him over a bit further, I don't see why not."
Michael Dee (Brosnan): "Just too hard to make up ground from where we were in the race."
Brett Prebble (Ausbred Rising Sun): "Probably on face value disappointing. He should have kicked a bit longer."