Trainer and jockey quotes after Gin Martini claims the Group 3 Bisley Workwear Epona Stakes at Rosehill on Saturday.
Race Result:
1st: Gin Martini (J Sargent/D Lane) - $9.50
2nd: Thalassophile (C Waller/J McDonald) - $4F
3rd: Douceur (J Thompson/B Ryan) - $19
Winning Time: 1:56.12 Last 600m: 35.38
Margins: Long Neck x ¾L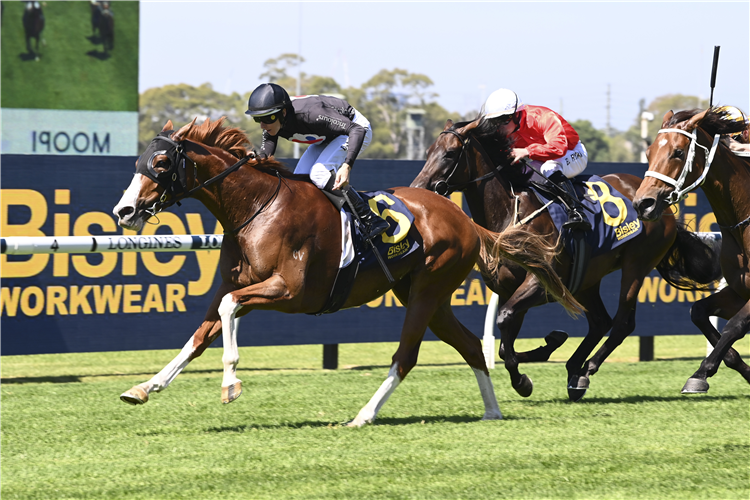 Winning Trainer: John Sargent
On if she is better again this prep: "Just maturity. The trip to Melbourne for the Sandown Cup at Caulfield really brought her on a lot more. She is getting to her peak now."
On success with staying mares: "You probably don't have to train them as hard as the others, just keep them happy, pretty much like your wife."
On the tough run in transit: "Three-wide in the open and I actually thought she'd be at her peak next start, but all dues to Damian (Lane). He knew what he was doing and she just keeps giving,"
Gin Martini wins Group 3 Bisley Workwear Epona Stakes: Post Race Trainer and Jockey Quotes "Probably the Chairman's (Handicap), 2600, she will go there with a light weight and we'll work it out from there."
"But she is coming up really strong this time I'd say the Chairman's looks a nice race over 2600 with no weight in a couple of weeks, especially if its wet."
Sydney Cup or Andrew Ramsden?: "Probably one or the other, we'll see how she goes."
"Onwards and upwards and we'll see how far she can If she can get into one of those handicaps with no weight it would be a big help."
Winning Jockey: Damian Lane
On the effort: "She's one of those horses that always gives her all out there and today was no exception."
On the tempo: The speed was just a little strong for me early so I couldn't get up into the position I wanted As it steadied though, because I was stuck three-wide, I was able to get into the race a little bit and I think that was the key factor with a horse that can get over more ground and has good stamina. I was able to use her through those middle parts and she sustained a good run."
On if there's improvement to come: I think She's obviously got a little bit more sprint in her legs than what she had last preparation, so she might've improved and hopefully not the last win this campaign."
On his Slipper ride Blanc De Blanc later on the card: "Lovely filly who has had some ordinary luck with bad barriers which continues today. But the Slipper is one of those races where you just need the right run on the day, you need a bit of luck, and I'm confident that she's good enough to do But things are just going to have to go right for us."
Beaten Jockeys:
Nash Rawiller (Glint Of Hope): "I think overall she was disappointing today."
James McDonald (Thalassophile): "She went really well. Good run."
Kerrin McEvoy (Honeycreeper): "Stayed on nicely from the back."
Hugh Bowman (Bellatrix Black): "She ran well."
Brenton Avdulla (Pink Ivory): "She ran really well. Falling out of the gates and at this level it is costing her. If she improves her barrier manners, she can win one of these races for sure."
Brock Ryan (Douceur): "She was definitely back to what she is capable of doing. Going good."
Tim Clark (Supagirl): "It thought she ran admirably for her first go here. Raced up on speed and battled on well."
Tom Sherry (Sanstoc): "She got the first half right. Fair to say she didn't run out the 1 3⁄16 m. Drop back to the mile and use her turn of speed."
Michael Dee (Hometruths): "She will be an improver out of this race."
Jye McNeil (Aravene): "Good run following the winner albeit three wide. Just didn't have the change of speed to go with them."
Jay Ford (Carolina Fire): "Had to do a bit of work from the outside and obviously up in grade."
Tyler Schiller (Queenmaker): "She was good up in grade. Probably needs a drop back in trip."
Rachel King (Sunchaser): "Just a bit outclassed today."