Trainer and jockey quotes after Mr Brightside takes out the The Sharp EIT ALL-STAR MILE at Moonee Valley on Saturday.
Race Result:
1st: Mr Brightside (L Burrie/B & J Hayes) - $6.50
2nd: Cascadian (B Melham/J Cummings) - $21
3rd: The Inevitable (D Pires/S Brunton) - $19
Winning Time: 1:34.47 Last 600m: N/A
Margins: 1/2L x Short-Neck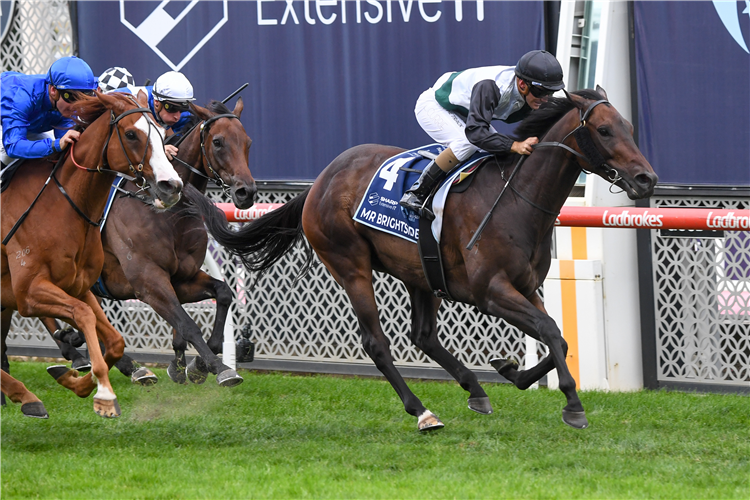 Winning Trainer: Ben & JD Hayes (JD Hayes speaking)
On what the win means: "It means the world to the family and everyone, the owners, and that was just an experience I've never felt before, so I think it's going to be pretty well celebrated.
"Ben is probably waning to get on the first flight home. This means everything.
On Luke Currie replacing the injured Craig Williams: "Condolences go out to Craig too. He did such a good effort getting this horse ready and unfortunately one thing led to another, but that was a 10 out 10 steer from Luke Currie."
On how they got Currie for the ride: "The old man lives three floors up in Hong Kong, so it was pretty easy, we just asked him to knock on the door.
"It was very close between him and Harry Coffey but he rode that an absolute peach and was so confident going into it.
On the legacy left by their parents: "We'd be nowhere without them. The opportunities they provided with the facilities and established client base and the horse numbers.
"We pinch ourselves everyday that we're able to come to work with such a head start.
"We wouldn't be anywhere without them.
Does he go back to defend his Doncaster title: "I think He'll put himself in an elite bracket, but he's already in an elite bracket in my heart. He's a beauty."
On his tenacity: "He's shown that from day dot. Wayne Ormond, when he found him in New Zealand he said that his tenacity to attack the line is just ultra competitive.
"They're things in champions you can't measure and luckily for us he's just boasting a lot of those qualities."
Winning Jockey: Luke Currie
On coming back for a big win: "I've had a tough last few years with injuries and whatnot and things haven't been going quite my way in Hong Kong for the last few months - I love Hong Kong and I'd love to stay there as long as I can - but it's a very hard environment so it's nice to come here and be able to pick off a big winner.
To do it for the Hayes family: "David Hayes has been a great supporter of mine in Hong Kong and we haven't had a whole heap of luck together, but my first ride over there last year, it was for David Hayes and it won, so I have to thank him and his family and JD and the boys here. I can't thank them enough."
On replacing the injured Craig Williams: "I've had my falls and missed out on rides and things like that.
"I spoke to Craig yesterday and he was happy for me to be riding the horse and gave me all the info. I'm sure a lot of guys would struggle to do that and not give you the insights, but Craig did straight away.
"He rang me without me having to reach out to him, so I wish him all the best and I can't thank him enough either."
Owner Ambassador: John Mahedy
On $250,000 cheque: "I adore him, 250,000 times. Everytime I spend a dollar, I will spend one for him."
What do with it: "I haven't worked that out at this stage. There's lots of things that can be done with I'm in the twilight years of my life, so I need something to carry me on a bit further."
What a scene: "It's an unbelievable day. I knew from the day when I got the phone that I had been selected, I fell on the bed."
Beaten Jockeys:
Daniel Moor (I'm Thunderstruck): "It worked out OK early. I Had the back of Alligator Blood. I could see he was going to need luck. There was a good spot threw-wide, with cover, on the back of Law Of Indices, so I jumped on that. He cruised into the race beautifully and I really thought we were a huge chance, and without being critical of the horse he bottomed out really quickly and he didn't even whack away. I would have liked to have seen him finish off a fraction better."
Blake Shinn (Alligator Blood): "He had a nice run. He presented at the top of the straight. Really no excuses. He ran a good race."
Ben Melham (Cascadian): "He ran super today from an ordinary draw."
Harry Coffey (So Si Bon): "Really good run. Proud of him. We went right back from that wide draw. I followed Ben Melham through. We sniped into not a bad position. I was really proud of his effort."
Oisin Murphy (Laws Of Indices): "Bad ride. Three deep, no cover."
Blaike McDougall (Aegon): "We landed in a lovely spot. He just travelled in the run and we were under pressure a long way from home."
Jordan Childs (Alenquer): "Reluctant to stretch out on the firm track."
David Pires (The Inevitable): "Super run. Got back, got to the outside and ran home really good."
Jamie Mott (My Oberon): "He was a bit disappointing. I think he will appreciate a soft track."
Daniel Stackhouse (Gentleman Roy): "Super. Tough effort."
Luke Nolen (Pounding): "Great run. Beaten by the draw."
Damien Oliver (Nugget): "He ran well, had a nice run, he had his chance and he ran well."
Craig Newitt (Keats): "He was just not good enough in this class."
William Pike (Sheeza Belter): "Uncharacteristic run for her. She came off the bridle a long way from home. Maybe she didn't back but everything else felt good. It wasn't her day today."