The last night meeting until March will be run in Launceston on Friday night where a good nine-race program features the Kevin Sharkie Launceston Guineas and Ladbrokes Stakes.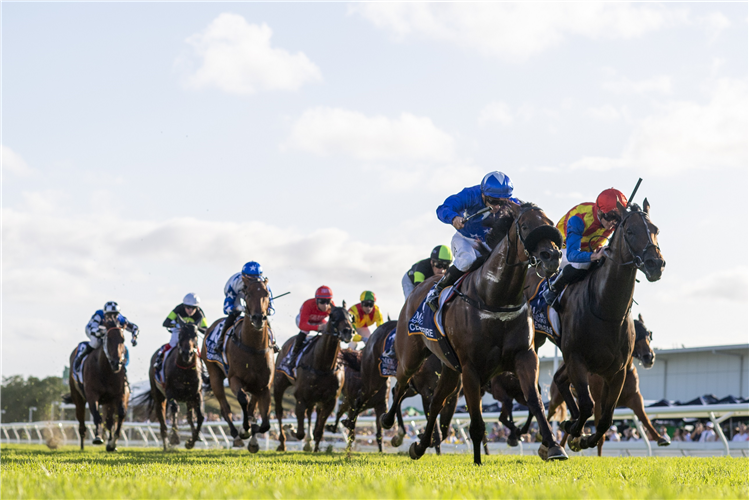 The rail is in the 0 position and the weather forecast points towards a good rated surface.
R1 Ladbrokes Launceston Cup 22nd February Maiden, 1200m
The barrier beat MUSCLE UP last time in Hobart, unable to slot in from a wide gate he lost by a narrow margin, with a big gap back to third. He draws off the track again here. ELMAJAY (12) has led for most of her two runs so far this campaign before being grabbed in the last 0. She should be nearing her peak third-up and may be aided following the rail in the opening race. PRINCESS MATOAKA (10) likely would've started favourite for a race here last week but couldn't get a run as emergency. Her trial form didn't get a great push that night, but she appeared to win with a bit left in the tank. NOXIOUS (14) closed well on debut and the winner there won a $75k race last Sunday. PENNINE chased the same horse home in a Longford trial and has a reasonable middle draw for his debut. BARATO was a trial winner in slow time on the same session and settled out the back at his only previous start. CREEK LODGE enjoyed a nice transit to run second in a maiden were the exposed form looks moderate. MILLA'S READY will be giving a start away from the wide draw but does have a couple of key gear changes. John Blacker has been hit and miss with tried horses and he has picked up MIRA FLORES who had excuses at her most recent run.
R2 Fashions For Fillies 19th February Maiden, 1400m
KREGLINGER (10) had heavy market support to open the program on Devonport Cup Day before being scratched at the gates. He has since trialled to re-gain his ticket and was a bit underwhelming. ALMIGHTY VIRTUE was one of a few that come via the race Kreglinger was scratched from, closing from the tail to beat home PUMA and ROCKIERRO Rockierro may lead here in a race lacking much obvious pace. BELLANIVE (12) is only lightly raced and improved at her second start some 56 days ago. Watch the market there with her resuming without a trial. LA LOUVE (13) and BAHIA BAY hugged the paint in their respective Hobart races to finish well from back in the field. One drops in distance and the other goes GRAND PEGASUS put in a career best last time to finish in the money. MISS PRIVATE (17) was awful on debut but did jump $4.40. She draws well and may be worth another chance. VIVRE IS THE WORD (16) is another reclamation project for the Alana Fulton stable and TOUGH HARRY finds a very limited looking maiden to kick off his career in as a 7YO.
R3 Cup Barrier Draw @ Sporties 17th February Mdn/cl1, 1600m
THREE'S A CROWD (12) defied a market drift to win over the Devonport staying trip last time out and the form received a push last week through A Wee Nip. Glenn Stevenson opts to come back to a mile rather than pushing up to 1 5⁄16 m. KATZENJAMMER (2) was a winner on the same program, left a very short favourite after a late scratching. He looks a different animal for Team Wells and along with FANCIFUL FLYING this looks a race where a lot of the speed has drawn wide. JACKJACK loomed to win last start but as he so often has, found a way to settle for a placing. This is no harder but he draws to come through the field rather than around. VANITY STAR (13) got a nice steer from Darma to run second at his Tassie debut in a race dominated by the leader. BLONDE SUSPECT finished a spot behind after covering a bit more ground in the run. BAVARIAN FLYER has weighed in at his last four starts and maps for a good run as does SHAMZOU (10). FROLAND (3) was no match in the Tasmanian Guineas but this is obviously a significant drop in class.
R4 Chilli Fm Live Broadcast Oaks Day Bm62 Hcp, 2100m
CAPTAIN MORGAN and RUSTIC CHARM come via a slightly stronger race at the T&D where they finished behind a pair of proven performers. They look well placed here but generally need some luck from back in the field. ALWAYS A WINNER seems the likely leader if he jumps well from the pole draw. He wasn't bad in the Brighton Cup ridden against his usual pattern. NOT A BRASS RAZOO started $8 there but only beat one runner home. Blinkers come off and a tongue tie going on may give a lead on what the stable thought was the problem that day. THE DECIDER went as good as he could in that race and this is a big drop in class. TRUE SCOTSMAN had good market support in Devonport and finished third with a few excuses. Ahead of him there was ANONYMOUS SOURCE but it's a big jump in distance from the Devonport mile to the Launceston staying trip. COSTERO (10) crossed Bass Strait looking for a staying contest and acquitted himself very well at Werribee. He's approaching 12 months since his last victory.
R5 Kevin Sharkie Launceston Guineas, 2100m
DUNKEL looks a very progressive stayer in the making with comparisons being made to Group 1 winner Explosive Jack who won the Tassie Derby a couple of years ago. He has no gate speed but still has been able to eradicate himself from difficult positions, the latest when defeating SOUL CHOICE at Flemington. With Soul Choice the likely pilot here, there seems little doubt Dunkel will be giving a start away again, but he meets the filly 10lbs better at the weights. ROYAL AND TOUGH enjoyed the perfect transit in the Tasmanian Guineas to finish third, albeit a long way from the quinella. In the small field he should find a forward spot again and HAPPY CLAN settled near the rear in the same race and could never get warm from there. IKNOWHATYOUREDOING has been well found in the market all campaign, unsuited last time in a race run to suit the on-pacers. His SA form looks a rung below the Vic metro form, but he obviously comes down here looking for the staying trip.
R6 Bill Dunstone Memorial Bm64 Hcp, 1200m
GEE GEE PLANE continued the consistent start to his campaign with his third placing from as many starts. His best form is on the carpet, but his last start showed he can run a race on the grass. SUMMER FIRE resumes with a winning trial that was three lengths quicker than anything else that day. She was only sighted once last campaign where she missed a place after a big market drift. GEE GEE TRUE STORY was held up at a key stage last start and hit the line well when clear. TITLE SHOT was a big drifter there and didn't finish the race off after handing up the lead early. She doesn't appear to have come back anywhere near her best this preparation. WOLF REIN (10) was added to the long list of mainland horses to win at their first Tassie start, enjoying the run of the race to beat a field that included GEE GEE LANETT who started shorter. FREAK ON A LEAD blew like a gale in the market first-up and ran accordingly. His best is up to this but you'd prefer him to be tighter in the betting if following POWER MAGNUM was plain resuming but that was a fast run race and he will have likely taken some improvement.
R7 Ladbrokes Stakes, 1200m
One of the best editions of the Ladbrokes Stakes seen in years. BELLO BEAU (12) takes on the older horses for the first time following a narrow defeat over a mile in the Tassie Guineas. He has a bit against the setup here, particularly when you add in barrier 11/12. REBEL FACTOR draws alongside him in 12 having been scratched from the Tasmanian Stakes with what connections say was a minor foot abscess. These two are clearly the progressive pair but will need a bit to go right from the barrier, with LIFFEYBEAU and JULIUS likely to inject a bit of pressure into the race after finishing in the minor money in the Carpet Charge. TURK WARRIOR was the winner there with a narrow victory over Emily who missed a placing as a strong favourite last Sunday. He doesn't look as favoured under WFA conditions while proven horses like GEE GEE SECONDOVER and BLAZE FORTH have the runs on the board at this level. PEACE BE UPON HIM (10) was a strong winner here a fortnight ago and deserves his crack in this class as does LAYLOW PLUCK (11) who arrives on the back of three straight wins in lesser grade. MUSIC ADDITION put in his best run for the campaign last start and warrants some thought off that.
R8 Beat The Shark Class 1 Hcp, 1400m
ZULU ANGEL made amends for a pair of unlucky runs to start the campaign with a win in Hobart from well back in the field. He looks suited stepping to 7 f fourth-up. SALLY SUNSHINE had strong market support here a fortnight ago but couldn't get into the race from back in the field. She has a T&D win. DOMINATOR'S GIRL was slow out last time before working to the front and inexplicably handing up to BELMISTA something that was also noted by stewards. LYCALLEGRO was given a great run by Chloe Wells for a debut win on Cup Day. He draws wide and this looks deeper, but the form can be given a push earlier in the night. EGAO is another horse looking to make the immediate maiden to class 1 jump but after taking 17 starts to break the duck she doesn't have the profile of a horse to immediately win two in a row. TENNESSEE BEACH is honest but places far more often than she wins and will need some luck from the wide draw.
R9 Ray Trinder Memorial Bm68 Hcp, 1400m
CHINCHERO resumes here after being a perfect 3/3 last campaign including a dominant win first-up at the T&D. He was a different horse last campaign settling closer to the speed which could be key here given DIAMOND BAY (11) and perhaps RICH CLAN are the only logical speed in the race. GEE GEE CAN WIN has relished having McCoull in the saddle, that combination not missing the quinella in four recent runs. He was safely held by Chinchero back in November and has a negative weight swing from that clash. MAARKLE was good first-up without a lot of luck at a key stage. ALPINE AFFAIR had the race run to suit in Devonport but won well and that form was franked last week. Stablemate ALPINE BLAST has been up a long time but is always an each-way chance in this type of race. ZIAVERA (10) was good in a high rating race last week and the quick back-up is generally worth respecting. WARDELL (6) was given a strong hit-out at Longford and raced wide without cover when he flopped last time in Devonport.