Turaath will face seven opponents when she lines up in the Australia Stakes at Moonee Valley.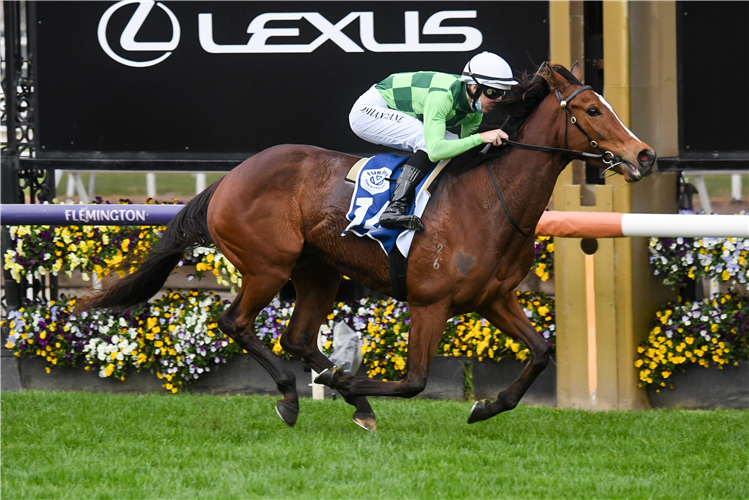 Warrnambool trainer Maddie Raymond has given herself plenty of time to have Turaath ready for an autumn campaign that she hopes will lead to Group 1 success.
Turaath returns in the Group 2 Australia Stakes (1200m) at Moonee Valley on Saturday after which Maddie;will determine the mare's campaign.
A Group 2 winner during the spring of 2021, Turaath won at Geelong last spring but had a rushed preparation which did not suit the mare.
"She probably had a bit too long in the paddock leading into the spring and it caught us on the backfoot trying to get her ready," Raymond said.
"There was limited races for her, and we couldn't space her races like we would have liked to, and it all happened too soon.
"She had three runs in 20 days. It was a bit too much, so it was trainer error there, unfortunately."
Turaath was afforded four weeks in the paddock after finishing last in the Group 2 Linlithgow Stakes (1400m) at Flemington on October 29 where Raymond said the mare raced like a tired horse.
Raymond said the break did Turaath the world good putting freshness into her legs while also retaining residual fitness.
Turaath finished third behind Marabi in last year's Australia Stakes having finished fifth in the Group 3 Standish Handicap (1200m) at Flemington two weeks prior.
"We felt having that residual fitness she didn't need that extra run," Raymond said.
"She hasn't had a jump-out, but I took her to Hamilton last week for a gallop between races which was enough to stimulate her."
Last year, Turaath headed to the Group 1 Futurity Stakes (1400m) at Caulfield, finishing fourth to Sierra Sue, and Raymond said that race could again be on the agenda this year.
However, there is the possibility of a mare's program leading to Group 1 contests in Sydney for the six-time winner from 20 starts.
"Being a mare that Group 1 is tempting for her," Raymond said.
"We'll have to see how she runs first-up, how she comes through it.
"We're lucky this time around that we have plenty of time and plenty of options and we can pick a suitable path to the right race."