Macca, Frankie and Chicken.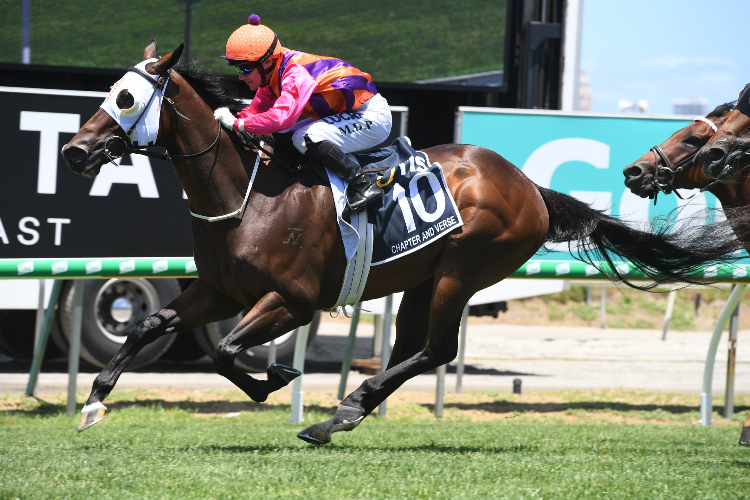 They are three of the closest mates you could find, living out there days on a Logan Reserve property on the outskirts of Brisbane.
They all have one thing in common – all three being retired race horses.
Macca is the newcomer to the bunch, progressing from the Transitioning Thoroughbreds Foundation, which was founded by Jane Gollan, before landing with his two new mates.
The retired galloper goes by Macca these days in his eventing pursuits.
But, when he was on the track, winning well over $1 million in stakes, he went by Chapter And Verse.
Once the now eight-year-old gelding finished up at Eagle Farm with horsewoman Desleigh Forster, he made his way to the Transitioning Thoroughbreds Foundation and experienced re-trainer Kate Dreverman.
Following his three month extensive re-trainer program with Dreverman, Macca was purchased by Tylah Webley and relocated to her property with his mates Frankie and Chicken.
"They are all friendly and love each other," Webley said.
"They run around and play a lot.
"I have always had Off-The-Track horses and supported programs like this.
"They transition really well – some take longer than others – but they come around."
Frankie raced as Other Way for Gold Coast trainer Lisa Garrett before he went around for the last time in 2016 while Chicken went by Silverbrook Lad in the track.
Webley, who has a keen interest in eventing with her thoroughbreds, says Frankie – who she has had for the longest – is the star of the show in that discipline.
But, she has high hopes for her former turf star in Chapter And Verse.
Macca was well prepared for his new lease on life with Webley.
When a retired race horse lobs at the stables of Dreverman, the experienced re-trainer likens the process to a child going through primary school.
When Dreverman takes a galloper from race stable life to their next stage, she lets them experience almost every discipline possible to see where their strengths are.
Webley picked up Macca with eventing in mind and that has been their pursuit in recent months.
He has been spelling since October of last year, his new owner opting to let him down and let him feel like a horse with his mates.
"He will come back into work soon for this season coming," Webley said.
"I had goals to go to one star eventing – he will not do that this year – but we started off doing a few 65 starts last year with him and he took them, so we will slowly move up the grades.
"I will hopefully get him to 95 by the end of the year, but eventing is where I want to go and he seems to take to it well.
"His first event I took him to was up at Toowoomba and he was leading after the dressage, before the cross country got cancelled in the rain, but he is doing great."
Webley has been riding since she was in her early teenage years at pony club.
That eventually progressed to riding track work for trainers such as the late Gwenda Markwell at Kembla Grange for a year before returning to the Sunshine State to work for the Duryea family at Beaudesert.
When working for Doug and Darleen Duryea, that is where Webley sparked her interest in eventing, which led her to her growing team of former race horses.
While Webley describes herself as an amateur in the eventing world, she hopes to travel Macca to Maryborough, Warwick, Larapinta and Toowoomba in 2023, as well as local events around her area.
In retirement, Chapter And Verse is enjoying a happy and healthy life.
He plays with his two mates; he roams around Webley's spacious property as well as getting fed twice a day and well-looked after by his owners.
Kim Duffy – Racing Queensland's Senior Animal Care Manager – says Chapter And Verse's transition highlights a thoroughbred horse's versatility.
"It is fantastic to see Chapter and Verse excelling in his life post-racing," Duffy said.
"Chapter and Verse competing in show jumping and eventing is a perfect example of the thoroughbred's versatility and the range of post-racing pathways that are available."
During Macca's time with the Transitioning Thoroughbreds Foundation, Webley visited Dreverman's property – which is based between Esk and Kilcoy – to see if he was going to be the right horse for her.
She went out and test road him one day.
And, the rest is history.
"He is a straight forward ride, he is quiet - as I have a toddler - so I was looking for a quiet horse that is easy to take out," she said.
"He came home with us and he has been with us since.
"He came to me and he was ready to go out, we did a few weeks training at home before we took him to a local day.
"He stood at the float and waited; he was quite easy actually to take out."