Winners are never easy to come by, especially when you have only two horses in work.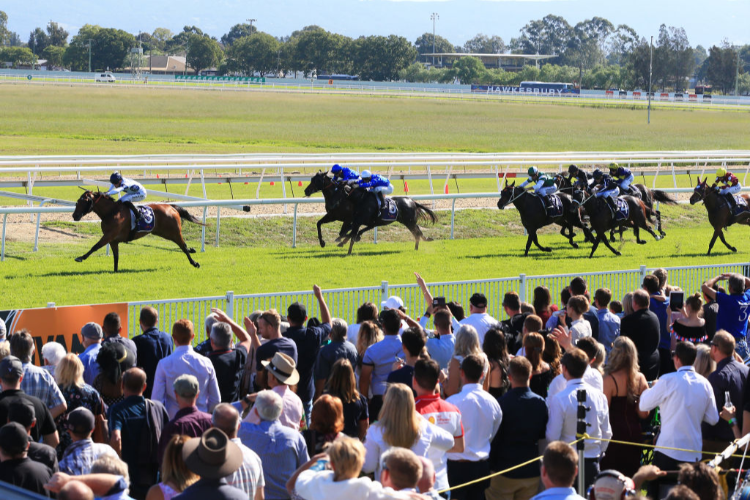 But if hard work and commitment is a measuring stick, Hawkesbury trainer Kevin May deserves more.
The expatriate Englishman and former jockey at Bathurst today clinched both his first winner in nearly two years and second career success when Ever Upward convincingly took the Maiden Plate (1100m).
Given a perfect ride by Grant Buckley, the lightly-raced three-year-old always travelled like a winner and took advantage of a rails run in the straight to shed his maiden status.
Ever Upward ($4), at his seventh start, beat Hot Extraction ($18) and first starter Armageddon ($2.40 favorite).
May, who gave up riding a few years ago to fulfil a lifelong ambition to train, landed his first winner with Messina Magic at Orange on February 2021.
There is more than a touch of irony in the fact that Ever Upward is by Headwater, as May had high hopes for Messina Magic's younger half-brother Paddy Shane, who was also sired by the same stallion.
"He ran second in a trial at Hawkesbury in December 2020, and my owner Arcella Thoroughbreds sold him to Hong Kong (where he races as United Endeavours) for good money," May recalled en route home from Bathurst.
"We picked out Ever Upward, and bought him for $40,000 for the same owner at the 2021 Inglis Classic yearling sale.
"He is still a colt, but you wouldn't know He's very quiet and very genuine.
"Ever Upward initially was in the shadow of another young horse I had, but Devious Mind in five starts didn't live up to the promise he showed and we passed him on to another trainer at Newcastle.
"Every Upward came out of that shadow when he ran second on debut at Scone in a 4 1⁄2 f Two-Year-Old Handicap 12 months ago, and hasn't disappointed us since.
"It was great to get a break through with him today, and I'll look for another suitable race in the coming weeks, hoping it won't take me as long to get another winner."
May and his wife Kelly purchased a Danerich yearling at the Inglis Hunter Thoroughbred Breeders' Association sale last May for $7000.
He will race as Without Merit, and is the first foal of the Bel Esprit mare Joyous Bel, who was ridden in her Kyneton Maiden victory in 2019 by Clayton Douglas, who hit the headlines last spring as the trainer of The Everest winner Giga Kick.
"We're just taking our time with him, and he is yet to race," May said.
May might have only the two horses in work, but don't for a moment think it's a snack for he and his wife.
The couple rises at 3 am to take their horses to the track at Hawkesbury and work them, then May heads to Godolphin's base at Agnes Banks to ride work for the Australian arm of the global racing giant.
Neither his morning or that of his wife is by no means over.
"After finishing with Godolphin, Kelly and I go to Dominic Bracks' farm to help out with pre-trainers and breakers," May said.
"Kelly is a wonderful horse woman; better than myself.
"It's busy allright, but it helps pay the bills when you've only got two horses in work, and obviously I would be pleased to hear from any owner who would like to give me another."
. May became the 22nd trainer based at Hawkesbury to taste success so far this season, and 1010 winners have come out of the provincial track since August 1.