A move to a quieter environment has done the world of good for Tiger Fire, who is emerging as one of the most exciting stayers in the South Island this summer.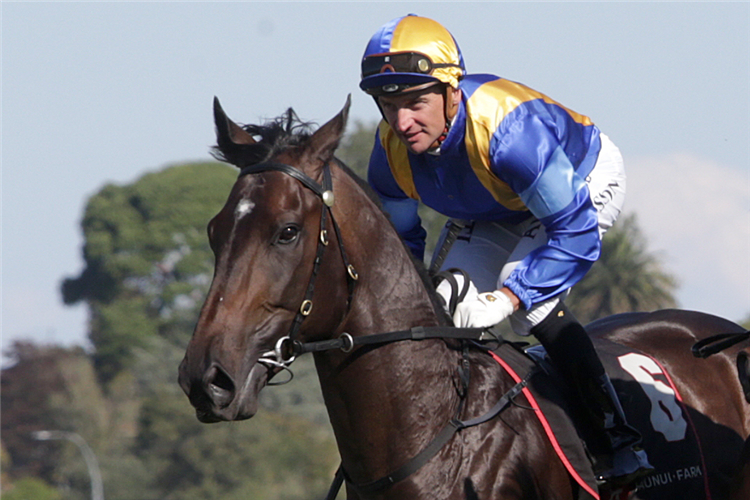 Since his move to the stable of Winton trainer John Phillips, Tiger Fire has won four of his eight starts, including his last three in a row, and he's now being targeted at the time-honoured Invercargill Gold Cup (2600m) on February 18.
Tiger Fire began his racing career with Murray Baker and Andrew Forsman in Cambridge but was unplaced in six starts, often due to problems at the start.
"He had a nomination in for the Derby, so it's obvious Murray had a bit of an opinion of him, but they had a few barrier issues with him – he was missing the kick quite badly there," Phillips said.
"He had been gelded by the time he came down here and it's a bit of a quieter environment, and he's enjoyed that. We haven't had any barrier problems with him since he got here.
"He's out in the paddock most of the day, and later on he comes into a box, and he's a pretty happy fella. There's three or four trotters and three or four gallopers going around. It's a bit different than having more than 100 going around like at Cambridge."
Phillips was chosen as a South Island trainer for Tiger Fire due to his association with bloodstock agent Stuart Hale, who bought the horse at the New Zealand Bloodstock National Yearling Sale at Karaka in 2020 for $100,000.
"I've known Stu for a lot of years, and he also sent me Darcee Que, who we won a race with a couple of years ago," he said.
"I got Stu to buy me another Darci Brahma two years ago and we've called him Stu Darci. He's going to have a run shortly."
Tiger Fire had his first start for Phillips in April last year, winning a 7 f maiden, but it's been this season that he's really started to make a mark, winning his last three starts.
The streak began with Rating 65 victories over 1 3⁄8 m at Ascot Park and Wingatui, and he made it three on end at Gore over 1 1⁄8 m at Rating 75 level.
"He's done everything right coming through the grades. A couple of them might not have been the best fields in the world, but you can only win," Phillips said.
"He's got a good turn of foot for a big horse. The other day he ran his last 600 in 35 on a damp sort of track, which isn't bad for a horse like him. He'd be close to 17 hands and he's a big raw-boned animal."
Phillips has trained horses for more than 30 years, usually only with a few at a time. His best victory to date was with First Look in the Gr.3 Winter Cup (1600m) at Riccarton in 1995.
"I've had some good horses in the past, so Tiger Fire has a bit of a way to go to match them, but he's going very well. He's an exciting horse."
Phillips had hoped to give Tiger Fire a chance at black type company in the Listed Dunedin Gold Cup (2400m) at Wingatui on February 4, but that has been shelved for now.
"Unfortunately, when we brought him in on Sunday he was a bit tender in one foot. He's picked up a bit of a stone bruise, so that's going to put his prep back and I won't go to Dunedin now," he said.
"Instead I'm going to look at the Invercargill Gold Cup (at Ascot Park on February That's 1 5⁄8 m but that's not going to worry him. The further he goes, the better he's going to get."
Phillips trains a team of about five, and he also has a few standardbreds, one of which is being prepared for a yearling sale in a few weeks.
He said Tiger Fire would probably be put aside for the season after the Invercargill Gold Cup and be aimed at bigger targets next season.
"We'd like to get him ready for Riccarton. He had one start there for a fifth and he should really like the track there."