Unbeaten three-year-old Sharma's Last may have run his last race in Tasmania following trainer Adam Trinder's revelation that the Tasmanian-bred gelding could be Hong Kong bound.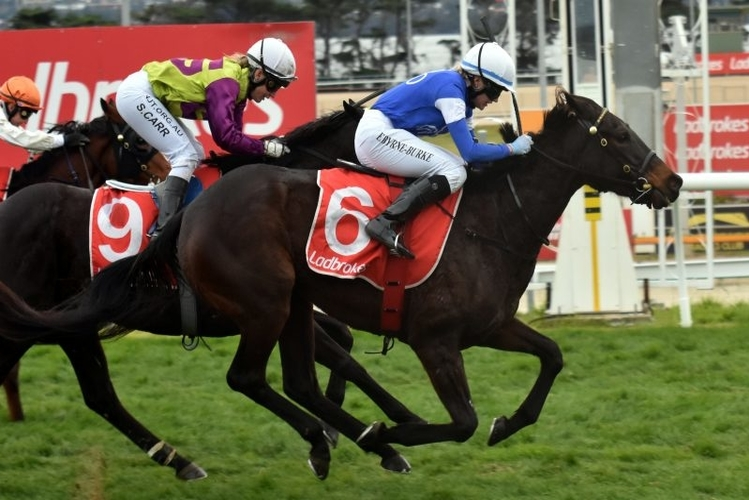 In Brief
Three-year-old set to be sold to Hong Kong.
Wednesday night's race was a must-win to seal deal.
Byrne Burke had trouble securing clear passage to line.
Sharma's Last won his maiden on his home track in Devonport in early September after which Trinder gave him a short spell.
He was to resume racing two weeks ago but a disappointing trial in Launceston late last month delayed his return.
An adjustment to gear remedied the issue that caused the below-par performance and he proved all was back on track with a trial win at Longford.
The gelded son of Needs Further-Sharma Magic always looked to be traveling comfortably on Wednesday night in the class one handicap over 5 1⁄2 f, but apprentice Erica Byrne Burke had trouble finding clean air when others charged forward to keep her pocketed.
Punters were holding their breath as she tried to extricate her charge from the inside running but when a small gap appeared the gelding barged his way through and ended up winning by a long neck from Wheeling with Banca Tom a similar margin away third.
"He had to win this race to get his rating and now that he has, it's questionable whether we will see him race here again," Trinder said.
"There is no timeline on finalising a deal because they are looking at him as a four-year-old to contest their HK Derby and he is only three.
"To get him to Hong Kong there is due process in that we are to accept an offer and he has to pass vest tests and so but there is significant interest in him."
Sharma's Last is so named because his dam, Sharma Magic, died soon after foaling down that left connections to secure a foster mother.