The Melbourne Cup Carnival begins with Derby Day, the start of a week-long betting bonanza.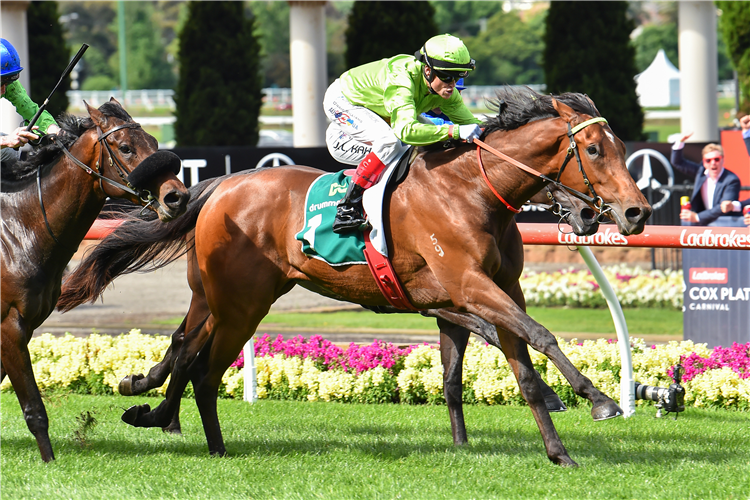 There is nothing like Cup Week for punters. A week of tips, touts, coat tuggers and calcuttas. It is not just the horses that will have their temperaments tested, punters too need to ensure that they keep calm and carry on through a week of promos and punditry; D-list celebrities and over-the-top celebrators.
Success is not final, failure is not fatal, it is the courage to continue that counts. So said William Churchill, a man who knew something about a steady hand in a storm.
Churchill could be considered something of a patron saint for punters and can be looked to for guidance in this most testing of weeks. Churchill grew up at number 48 Berkeley Square. A gift from the heavens from our patron to the punters.
Berkeley Square is the favourite for the Derby and rightfully so on the strength of his Vase success last week where he backed up his effort in the Guineas and rounded out the perfect profile for one tackling this test.
Only four times in 20 years has the Vase been quicker than the Cox Plate on the same card. Three of those produced the Derby winner, and a good Derby winner (Elvstroem, Efficient, Lion Tamer), and it took something out of the box to stop Whobegotyou making it four.
Berkeley Square can't claim to have been faster than Anamoe around the Valley but he went closer than any outside of those four and he did so finishing full of running. Factor in that finish and Berkeley Square's standing is strengthened, behind only Kempinsky and Elvstroem who cleared out in the Vase and again in the Derby, running 1-2 in both, and Efficient who was also faster than FOO and faultless at Flemington.
All this won't make Berkeley Square faster but the farther backward you can look, the farther forward you are likely to see. More prose from our patron who points us one way - to Berkeley Square.
The real highlight of Derby Day in recent times has been the Coolmore and it stands up as the pinnacle on Saturday where the second biggest field in the race's history will go to post if all stand their ground.
The race looks sure to be run and won right up to standard with four that have ratings at or on the cusp of what it typically takes and one of that four - Jacquinot, Best Of Bordeaux, Coolangatta and In Secret - with one of those largely ignored by the early betting.
That is Best Of Bordeaux. If you are going through hell, keep going, Churchill famously thundered. Best Of Bordeaux was sent out running into the teeth of a strong pace against older horses in the Manikato and he bravely kept going.
Margins at the finish of the Manikato were accentuated by pace and conditions and Best Of Bordeaux walked away with his papers stamped. Brave, likeable, and in the Coolmore, backable at prices close to 20/1.
Since moving to Cox Plate weekend the Manikato has served as the platform for three Coolmore candidates with two of them able to spike on the back Sunlight came off an unlucky seventh to win in 2018 and Bivouac went from sixth at the Valley to post a winning rating in the Coolmore, unlucky to run into one able to top it.
Bivouac was much higher rated but Sunlight's form looks familiar. A Silver Slipper winner, placed in it's Golden spin-off, and off to the Coolmore at spring run number five.
Identical peak ratings strengthen that match and, while far from foolproof, the little evidence we have suggests that a tough run in the Manikato is a bonus not a burden.
A week will feel like a long time for punters this week and hopefully a week is long enough for Best Of Bordeaux to bounce back to his best. Big prices make him a gamble worth taking.
For myself I am an optimist—it does not seem to be much use being anything else.
THE MELBOURNE MAIL
Bet Of The Day: Race 7 #2 Berkeley Square @ $3.30
Each Way Play: Race 6 #2 Best Of Bordeaux @ $19.00