Tasmanian thoroughbred punters have become accustomed to Sunday racing from Devonport but this week's card is the last on the synthetic surface until December.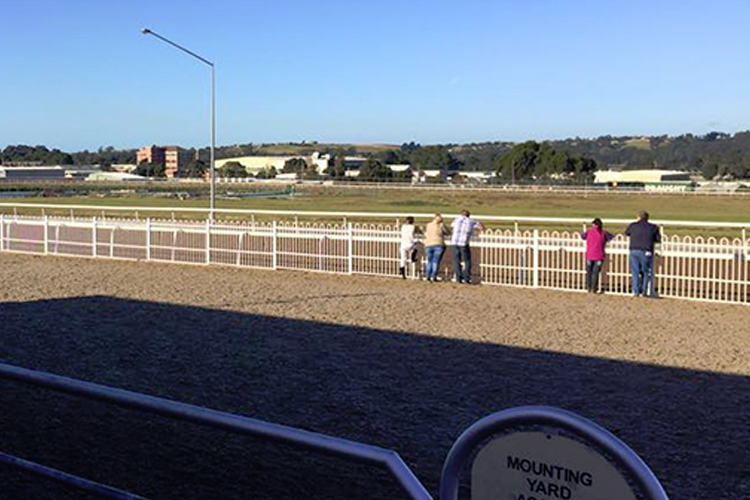 R1 Leaping Goat Coffee Bm76 Hcp, 1150m
MICHBAR (2) resumes having won two of his four previous first-up runs. He's landed on pace in both trials which is his normal pattern and from gate 4 he looks a fair chance to sit outside the likely leader BANDINELLI (1) which would give him every chance. The toppy weakened quickly when he returned but drops 7lbs and gets the blinkers as well as his trainer/jockey back on. SIRENE STRYKER (5) appears to have put her injury problems behind her with two nice runs this campaign. She's had the run of the race both times but drops 6lbs from her last start second which gives her a 8lbs swing on MISS TUPPENCE (3) for comfortably beating her home. Last season's Lady Lynette winner was an enormous market drifter resuming and was never in the race after settling near the rear. Troy Baker knows her well but none of the mares five wins have come with more than 56kg.
R2 Kevin Sharkie Maiden, 1009m
WARICA (4) has started less than $5 in more than half his nine career starts but remains a maiden. He beat a subsequent winner in his trial a month ago and the overall time was good for that session. Several of his key rivals come via the 5 3⁄4 f maiden won by Power Magnum. Neither BELPINE MISS (7) or LACERATE (2) had much luck slotting in from wide draws there. BLOW UP (8) was the race leader and had to absorb a bit of pressure in front on the inside of a three-wide line. She has good gate speed but will need it to cross from a wide draw. GALLANT WARRIORS (11) made inside runs from back in the field. He's settled off the speed in both career starts but connections opt to come down in distance and put blinkers on. SELKIE (10) was looked after late in a recent Devonport trial. She has a favourable draw for her first race start on the surface but brings only a moderate overall record.
R3 Goodstone Group Maiden, 1350m
TENNESSEE BEACH (8) got to the Devonport 6 3⁄4 f last start and ran her usual honest race. She's yet to miss a place in four starts at home but a win is proving elusive. UPWARD AND ONWARD (3) hasn't raced since the last Tassie grass meeting and interestingly heads to Devonport for their last meeting until December. He was fair last time in a race that hasn't produced a lot of form of substance. ALPINE ASSAULT (1) appeared to be crying out for this distance after his second here two starts ago and that remains the case after an 5 3⁄4 f run last Sunday where he was back and wide for the trip. FIGHTING GRACE (5) comes via a weak looking maiden where a big price move nearly came off. She should do little work from the inside draw. AHZEEZAH (4) led last Sunday and boxed on ok. ST REGIS (7) had no turn of foot when the pace quickened at her only start. She should derive some benefit from that outing and the quinella from that race have since won.
R4 Tasmanian Horse Transport Mdn/cl1, 1880m
These horses have seen a bit of each other over the last five weeks. PAGE (3) won a similar race at the T&D with ease two starts ago. She subsequently dropped back to a mile where the tactics were non-committal but she's hard to beat again. FIFE AND DRUM (1) raced last Sunday where he looked to have his chance but finished in a blanket for the minors. He's continuously shown he'll be competitive in a race like this. SPEED ROCK (5) and MADAME BENEDICT (5) crossed the line together last week. They bring underwhelming career records but it's that type of race. REAL MONSTER (4) was wide without cover in that race so had excuses, but it may also have been a gut buster. He's potentially the only speed in the race. ANGELIC AMOUR (2) had market support here a few weeks ago but bombed the start.
R5 Ladbrokes Live Betting Class 1 Hcp, 1150m
POWER MAGNUM (1) returned from injury with a strong win at the T&D where he was given the run of the race by Mehmet Ulucinar. That form can be franked earlier in the program. OXY DREAM (4) put in a big performance to win in Launceston, overcoming a wide run to win at good odds. That was only her second start for David Keating and she may have more scope than a few others that have raced here recently. FEISTY LION (2) has been consistent across this stretch of synthetic racing and looks the pilot in the smallish field. HAS THE LOOK (6) has placed far more often than she's won in her career. She got out over further last campaign but did SP $3 first-up at the T&D in December last year. ROCK'EM BABY (3) resumes with blinkers and bandages She did enough in a trial last week though the time wasn't flattering. MAGIC TYPHOON (7) and DEHERE THE WORD (5) were no match for Bold Instinct first-up and should appreciate the rise in distance and a field that lacks the potential quality of that winner.
R6 Thai Imperial Class 1 Hcp, 1350m
NEEDS TO BELONG (1) had market support second-up off a long break but had to settle for second after having difficulty getting a clear crack in the home straight. There's a chance that happens again from the pole draw but he should be ready to peak third-up. PROPHET EYES (2) comes via the same race where he started the same price but raced wide without cover. RIGHT HOOK (3) was disappointing last week as a heavily backed favourite, seemingly not running out the mile. He comes back in trip having his third run in as many weeks. GEE GEE MISS QUITA (4) and OLYMPIC HONOUR (5) come via a race that rated awfully against the clock but produced two winners last Sunday. Gee Gee Miss Quita brings a strong SP profile but may be after further fourth-up. MAARKLE (7) can prove she wasn't just the best of a bad bunch following her maiden win here three weeks ago. BAHEERA (9) maps for an economical run and has made the most of similar at her past two starts. KING ISLAND (8) is an emergency in an earlier maiden. He's a recent trial winner but brings average maiden form from Victorian trainer Dean Binaisse.
R7 Fight Mnd Bm68 Hcp, 1350m
MULTISANTI (6) chases a hat-trick of wins, all at the T&D. He chased a genuine tempo last time with the best part of his race being how he powered to the line. This does look a bit harder, and he'll need another good Troy Baker steer from the widest draw. ALPINE BLAST (3) has been making a similar progression to Multisanti and has won three of his last four starts. He got a lovely run through the field to knock off the on-pacers last time headed by ASPIRATE (2) who the market missed but will be much shorter here. LESNAR (4) wasn't far away in the same race, but you have to go back 15 starts to find his last win. IVORYMAN (5) maps for the run he likes, saving ground and saved for a short sprint. SCHAUFFELE (7) went to the line untested last Sunday and was right in the market there.
R8 Dean Rawlings Senior Memorial Bm68 Hcp, 1880m
MAINCOURT (2) has returned with a bang, resuming with a brave second and then carrying 134lbs to win last start. He'll appreciate the 6lbs drop and has a plum draw. MISS DELIA (5) was made to work for the win last week, but the tempo did favour the pace setter. She rises 11lbs but is still likely to be strong late which is something she's shown in all four Tassie starts. LUCKY LIL (3) wasn't far off Miss Delia last time she raced but isn't proved out to the 1 1⁄8 m. Stablemate THE EXECUTIVE (4) has better staying credentials and though he's rising from 6 3⁄4 f, he does get some weight relief from last start. TURK DELIGHT (6) hasn't missed the quinella in two starts at the T&D and gets blinkers back on. HIGH MAINTENANCE (9) was no match for Miss Delia last week but made an early move and had market support. DARGO (7) may get a softer time of it on-speed than recent starts and won't shirk the task when challenged.
R9 Carlton Draught Bm60 Hcp, 1650m
SECRETLY AWESOME (5) arrives to Siggy Carr having had his most recent start for Gavin Bedggood just a fortnight ago. He won three of his first six career starts but the last of those was back in 2020. His Vic form looks competitive enough in a field that's very much tried and tested. BARJEEL (1) appeared to have his chance last time but was nailed late by NEEDAREIN (4) who has since run well again. Both horses rise in weight dropping to 60 grade. BELL RINGER BOY (3) hasn't raced since the last Launceston meeting where he settled back on a day where most winners were on speed. DUSTY JOE (2) was better last time and should be working to somewhere near peak fitness third-up off such a long break. RENASCENE (9) was solid at his Tassie debut where he raced on-pace but there may be a bit of pressure up front here. SUBMIT ANOTHER (8) made up the numbers last week and is back to a more suitable race. The last of his four wins was way back in October 2019.