Trainer and jockey quotes after the MSC Signs Handicap at Moonee Valley on Friday won by Zethus.
Race Result:
1st: Zethus (James Cummings/Jamie Kah) - $9
2nd: Clemenceau (Michael, Wayne & John Hawkes/Jye McNeil) - $2.05
3rd: Sessions Road (Michael, Wayne & John Hawkes/Fred Kersley) - $41
Winning Time: 1:12.47 Last 600m: N/A
Margins: 1L x 3¾L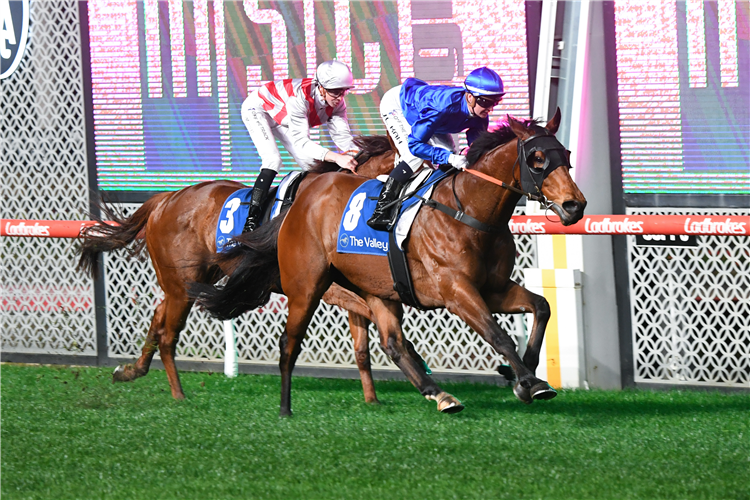 Winning Trainer: James Cummings (rep by Sean Keogh)
"He came in fit tonight and it was decided to geld the horse as well.
"He's showed a lot of vigour since he's been in Melbourne and the team has done a good job preparing him. He looked terrific tonight and a good ride by Jamie."
Could the gelding be the making of the horse: "Absolutely. He hasn't lost any condition at all. In the the pre-race he was wonderfully strong. He hasn't fallen away for the gelding at all. If anything he has come on from that.
In the run: "We'd seen the pattern of the first two races play out for the horses on the speed and drawing barrier one, we said to Jamie that if she could just be patient and hold the rails as long as she could. She scraped the rails for almost the entirety of the race, I put a lot down to that."
Winning Jockey: Jamie Kah
"I thought I was traveling well a long way out and there was nice pace which helped.
"I really wanted to get off the rail but there was a lot of horses on our outside holding us I was pretty aware that the leader was going to be stopping soon after going that hard but I had to bide my time and luckily I had a nice educated horse underneath me that just waited for me to press the button."
Track tonight: "It's a typical Valley track and it's always better to be closer on the pace. I don't think there is a specific lane but they struggle to make ground.
"I think in the first few races, they really slackened the tempo mid-race which made it hard to catch them. I was happy with the run my boy got in the end and very well prepared by team Godolphin."