Trainer and jockey quotes following the Group 1 Charter Keck Cramer Moir Stakes won by Coolangatta at Moonee Valley on Friday.
Race Result:
1st: Coolangatta (Jame Kah/Ciaron Maher & Dave Eustace) - $6.50
2nd: Bella Nipotina (Craig Williams/Ciaron Maher & Dave Eustace) - $19
3rd: Zoustyle (Damien Oliver/Tony Gollan) - $13
Winning Time: 59.16 Last 600m: N/A
Margins: Head x 1-1/4L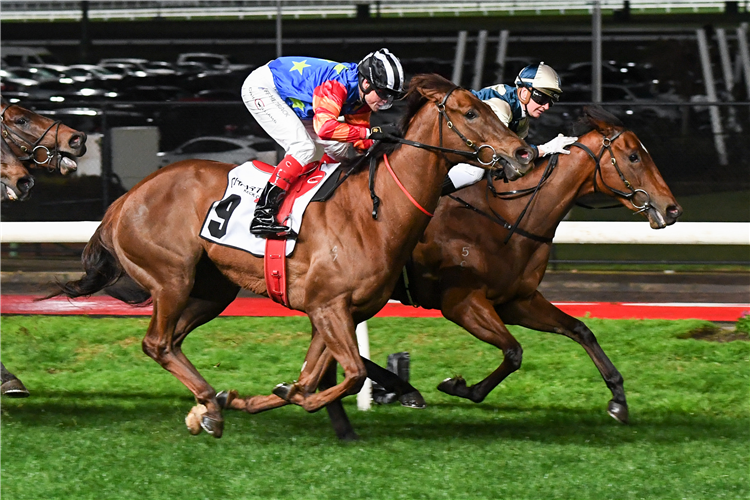 Winning Trainer: Ciaron Maher & Dave Eustace (Ciaron speaking)
What a filly and what a win: "It's fantastic. A super job by the team. It was her first run going this way of going the other day. There's a lot of doubters that say what are you putting a three-year-old filly in a race like that against those hardened sprinters. I was very confident in the horse and knew the way she pulled up the other day, I knew she had a tough run but she pulled-up very well. She was very fit going into it.
"It was a super ride by Jamie. There's not too many jockeys that can ride 50 (kg) and ride as well as her at any weight.
"I thought she's be sitting behind one, but she took the initiative, she took the luck out of the race. Full credit to the team. They have done a great job with her across her the states and it's a massive thrill to get a horse this early in her career to win a Group 1 like that."
Thinking when Bella Nipotina was chasing: "It's not much of a problem to have. Bella Nipotina put the writing on the wall as she loves The Valley. She had it up against her but Craig Knows her so well. Bring on the Manikato for her."
Can Coolangatta stretch to 1200m: "She probably can. There's not much she can't so around here again and I'm sure Jamie would like to ride her again. We'll see how she pulls but it's a big tick and if she did nothing else this prep, she's a maturing filly and it was a big effort and a great thrill."
Winning Jockey: Jamie Kah
Getting down to 50-kilos: "It was so worth Long time between drinks since my pas Group 1. They're so hard to win and when you're on Ciaron's horses it is a lot easier because he's got some good horses among them.
"With Bella coming towards me I was thinking 'come on let me have this one'.
"She was tough but like Ciaron said I was in the box seat and there wasn't much speed but when she jumped to the front she just took luck out of the equation.
"With the weight on her back I was pretty happy cruising along. It is hard do to what she did going against the older horses and do that even with the weight but she's a star and I'm was happy to be on her at the right time.
Satisfaction of winning a Group 1 now: "This is all I wanted to It is what got me through. I wanted to come back and ride a Group 1 winner. They're hard to win. I've been on some nice youngsters lately and just (needed to have) luck come my way. Beyond happy."
Beaten jockeys:
Blake Shinn (The Inferno): "Just never handled the track that well."
James McDonald (Paulele): "He went good. Just the 1000 (metres) was very sharp. They just kept running and had them off the bit a log way from home. He ran and finished the race like it was six furlongs."
Damian Lane (Rothfire): "He ran great."
Damien Oliver (Zoustyle): "I thought he was very brave. He ran well."
Rachel King (Malkovich): "A little bit disappointing but he just couldn't be on the speed today."
Mark Zahra (Generation): "He ran well coming fourth."
Ben Melham (Extremely Lucky): "He just got ran off his legs."
Kerrin McEvoy (September Run): "Just didn't have a lot of room. Ran well."
Craig Williams (Bella Nipotina): "He was very gallant in defeat. The winner draws barrier one and we draw barrier ten. She did an awesome job. It was very uneconomical and she was very brave in defeat."
Jye McNeil (Isotope): "She just struggled at this level tonight."
Daniel Moor (Mileva): "She was gallant given the wide gate she had to contend with."