A week on from the first Group One of the season in New South Wales comes the opening Group One of the season in Victoria - the Memsie Stakes.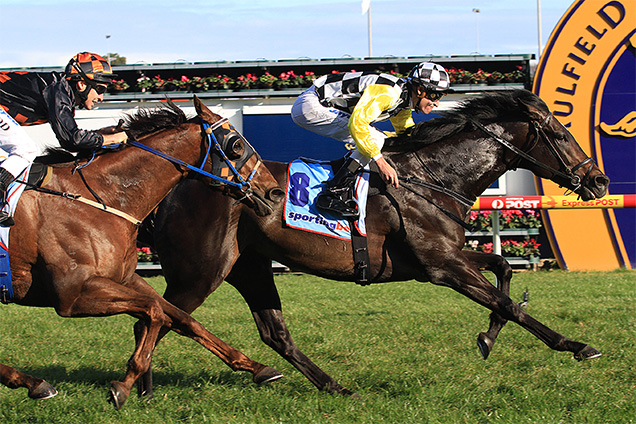 The Memsie, like the Warwick-turned-Winx, is a 7 f weight-for-age contest that plays host to Group One horses but, to all bar a deluded few, is a Group Two contest run in the winter when it should be run in the spring.
But this hardly matters. What really matters is not what the press box and administrators wave their hands about - prizemoney and prestige - what matters is competition between the best horses and riders. The rest is window dressing.
Saturday at Caulfield is a spring-shaping card loaded with competition; no race more competitive than the Memsie itself.
They come from near and far. From near the Toorak and Orr winners, Thunderstruck and Tofane, and from far the Strabroke winner from Queensland, Alligator Blood, the Railway winner from Perth, Western Empire, and the All Aged winner from Sydney, Cascadian.
Throw in the Australian Cup and Tancred winner Duais, looking to set herself up for the springs biggest prizes, and a boom horse in Illation who is pitched to the wolves but by connections that pitch with purpose.
Some race. Some contest.
What is it worth? What is it's status? Did it pass the pattern committee's arbitray regulations? Did the Winx or the Memsie winner rate top with the larrikins at Longines?
Flavourless questions with no significance like the question that really matters - who starts favourite?!
There are five out of the fourteen that I could plausibly mark favourite with a soft lean to Western Empire but a draw that pops a question of tactics and it alters betting tactics too.
As a result, the race is passed on for Melbourne Mail purposes.
Earlier on the card the 7 f handicap, run as race three, sits a long way down the foodchain from the Memsie but can rival it for competitiveness.
This one does qualify for Melbourne Mail purposes with Pascero marked shorter than the $6.00 being bet about him righting the wrong of two weeks back.
Whether he really is 'righting a wrong' is a matter for debate but it seemed clear that he had more to offer and no room in which to offer it last time and had he been clear he would have at least been closer than the final margin.
That would have seen him run to something like his best rating to date and he could have done so shaping as though there was more to come yet.
Our each-way shot comes up at barely better odds than the $6.00 on offer about Pascero but the $7.00 Isotope is too tempting to pass on for one as good as her.
Boom filly Passive Aggressive has substance to go with style but Isotope has a bank of performances that will stretch her neck and mean that she won't get away without taking the step most fancy her to take.
The difference in prices seems too big given the lay of the land. Perhaps it is the land that is influencing some. Rain around means we are racing on soft ground on Saturday, and heavy going in Sydney has brought Isotope unstuck (or stuck?) in the past. But she won nicely on soft ground on Slipper Day 2020 and the ground raced every bit as soft as things are expected to be at Caulfield on Saturday.
THE MELBOURNE MAIL
Bet Of The Day: Race 3 #7 Pascero @ $6.00
Each Way Play: Race 7 #8 Isotope @ $7.00