Mark Casse has twice made his mark in the Queen's Plate. This time, he has two chances to make it a trifecta.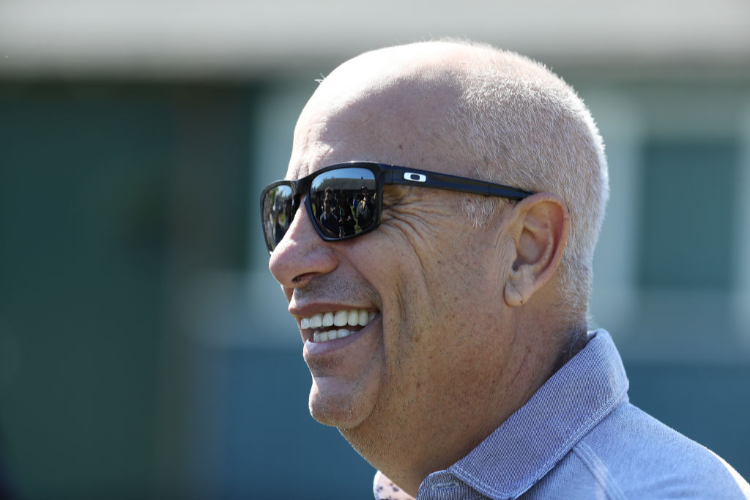 Eight years ago, one of Thoroughbred racing's most successful trainers recorded his first Plate victory courtesy of Lexie Lou. In 2018, another filly, Wonder Gadot , gave the dual hall of fame conditioner his second score in the "Gallop for the Guineas."
On Sunday, Casse, a winner of 3,367 career races (as of August will have a pair of opportunities, in the form of Sir For Sure , and Hall Of Dreams , to make it a Plate triple.
"It's a race you dream about winning and one you definitely want to win again," said Casse. "To win it once was a huge thrill, to win it a second time was fantastic, and to win it a third time would be incredible."
A son of Sligo Bay (IRE)-Serena's Rose, Sir for Sure had his career bow in the Frost King Stakes last November at Woodbine, finishing second in the 6 ½ furlong main track race.
After a fourth in his next engagement, the bay made his 3-year-old debut on February 5 at Gulfstream. It was anything but an uneventful journey.
Despite the tough trip, he managed to secure his milestone first win in the 1 mile and 70-yard main track race.
Casse still raves about the performance.
"When he broke his maiden, it was just so impressive. There was no way you would have ever thought he could win that race. He overcame a lot to get that win. But he had a minor injury after that, and we brought him back to Ocala and gave him some time. It put us behind the eight-ball because we had to make up some ground."
Sir For Sure found a way to do it.
The gelding's biggest win to date, no doubt, came in the Plate Trial on July his final start before the 1 ¼-mile Plate.
Dismissed at 21-1, Sir for Sure, bred and owned by the husband and wife team of René and Darlene Hunderup, powered to a two-length win in a time of 1:50.62 for 1 1/8 miles.
Now, he'll step up to the $1 million stage in Canada's iconic race, an event that dates back to 1860.
One certainty is that Sir for Sure will be standing tall when he takes to the track for post parade.
"He's huge," noted Casse. "He's around 17.1 [hands]. He's by Sligo Bay, so we've had some luck with him in the Queen's Plate when Lexie Lou won in 2014."
Declan Carroll, aboard for the Plate Trial victory, gets the call again.
Hall of Dreams has made it to the podium five times from seven career starts, four of those performances a silver.
Casse is hopeful the son of Lemon Drop Kid-Hallnor, second to Sir for Sure in the Plate Trial, can deliver a golden effort on Sunday.
"He ran really well. There was some stuff that happened at the top of the lane with Sir for Sure, and looking at I thought it could have gone either way. If they had taken him down, I wouldn't have been shocked. He had a bit of a troubled trip, but the good news is that the extra eighth of a mile won't hurt his feelings."
A record 14-time Sovereign Award winner as Canada's champion trainer, Casse has long been a fan of Hall of Dreams, who finished seventh in the second start of his 3-year-old campaign but rebounded with a second in his next race.
On June Hall of Dreams rallied from well back in a 1 1/8-mile race over the Tapeta to record his milestone first win. ​
"We purchased him after his second start, and I've always been impressed with him," said Casse. "We bought him with the Queen's Plate in mind. When he broke his maiden, he was very impressive."
While stablemate Sir for Sure is the imposing type, Hall of Dreams, bred by Joey Gee Thoroughbreds, is more of a mild-mannered sort.
"He doesn't draw attention to himself. Horses either draw attention to themselves in one of two ways: they can be really bad or really good. He's just kind of there, but he gets the job done."
Two-time Plate winner Patrick Husbands will be the irons Sunday. Gary Barber, Wachtel Stable, Peter Deutsch, and Leonard Schleifer comprise the ownership team.
Story by Chris Lomon, Woodbine Communications / @WoodbineComms
PLATE DRAW SET FOR WEDNESDAY MORNING
The final field and post positions for Sunday's Queen's Plate will be established on Wednesday morning at the annual Queen's Plate Breakfast.
The Queen's Plate Breakfast will take place on the new Stella Artois Terrace. The festivities are expected to get underway around 10 a.m.
Various connections of the horses running in Sunday's race will be on hand to select their post and speak with media. Woodbine CEO Jim Lawson will also speak at the breakfast.
Robert Geller (Track Announcer) and Jeff Bratt (Host/Racing Analyst) will host the breakfast.
The live stream of Wednesday's breakfast will be available at Woodbine.com.
PROBABLE FIELD
Causin' Mayhem
​Dancin in Da'nile
​Duke of Love
​Hall of Dreams
​Hunt Master
​Ironstone
​Moira
​Rondure
​Shamateur
​Sir for Sure
​The Minkster