Trainer and jockey quotes following the Group 1 TAB Doomben 10,000 won by Mazu at Eagle Farm on Saturday.
Race Result:
1st: Mazu (Sam Clipperton/Peter & Paul Snowden) - $3.30F
2nd: Paulele (James McDonald/James Cummings) - $11
3rd: Entriviere (O Bosson/Toby & Troy Edmonds) - $7
Winning Time: 1:12.07 Last 600m: 36.51
Margins: Short Head x 1½L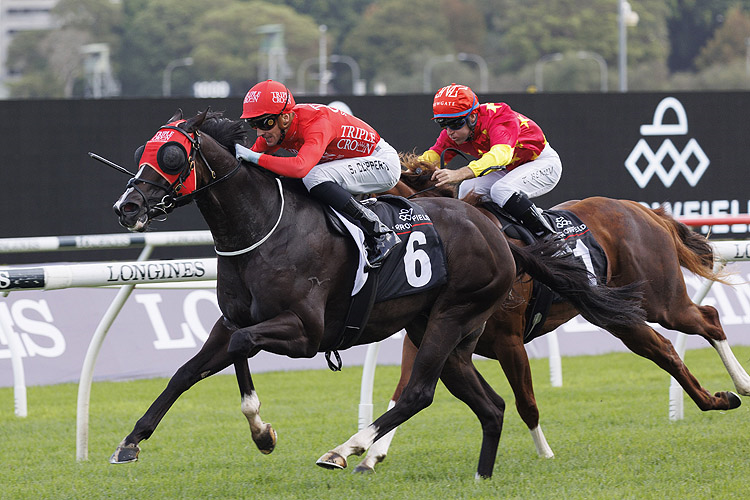 Winning Trainer: Peter & Paul Snowden (Paul speaking)
"Obviously there was massive speed here. I was watching him in the run and we used him up to get to a spot. They didn't back off and so he didn't get a chance to travel as he does in his races. He does hit that flat spot but that ability to absorb the pressure and still be strong at the end - that is why we have got a slot in the Everest and that is why we are going to be there.
"He's had a very good preparation let me tell you. A lot of work has gone into him. It's really good.
"It means a lot when you are going through these patches with these horses and you know just how much ability they do have have. It's just good. It was all there to see but we just had to get it out of him. We exhausted every opportunity to do that. They call gelding the ultimate gear change and that is what it was. Now the owners benefit and they will have this horse for many years to come."
Winning Jockey: Sam Clipperton
"I was thinking at the 600 (metre mark), we're in strife. He was chasing a hot speed and was out of his comfort zone. He really wasn't sure on the surface. It is a different heavy track as well documented but I just tried to pick him up as best I could and get him as far down the straight on the bridle.
"He's just a star, this horse. He knows how to win and we've got a great rapport with each other. Even when I was concerned, he was always going to pick up and I just had to have faith in the horse and in the end I got to the front too early and he thinks his job is done.
"He's just a winner. You raise the bar and he jumps it and I feel very grateful to be on a horse of his calibre. I must thank Peter and Paul Snowden, they've just been amazing to my career over the last 12 months and I feel we work really well together.
"The team at Triple Crown as well. I'm coming to Brisbane to ride a Group 1 favourite and they could have got anybody and they stuck with me."
Beaten Jockeys
Nash Rawiller (Kementari): "Just struggled for footing the whole race. He's the type of horse that likes it wetter but also getting footing."
William Pike (Vega One): "Pretty rough and tough out there. It was a bit tight."
Brock Ryan (Count De Rupee): "Got bullied throughout the run. Caught wide the trip and just couldn't finish off on that going."
James Orman (Rothfire): "Good run. He's only going to improve with that fitness under his belt and on top of the ground."
Ben Thompson (Signore Fox): "He was super. Probably the best closer of the race without seeing the replay and was by far the best backmarker. Ticking over well for another tilt at the Kingsford-Smith and Stradbroke."
Leith Innes (Baller): "It was not a bad effort. He was held up a little bit and he's handled himself well."
James McDonald (Paulele): "Good run."
Jamie Kah (Generation): "Just had to use too much to cross."
Opie Bosson (Entriviere): "Huge run. Probably took about 2 1⁄2 f to get up on the bridle but hit the line strong."
Tommy Berry (Minhaaj): "Just didn't handle the track."