Jay Ford has brought Vulpine with a perfectly timed run to kick off her latest campaign with a win.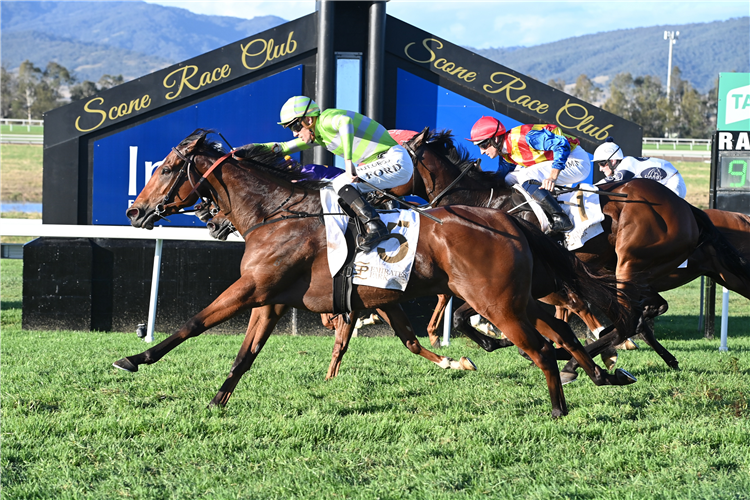 The day didn't begin how Brad Widdup had hoped but it ended on the right note when he produced talented mare Vulpine for a thrilling first-up win in the Ortensia Stakes.
Usually an on-speed runner, Vulpine was slow out of the gates and settled in the second half of the field with jockey Jay Ford admitting her had to quickly reassess his tactics and go to "Plan Z".
"I never thought she would be back near last," Ford said.
"What she she's got speed, she is explosive, so I thought if I can just conserve as much (energy) as I can - I didn't expect her to flourish the way she did - but I thought that would give her the best chance to run as well as she could.
"She showed she is very adaptable and it's a terrific sign for the start of her preparation to come here and win."
Earlier in the day, the Widdup-trained Authentic Jewel, who like Vulpine is owned by Brad Hunt's B K Racing & Breeding Pty Ltd, disappointed when down the track in the Denise's Joy Stakes (1100m).
Widdup was relieved to see Vulpine turn their fortunes around and post her second black-type success after claiming the Starlight Stakes at Rosehill in November.
"She did a great job last year when we took her up to Queensland," Widdup said of Vulpine.
"She is slowly maturing and it was great to see her win."
Widdup also had Surreal Step in the Ortensia Stakes (1100m) and he was making good ground towards the inside when he was stopped in his tracks, eventually switching outside heels and finishing resolutely for sixth.
"I'll have to put a few fires out there. He was very unlucky, he ran terrific," Widdup said.
Vulpine ($12) scored by a head over Mr Mosaic ($11) with Ranges ($15) another short half-head away third in a desperate finish.