Trainer and jockey quotes after Point Nepean takes out the Listed Lexus Andrew Ramsden at Flemington on Saturday.
Race Result:
1st: Point Nepean (Alana Kelly/Robert Hickmott) - $6
2nd: Luncies (Craig Williams/Kris Lees) - $4.80
3rd: Through Irish Eyes (Jye McNeil/Maher & Eustace) - $6
Winning Time: 2:59:10 Last 600m: N/A
Margins: ¾ lengths x 2-¼ lengths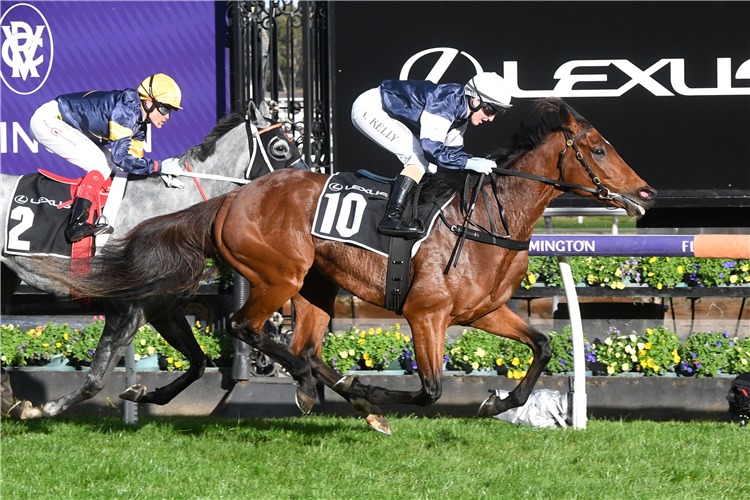 Winning Trainer: Robert Hickmott (Nick Williams speaking)
Getting into the Cup: "It's amazing, it's a great credit to all of our team up at Macedon. This horse has really come forward over the last 2 or 3 months. You don't see them win like that very often, particularly an inexperienced horse against seasoned stayers."
On the ride: "He was very poorly weighted in that race today, and it was probably fair to say that everything that could've gone wrong for Alana went wrong, but The great thing about her, and this is why she will be such a good jockey is she didn't panic, she kept the horse in a rhythm, once the pace came out of the race she got herself into a position to win and the horse did the rest for her."
Compared to other horses: "He's got all the right traits. The horse hat he reminds me of a little bit is Almandin. He was very raw and the unfinished article and this horse is a bit the same, albeit younger and in lower grade. Where he's come from this preparation, the world's his oyster. He's a genuine two-miler, he was strong on the line today, he was strong on the line at Caulfield and going forward he can make himself known on Cup day."
Winning Jockey: Alana Kelly
During the run: "Lloyd (Williams) likes his horses to be ridden patiently. He jumped quite awkwardly, I nearly fell off him out the barriers, but we were happy to just let him build his momentum and get into a nice rhythm early. I thought if they set up a solid tempo I'd be able to get in but they just sort of ambled and I got stuck wide but he just relaxed so nicely."
Mid-race move: "On the going today he took a long time to get into his motions but he just put them away well again. We wanted to get him on his bike, he's an out and out stayer, he just runs them off their legs."
Potential of a Melbourne Cup ride: "It's absolutely exciting."