Trainer and jockey quotes after Ranch Hand claims the Stradbroke Calcutta 3yo Plate at Eagle Farm on Saturday.
Race Result:
1st: Ranch Hand (Tommy Berry/Chris Waller) - $7
2nd: Minsk Moment (Jim Byrne/Chris Waller) - $6.50
3rd: Arentee (Noel Callow/Chris Meagher) - $20
Winning Time: 1:25.43 Last 600m: 36.72
Margins: 2L x Nose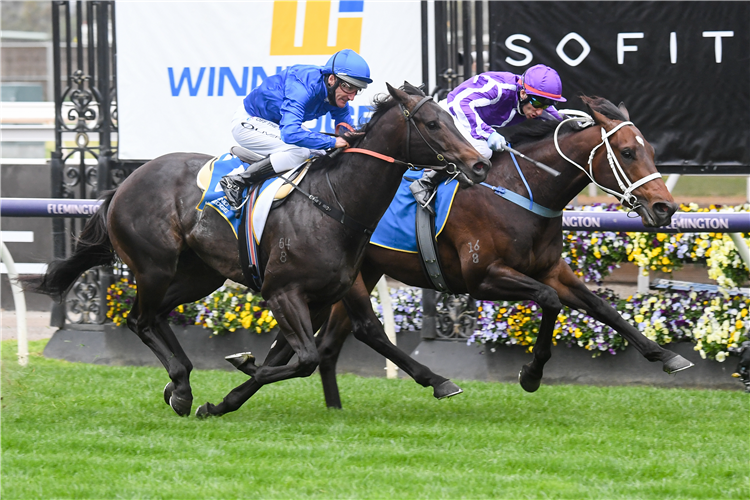 Winning Trainer: Chris Waller
"He's a decent colt but he's had a chequered career and we've never really found his right distance.
"He ran creditably behind Home Affairs in the Coolmore back in the spring and we knew he couldn't beat Home Affairs in the autumn so we thought we'll have a go at the (Australian) Guineas with him so we got him up to the mile and that was good but just a bit too far.
"So we've had to bring him back and he's had wet tracks. He's a decent horse. I think as a four-year-old he could just about win a Group 1 race at the right distance."
1400 maybe the pet distance: "I think Maybe a Stradbroke later in the winter might help. I'll have a chat to the owners and see what they think. He's definitely got a bit there to work with."
Winning Jockey: Tommy Berry
"It's always nice (to win here). I didn't come here last year. I was trying to beat James (McDonald) in the (Sydney) premiership but I wasn't that silly this year so I thought I'd come and I got a bit of success straight away.
"It is great for Coolmore and the team. He's always shown a lot, this colt. He's got good form around Paulele. He's got good form around Paulele and Anamoe so I was always going to hold him in good stead today.
"He's still learning his craft and he's not quite the finished product to be a chance in a Stradbroke this year but definitely next year, that is his sort of race."
The track: "It's very unusual. If you look at me now you'd think it is a Heavy 9 but it is still racing on the worst side of a Soft 6, nearly a 7.
"It is quite remarkable - soft on top but hard underneath. For horses that haven't been here before it is going to be different for them but it is better than what we've been racing on in Sydney."