Rustic Steel has held off a late finishing burst from Dr Drill to claim the Scone Cup.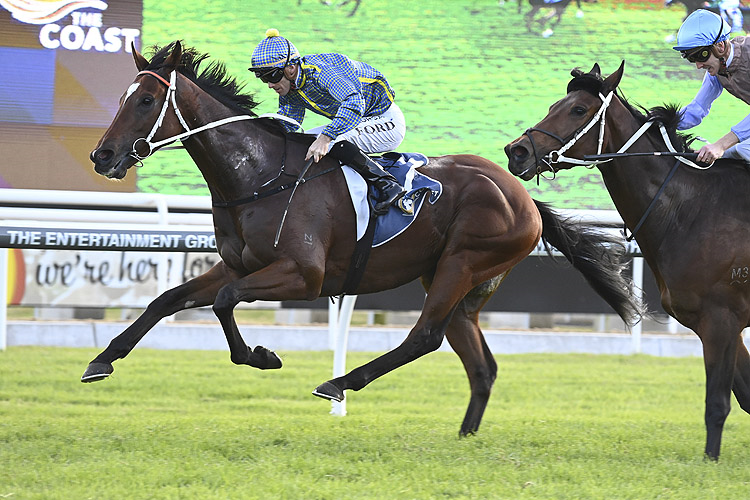 Rustic Steel has earned himself a start in the $2 million The Big Dance with his win in the Listed Scone Cup on Friday.
To earn a spot in The Big Dance at Randwick on Melbourne Cup, horses must finish one-two in a list of 25 qualifying Cup races run throughout NSW.
Under Kerrin Mcevoy, Rustic Steel ($4.80) beat home Dr Drill ($6.50) to claim their spots in The Big Dance with Atishu ($11) running home out wide for third place.
The past week has been a successful one for Rustic Steel having scored in the $500,000 The Coast at Gosford last Saturday.
Trainer Kris Lees, who landed his first Scone Cup victory, said he thought Rustic Steel was there to be beaten on Friday.
"He had to pull out all stops and he was tough all the way to the line," Lees told Sky Thoroughbred Central.
"He's a real racehorse and it's a pleasure to win for Ron and Judy (Wanless) and a nice race like the Scone Cup is terrific."
Lees said Rustic Steel was now likely to head for a break to be trained for November's The Big Dance.
"It's a great concept," Lees said.
"He'll measure up well and we've got to come up with a plan to get him there."
Rustic Steel's victory was McEvoy's second win in the race after it was lifted to Listed status in 2006.
It was also McEvoy's first ride on the gelding, and the jockey took great heart from discussions with Hugh Bowman and Jay Ford about the four-year-old.
"Hughie said he was a lovely horse to ride and so did Jay and he gave me a great feel going to the start and I knew he'd handle the (heavy) ground," McEvoy said.
"There was a bit of pressure today, so I had to take a sit, but he was a nice willing participant."