Edgar Perez has quickly made his presence felt during the Spring/Summer Royal Palm Meet at Gulfstream Park, where the former Chicago-area mainstay rode a pair of winners, including One Identity in the featured optional claiming allowance, on Saturday's program.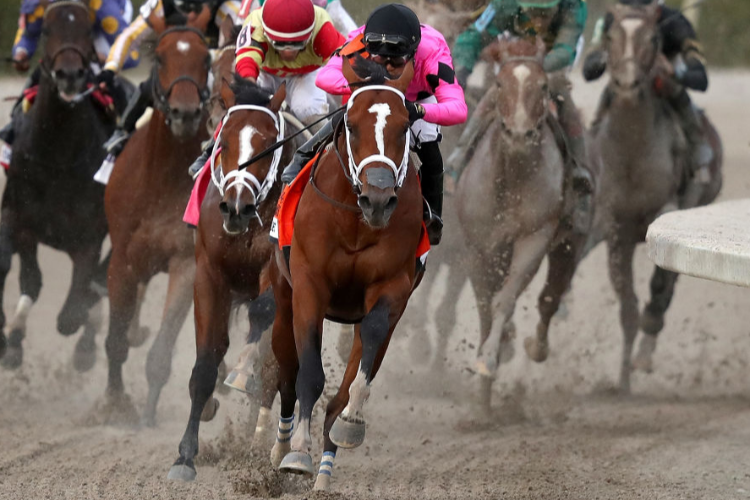 The 42-year-old journeyman validated the bettors' confidence in Bourbon Over Ice in Race 3 to notch his first victory since relocating to the Hallandale Beach track for the Spring/Summer Meet. Perez hustled the 4-5 favorite to the lead following a slow start from the rail and never had another anxious moment in the six-furlong $12,500 maiden claiming race for 3-year-olds, prevailing by 8 ½ lengths.
"He was the best horse in the race. I'm happy for the opportunity," said Perez after riding career winner 824, who is trained by Victor Barboza "I've been riding in Chicago, but now Arlington is closed. I'm here now. I've always liked Florida."
Perez demonstrated all his riding skills in the Race 10 feature, a six-furlong optional claiming allowance for 3-year-old fillies, breaking One Identity ($7.20) out of the gate to set a contested pace and aggressively urging the Eddie Plesa Jr.-trained filly in the stretch to claim a hard-fought victory.
"The trainer told me that she needed a good break. I went to the lead, and she's a nice filly," Perez said. "I knew I had the one filly on the inside, but she has a big heart. She kept fighting and showed she's a good filly."
Perez rode at South Florida tracks and Tampa Bay Downs for a couple years after venturing from Venezuela in 2009.After a short stint in the mid-Atlantic, Perez had become firmly entrenched on the Hawthorne-Arlington Park circuit since 2012 before the latter's closing last year.
In Venezuela, Perez was the regular rider of superstar mare Bambera, a multiple Group 1 stakes winner whom he rode to victory in the 2009 Clasico del Caribe at Camarero in Puerto Rico. In Saturday's Race 5, Perez finished third aboard Cash Express, who is conditioned by Bambera's trainer, Gustavo Delgado, who has been training in South Florida since 2014.