Gulfstream Park hosts the Curlin Florida Derby on 2nd April.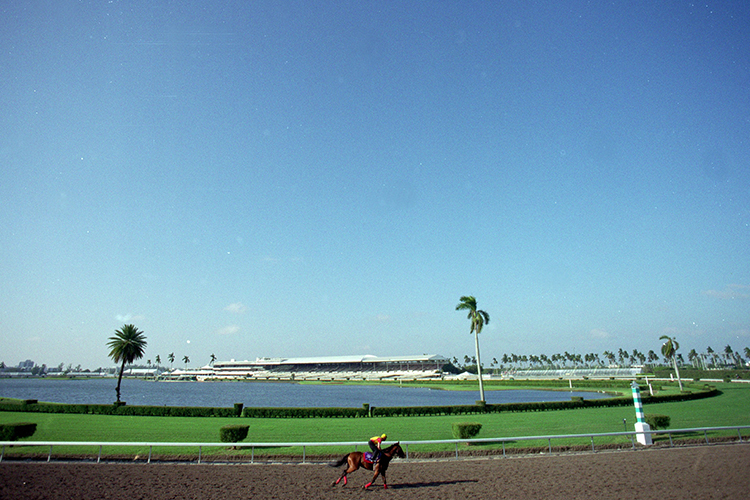 The Florida Derby, for three-year-old horses, is run five weeks before the Kentucky Derby, which is held on the first Saturday in May. First run in 1952, it has long been a prestigious prep race for the Classics. Since 2013 it has become a keystone in the official Road to the Kentucky Derby series, and a major prize in its own right.
In total, 20 winners of the Florida Derby have gone on to win one or more of the Triple Crown Classics, the most recent being the wonderful Tiz The Law in the Belmont Stakes, 2020.

Probable favourites for this renewal are White Abarrio and Simplification .

Simplification triumphed in Gulfstream Park's recent Fountain of Youth, but not before huge drama in mid-race, when eventual runner-up In Due Time managed to trip High Oak. His fall brought down Galt. Thankfully both horses were unhurt, as were jockeys Joel Rosario and Junior Alvarado, though In Due Time's rider Paco Lopez got a 14 day suspension for careless riding.

The free-running White Abarrio who triumphed in Gulfstream Park's Holy Bull is likely his biggest rival. After three big wins at Gulfstream, connections of this grey are quietly confident of a good showing in the Florida Derby.
His only loss so far was third behind the two highest rated horses in the Race for the Kentucky Derby standings, but it remains to be seen if he can keep his blistering speed at 9 furlongs.

Post time for the Florida Derby is 6.40pm ET / 11.40pm BST / 12.40am CET.
XB Net Blog, Assets, Videos
The Xpressbet blog is the place to go for weekly updates on trackwork, race updates and previews - you'll find all the news.

Jeff Siegel is on hand every Friday, Saturday and Sunday with an analysis of that day's Santa Anita card.

And check in next week for Jeremy Plonk and the gang's take on the Florida Derby.

And don't forget - new video and preview content will be available every Monday, Wednesday and Saturday throughout April and the rest of the year.

There's also a treasure trove of workouts and videos every day on XBTV

Super Saturday Recap
1/ST SUPER SATURDAY on 5th March was a coast-to-coast racing extravaganza that really resonated with racing and betting fans in US.

The Gulfstream Park to Santa Anita pilot, with 15 Stakes races including 14 graded races, successfully trialed and captured enough imagination, for 1/ST to want to roll out fully in 2023. A 1/ST SATURDAY Racing Tour, part of the Road to the Triple Crown, is planned, with race days on 1/ST tracks scheduled to increase opportunities for bettors across the world.

The east coast 1/ST Super Saturday highlight was the Fountain of Youth Stakes. This important Florida Derby trial was won by the impressive Simplification. Santa Anita's Big 'Cap Day over on the west coast slotted in perfectly to the timetable for bettors, taking over as Florida racing ended. The tightest race was probably the Santa Anita Handicap, where evens favourite Express Train just managed to keep his nose in front. In the San Felipe Stakes Forbidden Kingdom strolled to victory by six lengths. Putting on a stellar display for the crowd, the three year old colt not old picked up this $400k Grade but also 50 qualifying points for the first leg of the Triple Crown, making him a shoo-in if his stable commits.
Horse racing industry news
* Reuters had a fascinating piece this week showing how scientists in the UK are developing a global standard for retraining racehorses into becoming therapy horses. This plugs nicely into 1/ST's commitments to improving how equine welfare is being addressed by the sport, and shows what advances can be made.
* AmTote International, a 1/ST Technology company, has signed long-term betting agreements with Alabama operators Birmingham Race Course and VictoryLand. Under this multi-year deal, both facilities will migrate from their current totalisator provider to AmTote in April, who will begin supplying 1/ST Technology products and services to support both operators' parimutuel betting offer.
* Horse racing enthusiasts in India will soon be able to bet on key fixtures in the U.S. and Australia, following an accord between XB Net and Indian platform, NorthAlley. Under the distribution rights deal, XB Net will deliver live pictures and local pool-wagering services from tracks in Australia and North America.
Santa Anita Derby
San Felipe Stakes runaway winner Forbidden Kingdom is still being aimed at the Santa Anita Derby on 9th April, but his preparations have been disrupted by a mild fever keeping him off the workout track. All news on this big race and Triple Crown prep in the next newsletter.
That's all for this week. Stay lucky and see you soon.