Star filly Coolangatta justified the massive hype on her as the country's best two-year-old with a brilliant win in the $2 million The Star Gold Coast Magic Millions 2YO Classic (1200m) at the Gold Coast on Saturday.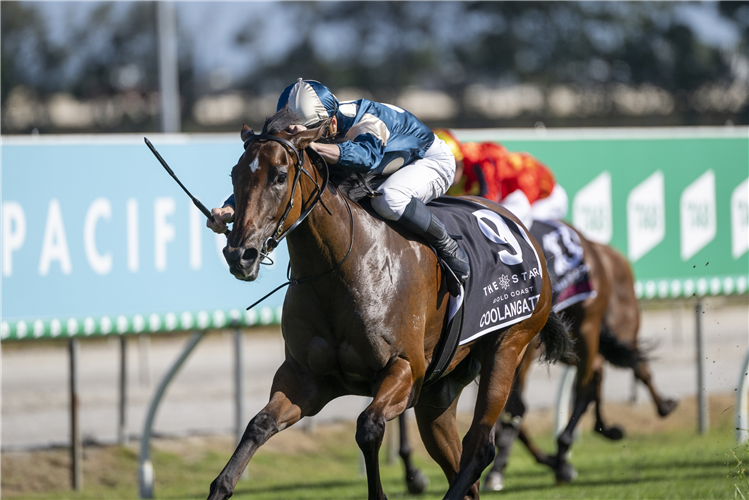 Ciaron Maher and David Eustace's juvenile took her unbeaten record to three, albeit she was forced to dig into reserves not needed in her two prior wins.
After beginning evenly from barrier jockey James McDonald was able to find a lovely spot with cover just behind the speed before allowing the daughter of Written Tycoon to improve around the leading pair from the 500m.
Coolangatta sprinted two lengths clear of her rivals at the top of the straight but was forced to stave off the late challenge of Russian Conquest, who emerged as the only threat but could only get within a neck of the winner.
Maher, who won the 2YO Classic on the Gold Coast in 2020 with Away Game, said his overwhelming emotion post-race was relief.
He paid tribute to Eustace, as well as his Bloodstock Manager Will Bourne, who identified the filly before she'd even appeared in the catalogue for the 2021 Gold Coast Yearling Sale.
"It's a big relief when they're such a short-priced favourite," Maher said.
"When JMac went early it made me a little nervous but she was super.
"Dave and I aren't normally at the track together – he's somewhere and I'm usually somewhere else – so it's great to share it with him today.
"She'll have a break now and head towards the Slipper."
McDonald, who had never won the Magic Millions Classic prior to Saturday, said Coolangatta rated among the best two-year-olds he's ridden.
"She's a special filly," McDonald said.
"The race played out perfectly, I got into the best spot possible and she does the rest.
"It was a great thrill to ride such a dominant favourite in the race, it comes with big expectations and I'm glad to be able to aid her with a nice ride.
"I've ridden some nice two-year-olds and she's definitely up there.
A $280,000 purchase by Ciaron Maher Bloodstock out of the Milburn Creek draft at the 2021 Gold Coast Yearling Sale, Coolangatta has now amassed more than $1.3 million in prizemoney for connections.
King Of Sparta dominant in 3YO Guineas
I Am Invincible has dominated the sale ring at this week's Gold Coast Yearling Sale and his son King Of Sparta conquered the racetrack on Saturday with a stunning win in the $2 million Gold Coast Magic Millions 3YO Guineas (1400m).
Under the urgings of jockey Nash Rawiller, the gelding exploded down the middle of the track to claim the lead inside the final 1 f of the race, defeating another fast-finisher Me Me Lagarde by two lengths, with a significant margin to Ciaron Maher and David Eustace's filly Socialist in third.
The Snowden stable won the Magic Millions Guineas in 2021 with Aim for similar connections and Paul Snowden said King of Sparta had the potential to develop into a Group 1 contender.
"He's a horse that's always had immense talent but he always seems to do something wrong in his races and ends up being his own worst enemy," Snowden said.
"But today with Nash – it's the first time he's sat on the horse believe it or not – I was filling him up with plenty of instructions before the race and thankfully there was always going to be good tempo and he got into a lovely trailing spot midfield where we wanted to be.
"He was much too good.
"Maturity is what he's always lacked and it showed through his early career when he was doing things wrong against that better class of horse but hopefully he is that better class of horse now and he can keep going this way."
Redemption complete for Isotope
Isotope's fairytale return from a near-death bout of colic was completed at the Gold Coast on Saturday when the mare destroyed her rivals in the $1 million It's Live! In Queensland Magic Millions Snippets (1200m).
Exactly a year after she nearly fell and dropped jockey Ryan Maloney in the Magic Millions 3YO Guineas and several months after returning to work from colic surgery, the four-year-old showed she was back as good as ever with a comfortable win over Tycoonist and Away Game.
Maloney, who has forged a successful partnership with the daughter of Deep Field, was aggressive from barrier eight and was able to find a lovely position with cover just behind the speed before presenting the mare at the top of the straight and allowing her to power through her gears.
An emotional Tony Gollan said the win was one of the most satisfying moments of his training career.
"Fresh-up from colic surgery, 32 weeks or more weeks between runs and she's done an amazing job," Gollan said.
"We had to ride her aggressively to get across from our barrier but she's just such a good horse.
"She's so special to our stable and all the connections.
"She does have a habit of being a bit tardy out of the gates and if she did that today it was going to make it a really tough ride for Ryan but once she stepped out of the gates, she broke best of anything, the plan was to be really aggressive on her.
"We've ridden some highs with her and then the lows like Magic Millions day last year.
"Things started to get back on track in Sydney and then she nearly died on us so to have her back here today is a little bit of justice for last year.
"You'll see her in Sydney in the autumn, I can't wait to take her away again.
"She can do anything in this next year."
Isotope was purchased by Gollan, in partnership with John Foote and Black Soil Bloodstock, for $170,000 out of the Daandine Stud draft at the 2019 Gold Coast Yearling Sale.
As a three-year-old, she won a trio of Stakes races and finished a narrow second in the Group 2 Arrowfield Sprint (1200m) in Sydney during The Championships.
Snapdancer makes amends 12 months on
Classy mare Snapdancer atoned for an unlucky placing in last year's TAB Magic Millions Fillies and Mares (1300m) with a dominant victory in Saturday's edition of the $1 million feature race at the Gold Coast
It was an easy watch for trainers Ciaron Maher and David Eustace, as well as a massive group of owners involved in the daughter of Choisir via Spicer Thoroughbreds, with jockey James McDonald beginning well and able to assume a position outside the leader.
Snapdancer matched motors with the leader Vulpine as she quickened inside the final 2 f but by the time the field passed the 0 post, the race was over with the five-year-old careering away for a near two-length win.
Maher said his stable had put a long-range plan in place to win the race and the last piece of the puzzle fell into place when he convinced McDonald to take the ride on the mare.
"She was very unlucky in this race last year and the boys were a little bit disappointed to it was a real target this year," Maher said.
"We gave her a light spring and especially targeted her here.
"I asked JMac (James McDonald) to ride her and I think he might have been thinking of another one and I told him to have a look at her run last year and he first up run.
"That was enough for him to come across and jump on her.
"She can be a bit tardy away and I told him that's where he would win it or lose it and he got a beautiful start and it was an easy watch from there.
"There's a big team in her, Brad Spicer and the crew, so it's fantastic."
McDonald said he was confident of victory after Snapdancer left the barriers cleanly.
"She jumped really well and the race was all over," McDonald said.
Presented as part of the Sledmere Stud draft at the 2018 Gold Coast Yearling Sale, Snapdancer attracted a winning bid of $180,000 by Victorian syndicator Brad Spicer.
Saturday's win – Snapdancer's fifth career victory – took the mare's stake earnings beyond $930,000.
Eleven Eleven's Triple Delight on the Gold Coast
Popular gelding Eleven Eleven continued his love affair with the Gold Coast on Saturday, prevailing in one of the closest finishes in Magic Millions history to land the $1 million Magic Millions Cup (1400m)
In edging out Holyfield and Apache Chase in a thrilling four-way photo, the son of Fastnet secured back-to-back wins in the race to follow his success in the 2020 edition of the $2 million Magic Millions 3YO Guineas.
Trainer Greg Hickman praised the ride of jockey Hugh Bowman and said he would aim to bring the gelding back for another tilt at the race in 2023.
"He went super, he got a super ride," Hickman said.
"He got shuffled back a little but further back than we wanted but he got out and I couldn't believe it.
"He has been a special horse, especially to be able to win here three years in a row, it's special for everybody.
"He's a gelding so we'll be trying (to make it four wins)."
The win took the five-year-old's career earnings beyond $2.9 million and saw him equal a feat achieved only by Group 1 mare Invincibella, who won three editions of the Magic Millions Fillies and Mares (1300m) at the Gold Coast between 2018 and 2020.
It also gave Bowman ninth success on Magic Millions Raceday, equaling the record of James McDonald.
Hickman paid $230,000 for Eleven Eleven from the draft of Edinburgh Park at the 2018 Gold Coast Yearling Sale.
Girl Power as Wisdom of Water wins QTIS feature
Girl power was to the fore at the close of Saturday's Magic Millions card at the Gold Coast as star trainer Annabel Neasham and Group 1 jockey Rachel King combined to win the $1 million Racing Queensland Magic Millions QTIS (1300m) with Wisdom of Water
The quirky, albeit talented Headwater entire overcame a wide draw courtesy of a brilliant steer from King, who found a gap passing the 1 f post.
The four-year-old sprinted away for a dominant win over on-pacer Boomnova, with Chapter and Verse finishing powerfully into third.
The success gave Wisdom of Water back-to-back wins for the second time in his career following his victory in last month's Magic Millions 3YO & 4YO Classic at Wyong.
After a busy week of buying at the Gold Coast Yearling Sale, Neasham said she was delighted to hit the board on the racetrack.
"It's so satisfying," Neasham said.
"It's just a dream to win a race on this amazing race card.
"It was an amazing ride by Rachel, she just seems to get a real tune out of him and she put him in a lovely spot from an awkward draw.
"She was patient and he won pretty soft on the line.
"We've just tried to keep him happy and a big credit James Harding who has got a place at Newcastle on the beach.
"He spent two weeks at the beach before he came here and James said for the first four or five days he was eyes on stalks and then he really settled into it and loved it.
"I've noticed a real change in his demeanor, he seems a really happy horse.
"It's a great result for the Fung family, they are great supporters of the game and particularly this racecourse."
King became the sixth female jockey to win a feature Magic Millions race at the Gold Coast, following in the footsteps of Michelle Payne, Clare Lindop and Stephanie Thornton.
Navy Cross Too Tough in Magic Millions Subzero
Navy Cross became the most expensive horse to ever win a race on Magic Millions Raceday when he made all to land the prize in Saturday's $1 million Audi Centre Gold Coast Magic Millions Subzero (2400m) at the Gold Coast
A $700,000 purchase by Gai Waterhouse, Adrian Bott and Blue Sky Bloodstock at the 2018 Gold Coast Yearling Sale, the son of I Am Invincible ensured his prizemoney eclipsed that mark with his sixth – and by far his most significant - career win.
The victory came courtesy of a decisive front-running ride by jockey Tim Clark, who sent the five-year-old to the lead immediately after jumping from barrier 12.
Having set a strong gallop in the early and middle stages of the race, Clark was able to quicken inside the final 3 f and get several of his rivals outside of their comfort zone well before the field turned for home.
Outlandos and Rebel Rama loomed as challengers inside the final 1 f but Navy Cross maintained a comfortable one-length margin to the winning post.
Bott said it was a case of Navy Cross encountering the perfect race shape and track conditions.
"That's Tim (Clark) at his best and we were fortunately able to see the horse under the right conditions," Bott said.
"He takes a few runs to get to where he needs to be in his condition and a few times that we've seen him under those conditions we've had heavy tracks.
"There's only a small window where you can get it right with him and fortunately all the conditions fell out way today.
"He can be a free going horse but he looked relaxed there and he was able to get it his own way, he wasn't challenged throughout.
"Tim was able to put the pressure on and quicken when he needed to and that was probably the key to him."
The win was a record 15th success on Magic Millions Raceday for legendary trainer Gai Waterhouse, who won the 2YO Classic in 2012 with Driefontein, 2004 with Dance Hero, 2001 with Excellerator and 2000 with Assertive Lad.
Warmth Proves too Hot for Rivals in Magic Maiden
Peter and Paul Snowden won their third Magic Millions Maiden Plate (1200m) in seven years when the aptly-named Hinchinbrook mare Warmth scored in the $250,000 feature at a sun-bathed Gold Coast on Saturday
Having run narrow placings in all three career starts at Wyong, Goulburn and Gosford in mid-2021, the four-year-old was favoured by punters to land Saturday's lucrative prize first-up.
Courtesy of a textbook ride from an inside draw by jockey Tommy Berry, Warmth justified her favouritism with victory over fast-finishing stablemate Devil's Throat, who was forced to concede the leaders a significant start from the outside barrier.
The race was delayed by several minutes due to two late scratchings at the barriers and Paul Snowden said he was concerned with how each horse would handle the hot conditions.
The Sydney trainer said the win had been a long time coming for Warmth.
"It was a good effort by both horses," Snowden said.
"Obviously what happened pre-race was out of everyone's control but it's so hot out there and they (horses) were struggling with the heat prior to going out.
"It's been a long time coming, she's finished behind some horses that have gone on and figured in some nice races.
"We were pretty confident about her chances today off the good draw.
"Devil's Throat has also had his foot on the till but the draw offset his chances, it made it so difficult from there."
Tommy Berry praised the Snowden stable and said Warmth had taken noticeable benefit from her recent spell.
Berry has twice won the $2 million Magic Millions 2YO Classic on the Gold Coast but lists his proudest moment in racing as watching on as his late brother Nathan Berry won the lucrative feature aboard Unencumbered in 2014.
"She's just come back a different horse," Berry said.
"When she couldn't win last preparation, the Snowden team and the connections thought this maiden worth quite a bit at the Gold Coast could be a nice target.
"From the time I sat on her this preparation, she's a lot stronger and much more relaxed.
"It's a great day for me and my family so it's great to start on a good note."
Bigboyroy Romps Home for Waller and McEvoy
A long-range plan to get Bigboyroy to the Gold Coast for a tilt at the Magic Millions Raceday paid dividends on Saturday when Chris Waller's gelding monstered his rivals in the $250,000 Magic Millions Open (1800m)
Kerrin McEvoy initially parked the five-year-old son of Dissident outside the leader but, after absorbing some pressure from a horse three-wide, the jockey elected to let his mount stride to the lead passing the 6 f post.
Bigboyroy stole a four-length margin at the top of the straight and maintained a strong gallop to the winning post, easily defeating stablemate Wheelhouse.
Waller, who won last year's Magic Millions 2YO Classic with Shaquero, said it was a special win for his owners, including Gold Coast local Noel Greenhalgh, who had maintained patience with the gelding while he recovered from colic surgery in 2021.
"Noel Greenhalgh, he's one of the main owners and I think he got the group together with Peter Tighe and a few of their mates," Waller said.
"We've said all along that we'd try to get the horse to the races up here.
"Last year he actually got colic and had a really big surgery and he was off the scene for six months and here he is back a year later, a year after he was meant to be up here and he's winning a big prize which is a big deal for a horse like this.
"He went quick enough to say that he'd lead and then he backed off and got a couple of soft sectionals.
"Wheelhouse was very good considering the way the race was run."
While McEvoy admitted that he had some pre-race concerns about Bigboyroy's credentials over 1 1⁄8 m, he said a key gear change seemed to have proved a masterstroke.
"I must admit, I was worried about the distance for him but Chris (Waller) put a different bit on him today," McEvoy said.
"He got into a spot outside the leader and I would've liked to have stayed there but then a horse came on his left as we got over the crossing near the mile and he just got a bit fired up.
"I just let him free-wheel to get him comfortable and happy.
"To the horse's credit, he gave a nice kick when I asked him and was nice and genuine."