The temperature will be several degrees below zero and dusk starting to fall on Seoul Racecourse on Sunday afternoon when Moonhak Chief bids to become the first horse since Dongbanui Gangja more than a decade ago to record back-to-back victories in Korea's historically most prestigious race, the Grand Prix Stakes (KOR G1-2300M).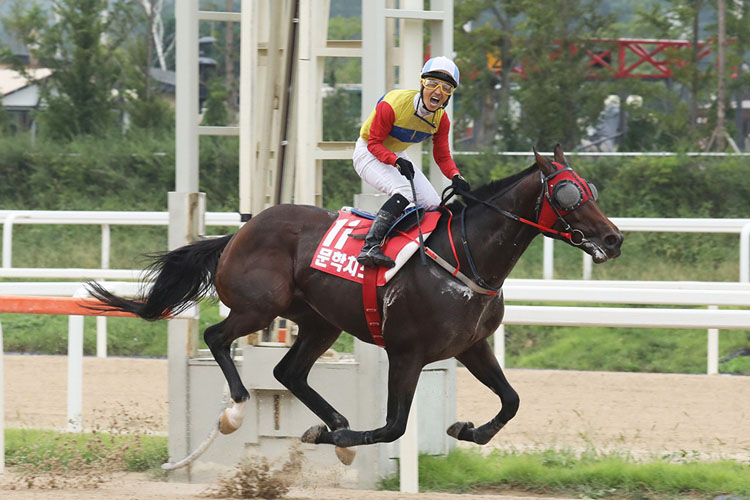 With no race last season, it's now two years since Moonhak Chief followed up his 2019 Korea Cup victory by scoring by a length and a half that December. Only two of the rest of that day's field return, Cheongdam Dokki and the retiring Dongbang Daero, but a host of new challengers have arisen in the meantime, meaning Moonhak Chief is going to need to be at his very best if he is to retain his crown.
Peter Wolsley won this race with Bold Kings in 2016 and the Australian trainer saddles Afleet this time, fresh off his triumph in the KRA Cup Classic back in October. That's day's close runner-up Haengbok Wangja is another leading contender and given the way he was finishing in the Classic, may even start as the favourite.
The President's Cup, the top race restricted to Korean-bred horses, has provided two winners in recent years with Indie Band in 2013 and Gyeongbudaero in 2015 and the 2021 winner Simjangui Godong also takes his chance, as does proven Group winner Tiz Plan.
Touch Star Man, who won two legs of last year's Triple Crown series, will be attendance, representing trainer Kim Young-kwan, who has won the race five times.
The Grand Prix Stakes is race 8 on Seoul's 10-race Boxing Day card. Here is a full run down of all sixteen runners:
1. CHEONGDAM DOKKI (USA) [To Honor And Serve – Elusive Gold (Strike The Gold)] – His 4th attempt at the race with his best being 2nd in 2018. An excellent winner at 1 1⁄8 m in October before a flat performance in the KRA Cup Classic. He then ran 5th to Moonhak Chief back at 1 1⁄8 m on November 27th. Only returned to work last week and while there is no doubting his quality, this looks a very hard ask. Great draw though.
2. GALLOP CURLIN (USA) [Curlin – Colona (Pulpit)] – Gets his chance following a good win over 1 1⁄8 m at class 2 level earlier this month when midfield and running Tactically versatile and well-drawn but this is a big step up into the unknown in terms of distance and competition.
3. MOONHAK CHIEF (USA) [Pioneerof The Nile – Tallulah Lula (Old Trieste)] – Winner of the last edition of this race two years ago having won the Korea Cup that September. Seventh in the Cup Classic but returned to the winner's circle on November 27th comfortably scoring over 1 1⁄8 m although he did get spooked by the finishing line light and stopped very quickly. At his best he is the one to beat.
4. CRAZY CONTI (USA) [Constitution – Ghostly Darkness (Ghostzapper)] – Came from well back to run a strong 3rd over 1 1⁄4 m at Busan two weeks ago in his first start since September. Beaten by Afleet and Touch Star Man in the summer so there is form for him to overturn here but he may appreciate the distance.
5. GEUMA ACME (KOR) [Hongji – Travelin (Lycius)] – A super 2nd in the President's Cup to Simjangui Godong, coming from off the pace. Yet to win at higher than class 3 is a concern when stepping into this company, but the additional distance can suit. Alan Munro, who rode him in his last three starts, rides Jjang Kong instead.
6. HUNCH (USA) [To Honor And Serve – Sergeant O-Rourke (Forestry)] – Wasted a great draw by blowing the start in the Cup Classic, won by stablemate Afleet, in what was his first start since August. He has won at class 1 over 1 1⁄4 m in a fast time though and with a clean getaway can be competitive but may not be ready to beat the elite just yet. Minor money chance.
7. JJANG KONG (USA) [Tizway – Carietta (Stephen Got Even)] – Runner-up to Cheongdam Dokki in October before running a 3rd in the Cup Classic when handy all the way and battling on to the line. He likes it race close to the lead, so the draw works out well. He's stubborn enough to get the 1 7⁄16 m and it would be no surprise seeing him in the minor money.
8. HAENGBOK WANGJA (USA) [Daredevil – First Installment (Broken Vow)] – up and comer having just been promoted to class 1 before running a great race in the KRA Cup Classic when on the pace and wide most of the way and momentarily leading at the 1 f and coming again at Afleet the finish. It was a super effort, and plenty will back him to win here.
9. TIZ PLAN (USA) [Tiznow – Amusing Plan (Pleasantly Perfect)] – A horse who doesn't know how to run a bad race. At his last start when second-up from a spell, he was a good 2nd in the
Busan Owner's Cup at 1 m. He's won at Group level and been unplaced only once in his last nine starts over the staying journey and he is in the frame.
10. SIMJANGUI GODONG (KOR) [Jigeum I Sungan – Howareyou (Whywhywhy)] – The President's Cup winner over 1 1⁄4 m at his latest start when sitting midfield and running on too strong for the rest. That was against locally bred opposition only so this is harder but the President's Cup/Grand Prix double has been done twice recently and it's not impossible.
11. BRIGIDIER GENERAL (AUS) [Tapit – Amature's Prize (Pure Prize)] – He has had a lot of near-misses and a habit of coming up short in the really big races as well as a habit of getting way too far back and finding trouble in running. The draw isn't great but Choi Bum-hyun climbs aboard which may offer something different and he could run a big race.
12. AFLEET (KOR) [Afleet Alex – In Escrow (Vindication)] – has swept all before him recently and at his last start won the KRA Cup Classic over 1 1⁄4 m when he worked hard early to be on the pace and battled away strongly to the line making it win number ten from fifteen and his first in Group company. It was a terrific run and he's worth a great deal of consideration.
13. STAR ROAD (USA) [Bernardini – Fanfare (Curlin)] – A class 1 winner over 1 1⁄8 m at Busan in June before running 6th behind Afleet in August. He had a setback after that and this is his first start since though he looked good when winning a trial earlier this month. This is a big ask first-up.
14. JEONGMUN SAI (KOR) [Simon Pure – Kayville (Giant's Causeway)] – Back-to-back wins over 1 1⁄8 m at class 3 and class 2 enabled him to take his chance in the President's Cup and he made the most of running on superbly for 4th. This is another step up in terms of competition and he will be an outsider but can give a good account of himself.
15. TOUCH STAR MAN (KOR) [Testa Matta – Useung Touch (Menifee)] – Winner of two legs of the Triple Crown in 2020, he's had a stop-start career since and arrived first-up at the President's Cup last month. From the widest gate he battled across and showed at the front but weakened to finish among the trailers. He is much better than that, but he has a tough ask again in an even tougher race.
16. DONGBANG DAERO (USA) [Curlin – Willa Joe (El Gran Senor)] – The nine0year-old has been a super servant over the years, most notably running 2nd in this race in 2017, beaten only a head by the great Power Blade and ahead of Triple Nine and Cheongdam Dokki. He can still sneak minor finishes now and then, but this is a very tough ask. Hopefully his final race as he has earned his retirement.