The overall 2021 Mid-Atlantic Thoroughbred Championships (MATCH) Series title will hinge on the performances of a pair of Maryland-bred runners Dec. 26 at Laurel Park, which will host the final round of four $100,000 divisional stakes.
Though the winners of three of the four divisions already have been determined, the top spot is up for grabs. Hillwood Stable's Cordmaker currently leads the overall standings with 36 points, followed by Hello Beautiful—owned by Madaket Stables, Albert Frassetto, Mark Parkinson, K-Mac Stables and Magic City Stables—with 27 points.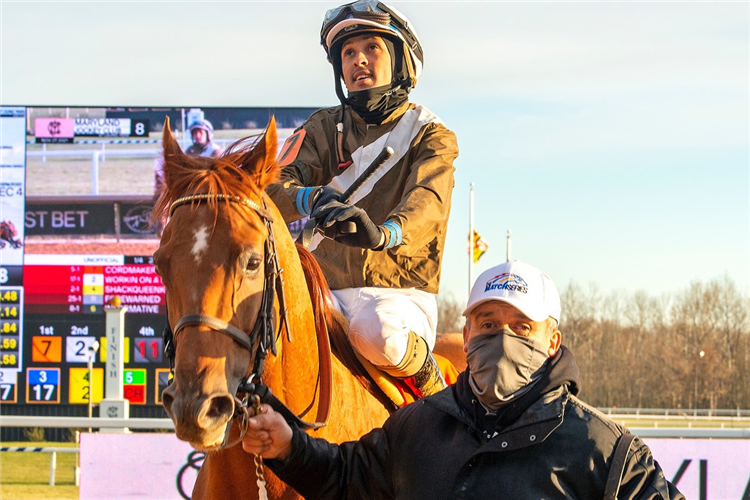 Cordmaker , a 6-year-old Curlin gelding trained by Rodney Jenkins, has started in all five legs of the 3-Year-Olds and Up Long—Dirt division and has two victories, one at Colonial Downs and the other at Laurel, where he has won eight times in his career. A sixth series start in the 1 1/8-mile Robert T. Manfuso Stakes will earn him another 3 bonus points to go along with points earned by finish position. The maximum number of points Cordmaker can end the series with is with a minimum of 40.
Hello Beautiful , a 4-year-old Golden Lad trained by Brittany Russell, also has two series victories, one at Pimlico Race Course and the other at Laurel, where she has won nine races in her career. Hello Beautiful will pick up 5 bonus points for her fourth series start in the six-furlong Willa On the Move Stakes in the Filly and Mare Sprint—Dirt division. With a victory, her maximum number of points would be with a minimum 33.
MATCH Series participants in each stakes collect 10 points for a win, 7 for second, 5 for third, 3 for fourth, 2 for fifth and 1 for sixth through last. Bonus points are awarded as follows: 5 for a fourth start in the same division, 2 for a fifth and 3 for a sixth start.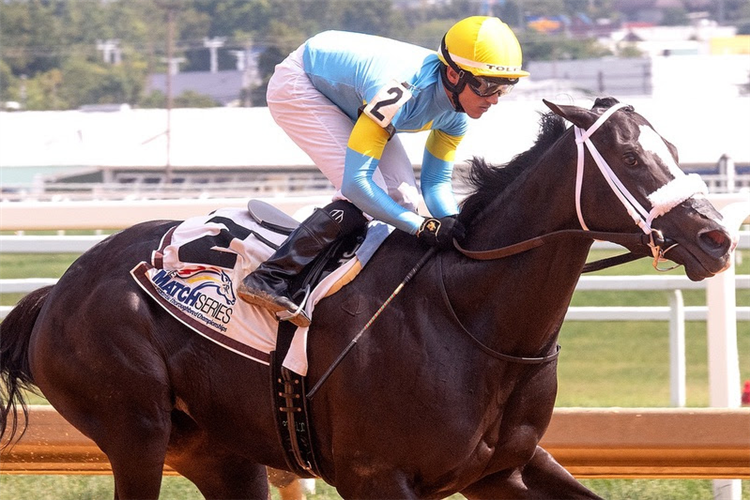 MATCH Series division bonus money is awarded to the owner and trainer of the top horses by points as follows: $20,000/$10,000 for first, $15,000/$7,500 for second, and $7,500/$3,000 for third. In addition, the owner and trainer of the overall points-earner regardless of division will receive $20,000 and $10,000, respectively. A horse must start at least three times in one division to qualify for bonus money.
In addition, bonuses will be distributed to the breeder of the top overall point-earning Maryland-bred horse and Maryland-sired horse in the series as follows—$3,000 for Maryland-bred and $3,000 for Maryland-sired.
The following is a look at the standings entering the final round of competition.
Filly and Mare Sprint—Dirt (Willa On the Move S.)
Hello Beautiful, the division winner this year, will again be ridden by Jevian Toledo. In her last start in the Nov. 26 Maryland-restricted Politely Stakes, Hello Beautiful finished fifth behind Eric Rizer's Princess Kokachin, who enters the Wiila On the Move—her MATCH Series debut—with a five-race win streak for trainer John Robb.
/p3/
Larry Johnson's Never Enough Time , second in the Politely and second in the divisional standings with 22 points, was retired after the Politely, trainer Mike Trombetta said. Even though she won't compete in the Willa On the Move, the Maryland-bred mare has secured second place with four starts in her division in 2021.
Third place is wide open. Down Neck Stables' Call on Mischief (8 points), C & B Stable's Paisley Singing (7 points) and Five Hellions Farm's Dontletsweetfoolya (4 points) will each make their third series start in the Willa On the Move, so only finish position will decide who gets the third spot.
3YO and Up Sprint—Dirt (Dave's Friend S.)
Hillside Equestrian Meadows' Laki, an 8-year-old Maryland-bred Cuba gelding trained by Damon Dilodovico, leads the division with 21 points after five starts in the division. He would pick up 3 bonus points on top of finish points with a start in the Dave's Friend at six furlongs. Laki was the division champ in 2018 and 2019, the first two years of the resurrected MATCH Series, and is headed for a third.
/p4/
WSS Racing and 4 G Racing's Mucho is second with 20 points but wasn't entered in the Dave's Friend. The John Ortiz trainee, however, can't be passed by any other horse in the standings. Whereshetoldmetogo, owned by Madaket Stables, Ten Strike Racing, Michael Kisber and Black Cloud Racing, will make his third division start in the Dave's Friend and would finish with 18 points should he win; he currently has 8 points. No other horses entered in the Dave's Friend are eligible for bonus money.
/p5/
Filly and Mare Long—Dirt (Carousel S.)
James Wolf's Artful Splatter, a 5-year-old Maryland-bred mare by Bandbox, and BB Horses' Miss Leslie, a 3-year-old Paynter filly, are tied at the top of the division standings at 13 points. Artful Splatter, trained by Kieron, will make her fourth division start and thus pick up 5 bonus points, while Miss Leslie, trained by Claudio Gonzalez, will make her third series start in the 1 1/8-mile Carousel.
/p6/
Miss Leslie won the most recent division stakes, the Nov. 13 Thirty Eight Go while Artful Splatter was fourth after a troubled run at the top of stretch. Angel Cruz is back aboard Miss Leslie while Carol Cedeno picks up the mount on Artful Splatter.
Larry Johnson and R. D. M. Racing Stable's Lookin Dynamic (8 points) and NK Racing and LNJ Foxwoods' Villanelle (6 points), second and third in the Thirty Eight Go will each make their third division start for Trombetta and will qualify for bonus money. They are competing for either second or third in the division standings.
3YO and Up Long—Dirt (Robert T. Manfuso Stakes)
Cordmaker, one of nine entered in the Manfuso with regular rider Victor Carrasco named, is the division champion.
Also entered is Mary Eppler Racing Stable and Ram Racing Stable's McElmore Avenue, who is second with 11 points and eligible for 5 bonus points; the 4-year-old Maryland-bred gelding by El Padrino is guaranteed second in the standings given the fact Trin-Brook Stables' Forewarned, third with 6 points and already eligible for bonus money, opted for a start Dec. 19 at Aqueduct Racetrack in the Queen's County Stakes, which he won.
The MATCH Series, the only one of its kind in racing, this year began May 14 at Pimlico. The schedule featured 24 stakes—20 of them in Maryland and four at Colonial Downs in Virginia—valued at $2.75 million. Bonus money this year totals $282,000. The MATCH Series partners are currently working on a schedule for 2022.