Already a national titleholder in volleyball and rifle this year, the University of Kentucky (UK) seeks another championship – beyond the annual expectations for John Calipari's Wildcats – with Averly Jane in the Breeders' Cup.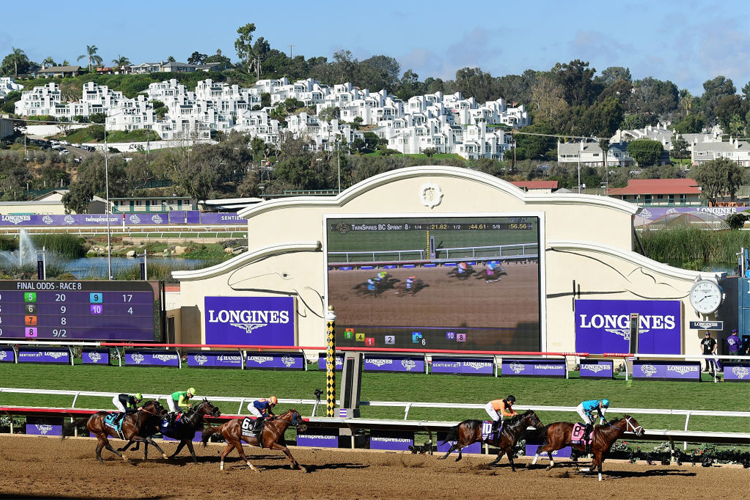 UK is the breeder of the unbeaten two-year-old filly, 5-2 favourite in Friday's $1 million Juvenile Turf Sprint, part of the weekend's 14-race Breeders' Cup World Championships at Del Mar.
Averly Jane was foaled and raised at UK's Maine Chance Equine Campus, the university's research and teaching farm on the north end of Lexington. UK purchased the historic property from Elizabeth Arden in 1967 as an expansion opportunity for agriculture research and programs.
The University of Kentucky equine students are hoping that Maine Chance — once home to Kentucky Derby winners Aristides and Jet Pilot — will add a Breeders' Cup champion. Owned by Gatewood Bell's Hat Creek Racing partnership and trained by Wesley Ward, Averly Jane is four-for-four, with three stakes wins over males: Churchill Downs' Kentucky Juvenile, Saratoga's Skidmore and in her turf debut Keeneland's $200,000 Indian Summer, which gave the filly a fees-paid berth in the corresponding Breeders' Cup race.
"It's been awesome to watch a horse that came up from UK Maine Chance," Brittany Sparks, a graduate of UK's equine program who was involved in the filly's care, said after the Indian Summer. "We foaled her, weaned her, prepped her, sold her. It's been an amazing process to watch her go along."
Bell, Keeneland's Vice President of Racing, purchased Averly Jane for $35,000 at the Fasig-Tipton October yearling sale last year. While he'd never before purchased a horse from the UK consignment, he said: "I always go back there and look at them. I love just looking at all the smaller consignors' stuff. And Dr (Laurie) Lawrence who runs the programme, I took her class like 20 years ago when I was at UK."
The third-generation horseman, who earned a finance degree with honours from UK in 2004, jokingly added, "I don't think I got a good grade in it."
More seriously, Bell said, "It's an awesome programme. The kids take a lot of pride in They do a great job. (Averly Jane) was at the sale and I kind of just fell in love with her. I bought two fillies off of them.
"It wasn't like a sympathy case," he said of his purchase. "It wasn't like I was trying to make a bunch of students' day. Because they're not getting the money. The money goes to fund the program. I thought she was a really nice filly."
Now worth far more than her purchase price, Ward observed. "She's done everything right," the trainer said. "Undefeated. We've got all of UK rooting for her, so we've got that in her favor as well."
UK did not nominate Averly Jane to the Breeders' Cup as a foal so Bell and his partners paid $12,000 in July to make her eligible.
"They can't really afford to pay the $400 foal nomination," Bell said of the UK programme. "The nominations (for two-year-olds) were due in like two days, or it would become $100 grand. I called Wesley and said, 'Hey, we think she's really nice. But $12,000 is $12,000.' He said, 'Nominate her'."
UK student Claire Wilson, also an intern in Keeneland's publicity department, said of watching a filly go from foal to stakes-winner: "There's not really anything like and I think that's why people stay in this business as long as they We're having a great time cheering her on."
The UK programme has about 35 mares in its primary herd, with mares and stallion seasons donated by industry participants
"The University of Kentucky — through our equine education, research and service — serves as the backbone of one of Kentucky's most important and vibrant industries," said UK President Eli Capilouto.
"We are home to the only scientific institute in the United States in which nearly all faculty are conducting full-time research in equine health and diseases. Against this backdrop, we are thrilled to see that a horse of our own — one born and raised by Maine Chance and sold by our UK team — has emerged as a favorite in the $1 million Breeders' Cup Juvenile Turf Sprint."
The UK equine programme has bred some other good horses, including $1.77 million-earner Fear the Cowboy, sold for $1,500 as a yearling. Chattel, who like Averly Jane is out of the Richter Scale mare Sh Sh Shakin' but who sold for $2,000, also won Saratoga's Skidmore. But with Averly Jane, UK is the breeder of a Breeders' Cup leading contender whose combined winning margin after four starts is 22¼ lengths while earning $313,140 [£230,000].
Daniel Deatrick was the student that led Averly Jane into the ring at Fasig-Tipton. Now he's hoping she is led into another ring: the Breeders' Cup winner's circle.
"I learned a lot from her," Deatrick said. "It's crazy what she's done in just that time frame. It's a lot of fun, and we're really proud of her."