Godolphin trainer Charlie Appleby is set to field six runners this weekend at Del Mar, all of them with legitimate chances, as he bids to embellish a fine record at the Breeders' Cup, where he has had three winners from just seven previous runners at a strike rate above 42%.
Outstrip was the champion trainer-elect's first-ever runner at the Breeders' Cup when he won the Juvenile Turf in 2013 at Santa Anita before Wuheida scored four years later in the Filly & Mare Turf at this year's venue. In 2018, Line Of Duty claimed the Juvenile Turf at Churchill Downs.
Here's what Appleby has to say about this year's team, who will be going in two-by-two in the Juvenile Turf (Albahr and Modern Games), Mile (Master Of The Seas and Space Blues) and Turf (Walton Street and Yibir).
Juvenile Turf: 'The rougher it gets, the more he'll enjoy it'
Albahr: "Albahr got his 'Win and You're In' slot in Canada last time but had a nice progressive profile going into that race. He's a gelded son of Dubawi and conditions will suit him. He's been to Canada, so he ticks a few boxes in that he's travelled and done track training. Some people don't realise jumping from the gates and having the bell ring just helps them get used to He might not be the best horse in the race, but he's one of those horses with experience. If it gets a bit rough around those turns, he'll be able to handle himself."
Modern Games: "Modern Games is our second runner in the race and another son of Dubawi. He won the Tattersalls Stakes in good style. I feel he takes enough experience into the race, but he's got a bit of class about him as well. He can travel very well so he won't lack the pace to go round Del Mar. I'm always a big believer in that you've got to be able to travel around there.
"They're two different types. I'd say Modern Games would be more like Outstrip where he's raised his level. If anything you'd say Modern Games would be just in front. I'd put Albahr in the Line Of Duty bracket, in that he'll go there with experience under his belt. The rougher it gets on those turns, the more he'll enjoy it."
Mile: 'He'll travel for fun around there'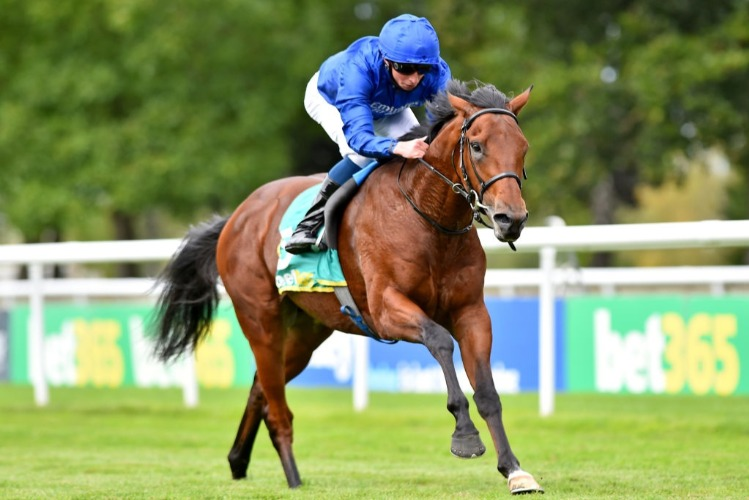 Space Blues: "We've been delighted with his last two starts when winning both the York Stakes and then the Foret. This will be the last run of his career; I'd imagine we'll be retiring him after this. He's done us proud.
"I feel a sharp mile round Del Mar will suit him. As we've all seen he's a great traveller. It'll be quicker ground than he's ran on in his last two starts, but it doesn't worry me as he won in Saudi Arabia on quick ground, and at Deauville. He's a very versatile horse. He'll travel for fun around there, and if the gaps appear, he's got the acceleration."
Master Of The Seas: "We probably saw him at his best when he was just touched off in the Guineas on quick ground. He won the Bet365 Craven Stakes before that Guineas second, then met with a setback.
"I was delighted with his comeback run in the Joel Stakes. He's most definitely come forward from it fitness-wise. At Champions Day the ground was just too soft for him. I was keen though to get another run into him because he'd missed a large chunk of the summer. He's come out of that race well and I think back at a mile on quick ground will suit him."
Turf: 'He was put in those Classic trials for a reason'
Walton Street: "Walton Street is at the grand age of seven now and he's one of the yard favourites. We saw his profile rise in Dubai and he was then given a deserved break after that. He put up a good performance in Germany on his first start after a break, finishing just behind the eventual Arc winner Torquator Tasso. He then headed to Canada for the International where he put up a dominant performance.
"He is maturing with age very well. He's a very straightforward horse in that you can go up and lead with him or he can sit just off the pace. He deserves to be there; he might not be good enough to win it but he won't look out of place.
"On what he achieved in Canada he probably does need to step up but there's bits of his form you could argue he's a live player. I know we keep going back to but you can't get any more rock-solid form than what he achieved in Germany. If any of those two who finished in front of him that day were to turn they'd be likely to go off favourite."
Yibir: "Yibir will be joining Walton Street, so we've got one of the youngsters joining one of the veterans of the stable. He's a gelded son of Dubawi and has been frustrating throughout his three-year-old career. He started his season running in the Classic trials, and running well, but not running the most straightforward races that you'd like to see.
"He was gelded before the summer and came out and won the Bahrain Trophy. He then went and disappointed us again at Goodwood. We changed some of our tactics on him and we left the hood on at York where he ran out a good winner of the Great Voltigeur. The plan after that was always to head to New York for the Jockey Club Derby as it's a race which we felt would suit him. He picked up in the straight and won it well.
"That was a 'Win and You're In' race to the Breeders' Cup Turf. He goes there as one of the youngsters but if he brings his A-game, he's going to be very competitive. I'm not going to be as bold to say he's as good as Hurricane Lane or Adayar, who are both Derby and multiple G1 winners, but he was put in those Classic trials for a reason. We liked him and we still do like him."