For Anthony Allen, it was his maiden victory on the Sunshine Coast.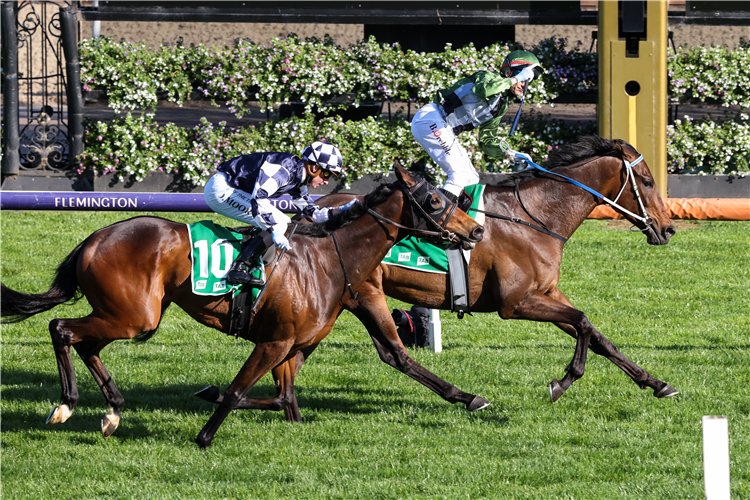 Those are the moments that it clicked in the mind of Incentivise's two main riders during his early days of racing in Queensland that they were apart of something special – maybe something they will never experience in their careers again.
Wilson-Taylor and Allen, who are good mates away from the race track, were the Caulfield Cup fancy's usual companions during his racing days in Queensland, the emerging apprentice partnering him on two occasions, where Allen was his main man six times.
Just as Incentivise was making his name as a star on the rise, it was Allen who was front and centre – joining him in five of his victories, including his last three before making the move to Victoria.
Before his mile maiden victory at Caloundra in the middle of April this year, the Shamus Award gelding was 0-3 in his trips to the races – including being beaten 16 lengths the start before at Toowoomba, but more on that later.
The history books show Incentivise bolted in by just over three lengths on the Sunshine Coast that day, after being well back in the field as they turned for home - and he has not been beaten since.
The 29-year-old Allen knew on that afternoon that he had just ridden a galloper that was well above ordinary.
"Just the maiden, the maiden I won on him, he was all over the shop," Allen remembers.
"Horses do not do that easy, he made it look quite easy that day.
"The leader kicked two or three lengths in front and we ran him down and put almost four lengths on him.
"The way he won that race, he was still green as grass.
"I remember saying to Steve Tregea after that race, every race we take him to he will win, I said "let's go to Brisbane town", I wanted to be in town with him.
"I said take him anywhere, this horse is just going to keep winning."
Even Wilson-Taylor admits he is a bit part player in the Incentivise tale – it was Allen who put him on the map when it comes to being the star of Australian racing through the 2021 Spring Carnival.
While Wilson-Taylor and Allen were there for the good times, they were also on board for the bad.
Both of the Queensland riders failed to get him up on their first chances to knock over his maiden status before he eventually broke through at Caloundra, Wilson-Taylor beaten 16 lengths on him as a $2 favourite on one night at Toowoomba.
He came back to the mounting yard that night and told breeder, owner and former trainer Steve Tregea that a winless Incentivise should have won comfortably on that evening, if he didn't run into a wall of horses just before the home turn.
And, win well he did the next time Wilson-Taylor was his pilot on race day – scoring by over seven lengths that night.
In the Clifford Park car park that night following the races with partner Angela Jones, who is a fellow apprentice hoop, Wilson-Taylor realised what had just occurred.