Art Cadeau has trialled publicly for the first time since winning the Country Championships, gearing up for the $1.3 million The Kosciuszko.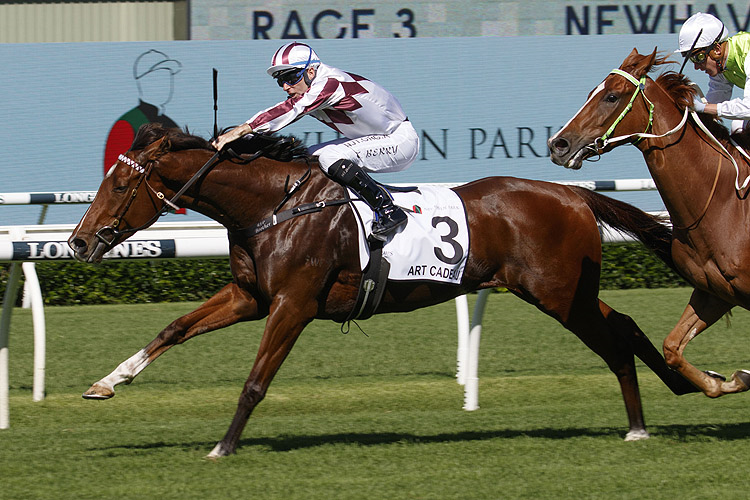 Kosciuszko second favourite Art Cadeau has ramped up his preparations with his first public trial at Hawkesbury on Monday morning.
The Country Championships winner finished just 2.4 lengths behind Group Two winner Trumbull and beat home the likes of Aim and Roheryn in the 5 f heat.
It was the fastest 5 f trial of the morning, clocking 59.23 for the heat and running the last 3 f in 33.25 seconds.
Tommy Berry partnered the gelding on Monday and is already confirmed to ride him in the $1.3 million feature.
Terry Robinson told SEN Track that everything is on target for the five-year-old to enter The Kosciuszko first-up.
"I could not be happier with him, he jumped like he normally does," he said.
"It was a very good trial, a good quality heat.
"Tommy (Berry) said he just dropped the bit coming to the turn and he gave him one little tap and he did it himself up the straight, which is great.
"He was really happy with him, Tommy, he thought he felt better than last prep which is nice to hear.
"Obviously coming back this time, it's a step up in class straight to open company, so that's what we like to hear. I'm really pleased with him."
Robinson has continually stated since winning the Country Championships in April that he would attack The Kosciuszko first-up with his stable star.
Although the race has never been won with a horse first-up, they tend to be competitive with the likes of Noble Boy, Redouble and Victorem all finishing in the top four after heading into the race fresh.
Art Cadeau has not finished outside of the top-two in his 11-start career but faces his toughest assignment when he steps out on October 16.
Robinson said he's likely to have another trial before heading into The Kosciuszko.
"He'll probably have one good hit out again," he said.
"We find that he is a good-winded horse, he's a good athlete.
"He'll let us know what he needs, that depends on how he does obviously and we'll just see what'll happen."
Art Cadeau was the second horse selected for The Kosciuszko, chosen by the Shoalhaven Heads ticket holder.
Three spots remain for the $1.3 million feature, with news the Jenny Graham-trained Victorem will miss the race due to injury.
Art Cadeau now sits as the outright second favourite as a $6 chance with tab.com.au.