They're the nation's best racehorse and the world's highest rated sprinter respectively and will hold centre stage at Royal Randwick on Saturday but it could easily have been a different story for Verry Elleegant and Nature Strip.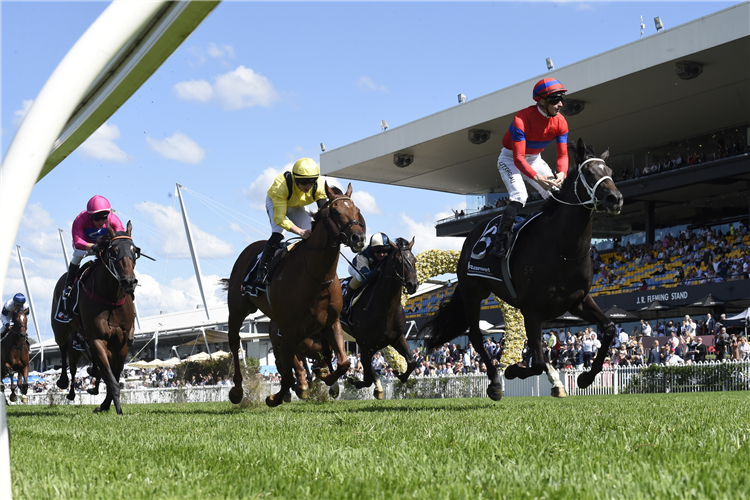 The reason they hold their status, according to champion jockey James McDonald, is the shrewd management of trainer Chris Waller and his team in transforming the star duo from problem children to superstars.
"Normally the good ones will find a way to go in the right direction,'' McDonald said.
"Both are similar, they're enthusiastic and probably over enthusiastic at times, everything comes pretty easy for them so they probably get a bit carried away at times.
"They know they're good and can do ordinary things without trying to do them and can get away with things more often than not."
Verry Elleegant eyes a ninth Group 1 win in Saturday's 0 Fujitsu General George Main Stakes (1600m) while Nature Strip's TAB Everest favouritism goes on the line in a star studded Group 2 $500,000 Bowermans Office Furniture Shorts (1100m).
McDonald recalled it was as an early four-year-old, after her Australian Oaks demolition, that he wondered whether Verry Elleegant would live up to her obvious talent.
She had a reluctance to settle and was often seen throwing her head up in her races but that's slowly been ironed out.
"She made good progression but she had a bit of a lull preparation then she came back and just went whooshka,'' he said.
"Most three-year-old fillies do have that lull preparation but not many of them end up like she does."
The six-year-old resumed with a gallant second, narrowly defeated by Mo'unga, in the Group 1 Winx Stakes (1400m) a month ago and McDonald was rapt with the performance.
She had no favours in the run but in true Verry Elleegant style she wouldn't surrender when challenged until the horse with an easier run nabbed her on the line.
"She was sensational, she really was,'' McDonald said.
"On fast ground too, which is a little detrimental to her chances in that she does like the kick out of the ground. She sat three deep, gave everything a chance to run her down and they got her in the last hop.
"A lot of other horses that had a picnic were entitled to run on so that's why there was a blanket finish. With any luck at all she will be the horse to beat."
Verry Elleegant was $2.20 favourite with TAB in the George Main on Wednesday, a race she's finished fourth in both 2019 and 2020 but rain early in the week has McDonald confident she'll strike a surface "tailor made for her".
The trials and tribulations of Nature Strip have been well documented.
The seven-year-old, a brilliant first-up winner of the Concorde Stakes (1000m) two weeks ago, will meet five fellow TAB Everest runners on Saturday and McDonald said he's well equipped to handle whatever happens in the race.
McDonald is adamant the controversial move by Waller to experiment with trying to harness Nature Strip's speed by riding him a little more conservatively was a masterstroke.
"I know we were heavily criticised for restraining him in a few of his race starts a few years ago,'' he said.
"I still believe to this day if we hadn't have done that we wouldn't have got the horse we have now.
"Chris is really happy with him, he's a master at getting these horses to do what he wants. When he has a mindset of teaching a horse something he usually wins the battle."
Nature Strip, $2.40 with TAB on Wednesday, had little more than a barrier trial in his all the way Concorde win and gets his chance to throw down the gauntlet to his TAB Everest rivals where he heads the market at $4.50.
It's a slight change of tack from Waller to point Nature Strip at The Shorts this year given his two previous Everest campaigns took in the Premiere Stakes as his final lead up.
"It's been the best kick off point for him since we've had anything to do with him,'' McDonald said.
"It couldn't have gone to script any better. He would have bounced out of that no worries at all.
"He looked the finished product a couple of Saturdays ago so he's just got to replicate that and it will take a hell of a horse to beat him."