Popular Gold Coast trainer Gillian Heinrich believes she has found her true calling in life.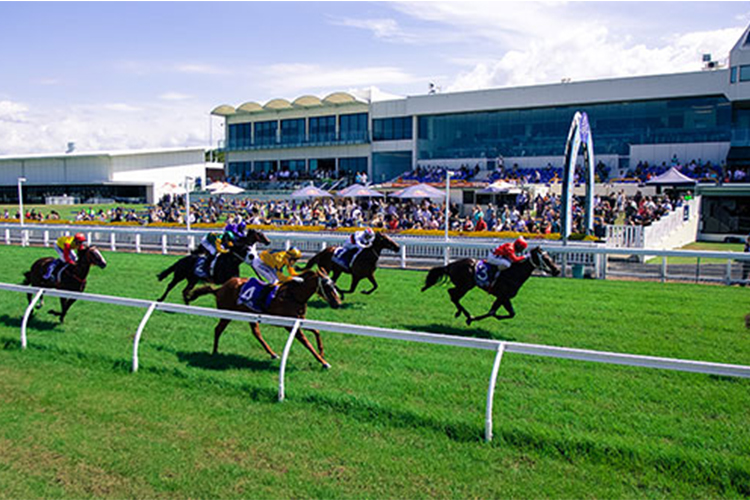 Only recently given the all clear that she is out of the woods when it comes to her almost decade-long battle with cancer, Heinrich has now switched her attention to guiding and supporting those that are battling through what she once experienced.
At the height of her cancer concerns, Heinrich was on two separate occasions informed to get her affairs in order.
She is still fighting, doing what she loves, training her barn of horses and like thousands in the Gold Coast community, Heinrich will be on hand as the 2021 Queensland Spring Racing Carnival heads to Aquis Park on Saturday, September 18 for the Pink Ribbon Cup.
The 63-year-old takes pride in being able to guide others on their journey through cancer after going through it on three different occasions.
"I have had so many people ring me and I have had done a number of interviews around my journey because people are going through similar themselves," Heinrich, who was recently included in the Gold Coast Turf Club's Hall of Fame, said.
"I give them ideas about what they can do to help themselves, I really feel that is my place now to give back and show those people that you can pull through – with a positive mind.
"It is my calling – to try and help other people.
"I go to a clinic every Thursday and it is always full with people who have recently been diagnosed and are really battling, I sit there and talk for hours with them about what I went through and answer their questions - I get a kick out of helping them."
The Bundall trainer was first diagnosed with bowel cancer seven years ago, still working with the horses at the time, before falling over on one day at the track – believing she just had a sore back and there was nothing seriously wrong with her.
By the time the Magic Millions Classic-winning trainer made it to hospital, she had perforated her bowel.
Two years on from the initial bowel cancer diagnosis, it was then in Heinrich's lungs and then two-and-a-half years following that, it was in her lymph nodes.
"Twice I was told to get my affairs in order," Heinrich reflected.
"Twice I thought – I have got a great family, I have too much to live for, I love training racehorses and I wanted to still be here.
"I got the all clear with all the cancers and the cancer cell count – which is the most important thing - it is all zero, zero, zero and I can now get on with my life and do what I love doing – training racehorses."
The Pink Ribbon Cup day is one of the biggest days of the year at the Gold Coast Turf Club, according to Club Racing Manager Ian Brown.
Last year's Pink Ribbon Cup was run for the first time as a standalone Saturday metropolitan meeting, giving the day extra prominence, with the same status afforded to the popular event in 2021.
The day went close to raising $200,000 last year according to Brown, with club officials hoping to raise the bar again.
Now in its 14th year, the Pink Ribbon Cup has become Australia's largest community fund-raiser for the National Breast Cancer Foundation.
"We have been building this day for over 13 years, it started with about 30 people just in a room somewhere and now we are getting around 5000-6000 people," Brown said.
"It is the single largest day for racing funds for breast cancer survivors, the Gold Coast Turf Club – including chairman Brett Cook and CEO Steve Lines – have done a fantastic job to get it as a standalone Saturday.
"It was a huge day last year being the first metropolitan Saturday meeting and we are looking forward to growing on that this year."
Boasting as many as 60 gallopers in her stable as one of the top trainers in Queensland, Heinrich has down-sized in recent years after her cancer scares, training around 30 these days at her Bundall yard.
The Pink Ribbon Cup race day is an event the entire Gold Coast gets behind Heinrich says, as she hopes to have as many as three starters go around across the card.
"Anyone that has had cancer, a really good day out like this, it really resonates with you," Heinrich said.
"You find a lot of the ladies there that do promote the day, they have gone through cancer as well – so it does hit home.
"You realise how grateful you are, I know I to still be here.
"I know there is a lot of women who feel the same way."
Aquis Park will be a sea of pink this Saturday with club staff even donning pink attire to mark the occasion.
"We are a non-for-profit organisation and that is one of our big drivers, we want to be able to put back into the community," Brown said.
"We have a number of fund-raisers throughout the year and this is easily our biggest.
"Hopefully we can raise as much money as possible for the community."
With six metropolitan race days to be held on the Gold Coast this season, Brown says the club is always keen for more feature Saturday racing at their club.
The Pink Ribbon Cup, for fillies and mares, will be run over 6 1⁄2 f for $125,000.
Heinrich, one of the most famous names in Gold Coast racing, has four gallopers from her stable nominated across the program for this Saturday on her home track.