Desleigh Forster will never take for granted training a winner in Brisbane. Why? Because it is easy.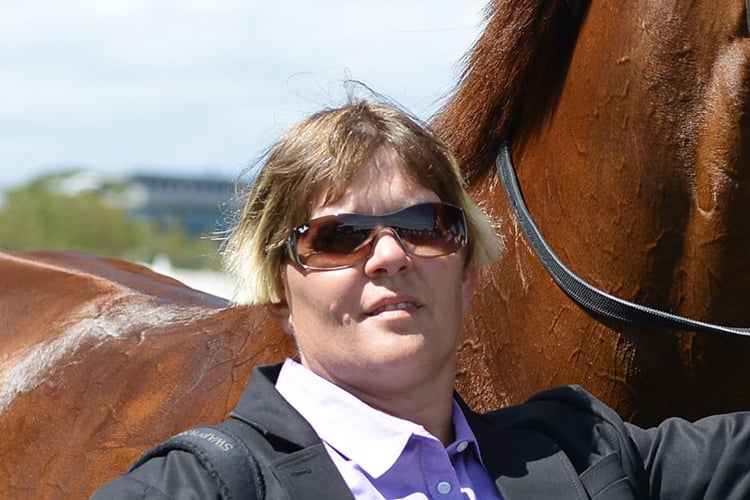 It is easy to prepare a galloper to win a race in the south-east compared to where she grew up and all that goes into getting a horse to the races.
Out in Ilfracombe, in the Central West Country Racing Association of Queensland, most trainers do the horses of a morning before the sun rises, drive four hours to the races, then back home in the evening and then get up and go to work at their day job the next morning.
Where Desleigh Forster cut her teeth in the racing industry, it teaches and develops an extreme work ethic, on top of being a horse person, before ever being a trainer or a jockey.
"I come from a family that had to work to get where we are now, it has not been handed to me on a platter," Forster said.
"I have worked very hard coming from the country, you have to do those hard yards in the country."
Forster's father Henry introduced her to horses at a young age and still trains a team of gallopers to this day at Ilfracombe, which is 1,153 kilometres north-west of Eagle Farm, where Desleigh houses her horses.
She was around livestock and horses from a young age, before eventually moving into being around racehorses, with a guiding hand from Henry, who Desleigh describes as an excellent horseman that taught her much of what he knows.
"From day dot, I have always been around horses; that is all I did, but I did not get into racehorses until I was 16," Desleigh says.
"It was a very good grounding staying in the country.
"You do not take things for granted, I have been very lucky since I moved down here and started training, always having decent horses.
"In this industry, you do not take anything for granted."
Apache Chase is a live chance for the 2021 $1.5 million Group 1 Stradbroke Handicap this Saturday after his grinding victory in the Group 3 Fred Best Classic last month.
The three-year-old bay gelding, a winner of five from 13 career starts, is owned by businessman Michael Sherrin, who is based on a massive property on the Sunshine Coast.
Sherrin has only been in horses for around six years but admits Forster's knockabout country attitude and demeanour, on top of her outstanding results as a trainer drew him to send his horses to her.
He wanted a trainer that would connect with his horses, as well as making sure they get their nose past the winning post first.
"We outgrew the other trainer we had, so we had a look around and I had seen a bit about Desleigh in the paper and I followed her a bit," Sherrin (pictured) said.
"We own a unit there at Eagle Farm and we thought to have a trainer that was based there with the horses would be an advantage.
"We didn't want to get in with one of the big trainers and I just really liked that she is a horse person, we have got close to her and developed a good relationship, as she has with the horses.
"She is a country girl and a horse person."
When departing Ilfracombe, it did not just happen straight away for the aspiring trainer Forster.
She was mentored and tutored by experienced industry figures like champion trainer Peter Moody, who also hails from the bush in Queensland, and fellow trainer Barry Baldwin.
Baldwin handed her a job in town once she arrived from the country while Moody will still get a phone call every now and again from Forster to this day for a piece of advice and guidance.
"When I was back home, I have been in Brisbane for 20 years now, we used to travel four or five hours one way to get to the races," Forster reflects.
"That is a 10-hour day, on top of getting up doing the horses in the morning, as well as a day job.
"It was tough and hard but what I am doing now training racehorses in Brisbane, this is easy compared to life back there.
"Everything is good so hopefully we can reward ourselves on Saturday.
"It is way easier, these days we complain about going to Dalby to race a horse, that is nothing like what they do in the bush, some people drive eight hours one way in the country to race a horse."
And, what about the reaction back home in Ilfracombe if Apache Chase was to be crowned the 2021 Stradbroke champion?
The time-honoured Queensland race was won by those in the bush last year, with Cairns' Tom Hedley and Tolga's Roy Chillemi celebrating Tyzone's stunning win from the north of the state.
All those in the racing industry in the Central West Country Racing Association are dreaming of making it two regional winners on the bounce come Saturday evening.
"Mum and dad would be over the moon," Forster said.
"Dad would probably ring me on the Sunday if we did win and he would bring me back to earth pretty quickly.
"If I did win a Stradbroke, I have some very good friends and family around me and they would bring me back to earth too."
While Forster is hopeful of winning the Group 1 Stradbroke Handicap at her first attempt in the race, Sherrin has declared he is confident Apache Chase can write his name into the history books.
With a featherweight on his back, at his favourite track and distance and with one of the best jockeys in Queensland, Jim Byrne, on his back – Sherrin believes every factor is pointing in a positive direction.
"It would be a dream, it is a privilege to have a horse in a race like the Stradbroke in the short time we have been in horses, let alone win it," Sherrin says.
The Sherrin and Forster partnership was struck out of luck, the owner calling the trainer out of the blue, with Red Chase first wearing the orange and red colours for the Forster stable, before the Stradbroke contender soon followed.
"It is a pleasure to train for them, they are lovely people," Forster said.
"People will often ring you about taking a horse, but they are rarely ones like this."
In her barn's first crack at a Stradbroke Handicap, Forster heads towards Saturday knowing she is there with a genuine chance and not just making up the numbers.
The son of Better Than Ready was at his laid back best at his Eagle Farm box earlier this week, taking it all as it comes as he heads towards his biggest test yet.
"He is going good, he is nice and bright and well," Forster said of Apache Chase.
"We are looking forward to Saturday.
"He came through his last run really well, too well.
"He is well, happy, bright and he is playing around."
As of Thursday afternoon, Apache Chase is a $11 chance in the Stradbroke with the TAB.