If not for an instinctive move when he hit the ground, jockey Jean Van Overmeire could well be in a hospital bed and not preparing for a book of rides at Randwick on Saturday that he hopes contains at least couple of winners.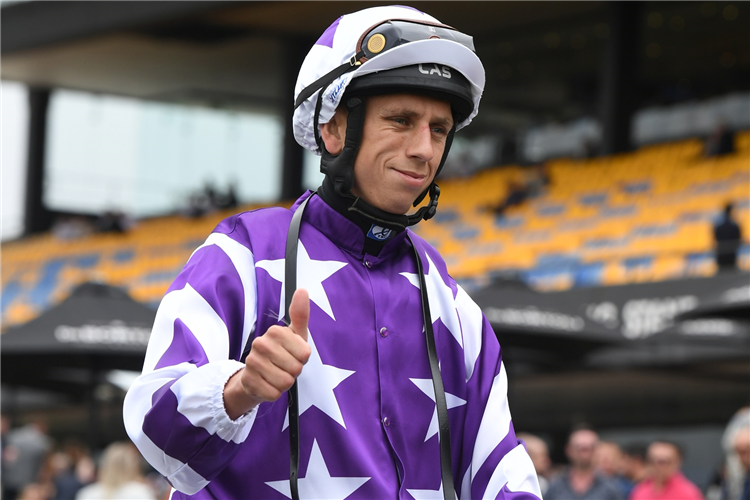 Jean Van Overmeire gave a sobering insight into the risk a jockey takes every time they're legged onto a horse when he recounted the events at Gosford from Thursday when Skyray reared in the stalls prior to the running of race six.
"The horse flipped over in the gates and slingshot me out the back,'' he said.
"I was wedged between the back post in the gates and the horse and I couldn't move until he moved. When he moved I fell to the ground and he continued to flip out of the gates.
"When he hit the ground it was inches for sure, I just moved my legs in time. Otherwise he would have landed straight on my legs with his shoulder.
"I don't think I'd have been walking. I'm a bit sore in the ribs but I think it's muscular more than anything else."
He only missed Friday's Warwick Farm trials, where he had one ride, so it's a welcome change of luck for the 26-year-old whose name has appeared far too often in headlines ending with the words 'injured again' for anyone's liking through 2019 and 2020.
Among his nine mounts are four horses hard in the market kicking off with unbeaten two-year-old Park Avenue ($5.50) in the Fujitsu General Handicap (1200m).
The gelding produced a blistering finish, clocking 33.87 for his last 3 f (Punter's Intelligence), when rounding them up over 5 1⁄2 f two weeks ago and Van Overmeire hopes he can repeat the dose in a stronger race but perhaps from not as far off them.
"If he jumps as well as he did the other day he can be more forward but I'm sure Michael (Freedman) will want him to get some cover which is the right thing to do,'' he said.
"I think he's a nice horse, it's a strong field. Stronger than what you'd think but Park Avenue has got some class to him as well.
"He is only going to keep improving once maturity comes on his side, he handled soft the other day and I suppose now is the time to find out if he handles a true heavy."
The Bjorn Baker-trained Belluci Babe was another eye-catcher when she finished third over 5 1⁄2 f at Randwick at the same meeting and the question remains whether she can stretch an extra 0 in the 50 Year And Life Members Handicap (1200m).
The mare ran the fastest last 3 f of the meeting, posting 32.81 as she tried to chase down Lillemor and Malkovich but fell less than half a length short.
Van Overmeire, 11 wins away from outriding his apprentice claim, said the leaders probably got a bit too far away at a vital stage as Belluci Babe, $5 with TAB on Friday, needs to be ridden in a certain manner to be most effective.
"The way she ran through the line you'd think she would definitely get 1200m,'' he said.
"It felt like they were going too quick and I was going to pick them She only has a short, sharp, turn of foot so you have to hold her up as long as possible to show it.
"It (1200m) is a question mark but one thing's for sure Bjorn wouldn't have out her in it if he didn't think she was up to it."
In-form sprinter Dream Circle made it back to back wins this prep when he downed Canasta at the May 29 meeting and Van Overmeire rides both in their respective races on Saturday.
He rode Canasta in that race with Keagan Latham partnering Dream Circle to victory but is back on board the David Payne-trained gelding with the class rise dropping his weight to 54kg.
Dream Circle, stays at the same distance in the ACY Securities Handicap (1300m) while Canasta will step up slightly in trip in the Precise Air Handicap (1400m) where he's a $4 chance.
"He's really put a nice record together this prep,'' Van Overmeire said of Dream Circle.
"To win three on the bounce is difficult for any horse. He has a couple of things in his favour, a good barrier and loves a wet track, and he's definitely a horse in the right frame of mind."
In a perfect world Van Overmeire said he'd like a dry track for Canasta but the five-year-old has a strong second-up record and is proven on a soft 7 at Randwick with a close up fourth last preparation over a mile.
"His run was very good the other day, he's a genuine tough on speed horse that rolls along at his own tempo and he finds off it as well,'' he said.
"I would love for him to be on a dry track where he can just jump and follow the rail around. That'd be ideal but we're not going to get that so we just hope he gets through the heavy."