It's All Star Mile Day at the Valley and all eyes are on the skies after the Bureau forecast rain in a race where that looks relevant.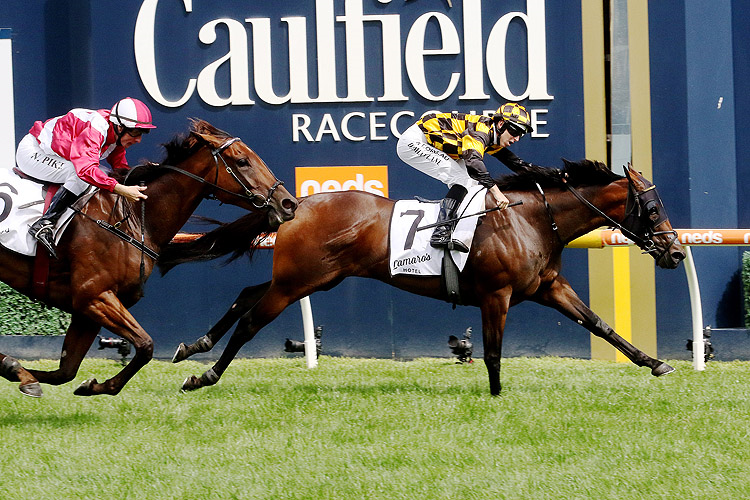 Relevant because on good ground Arcadia Queen's power and pace look to pack too much punch for several of the other market players. Russian Camelot has already had a first hand look at her speed when she roared past him in breathtaking splits to win the Caulfield Stakes.
She showed off similar strengths in the Mackinnon, ripping home off a crawl to go from a theoretically poor position in running to completely in charge in a heartbeat.
But in the middle of all of this she laboured on a soggy Valley surface when the emphasis switched from speed to stamina. Probabeel, back better than ever this campaign, was also hampered by the going that day as the slower but stamina laden Sir Dragonet powered through the muck to score.
Arcadia Queen was beaten fair and square by Probabeel in the Futurity but Arcadia Queen's spring is coiled tight, ready to explode up to the mile off that prep run. The overall package stamps Arcadia Queen as the better horse and the better chance, and we are ready to stamp her as the bet of the day.
We must, however, pause to mention the dreaded vet check that Arcadia Queen has faced through the week. She threw a shoe, pulled up with a bit of lameness. What to make of it all?
You can't even begin to know all the variables in a horse race. Racing horses is inherently chaotic. Explicitly or inexplicitly, you trust good stables and vets every time you bet.
Grant and Alana Williams have done a magnificent job bringing Arcadia Queen back to the boil this season and we are happy to trust them to get it right as they so often do.
If only we could trust the weather! In the event of rain playing a major role the only real change to our assessment would be to narrow the gap between Arcadia Queen and Russian Camelot. He may not be able to live with her speed but he can match motors if that asset is dampened.
We could throw him up as an each way play in the same race but instead we will put up his stablemate Young Werther - another middle distance horse learning his craft.
We make mention of him learning his craft because he is still so new, and his run in the Autumn Stakes was one of a horse who did very little to help himself. He was unable to get into a spot to trouble them in the Autumn Stakes but he was starting to warm to the task late on and he looks sure to be better for that hit out after being completely run of his feet in a fast race first up.
He was set to start a dominant favourite over Cherry Tortoni in the Vase here back in the spring before scratcing due to the rain. Cherry Tortoni went on to win well and they finished side by side, and at the same starting price, in the Derby thereafter.
Cherry Tortoni probably should have won that Derby and he should have won the Guineas last time, but for negtative tactics. He's the best performed horse here, no question, but will he be allowed to show how good he is or will he be taken back behind lesser horses and have his task 'tricked up' once again? Questions we don't want to have to answer down around even money. Questions that are far cheaper to answer at the each way odds Young Werther is currently trading at.
THE MELBOURNE MAIL
Bet Of The Day: Race 8 #10 Arcadia Queen @ $3.50
Each Way Play: Race 5 #2 Young Werther @ $7.50