The Lightning Stakes is invariably one of the strongest Group Ones on the Australian racing calendar.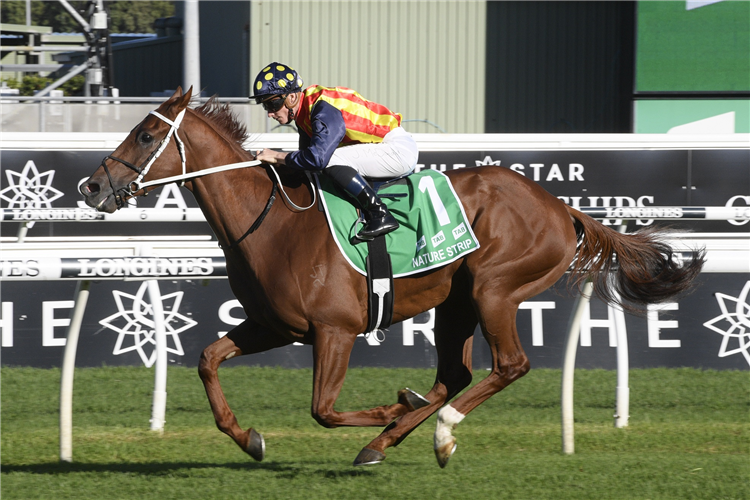 In fact, the Lightning extends beyond Australia and can be confidently described as one of the best races in the world. Australian racing is largely geared towards speed and a quick scan of the honour roll shows that the Lightning is one of the races where our best display it.
Our elite sprinters in the past couple of seasons have been less reliable than some champions of the past but we certainly haven't lacked for peak performances and two that have produced some of our biggest recent peaks clash in the 2021 Lightning - Bivouac and Nature Strip.
The last two winners of the VRC Classic, each producing a world class performance to take that prize in dominant fashion, would be a match for any sprinter on the planet - when they are When they are on nothing in Saturday's Lightning field would be a match for them but a quick look at the records of both Nature Strip and Bivouac says that they are off as often as they are on.
Very beatable individually but beating both becomes a much harder game. We can think of that game like tossing two coins. Heads they fire tails they falter.
Individually they are 50/50, off or True or false. Heads or tails. But throw them both at the same time, in the same race, and we get four possible outcomes.
Bivouac fires, Nature Strip fires.
Bivouac fires, Nature Strip falters.
Bivouac falters, Nature Strip fires.
Bivouac falters, Nature Strip falters.
The chance of getting them both on an off day drops from 1/2 to 1/4. At least one fires 75% of the time.
Of course we have made some big assumptions here. Foremost that each is 50/50 to fire or not. Their records over the past 12 months where Nature Strip has won 2/7 and Bivouac 2/8 might suggest that they are a bit less likely than that.
But this is just a quick thought experiment for a tipping blog so let's just chill.
We can also keep it general in saying that if they both fire they are about as likely to win as one another. Bivouac as a Timeform rating of 128 and Nature Strip 129. There is very little between them at their top so this seems a fair assumption.
Given that, they win between them 75% of the time which equates to 37.5% apiece. Odds around 13/8 or $2.66.
Early markets have, as would be expected, put more weight behind recent form and give the edge to Bivouac. Generally $2.75 to $4.00 which equates to them winning a shade over 60% of the time. So our assumption makes the pair more likely than the betting and just about all of that extra percentage is loaded into Nature Strip.
With that in mind he looks like a good bet. Of course the flaws in our assumptions are likely to be better weighed by the magnificent variable weighing machine that is the market, and we are probably wrong, but we only need to be vaguely right.
One thing that seems apparent looking at the ratings of the pair is that Bivouac is the more likely of them to win the Lightning despite a bad run. When Nature Strip fails he does it in style.
Running a quick Monte Carlo style simulation of the pairs ratings over the past 12 months, where we essentially toss two coins, one called Nature Strip with seven sides and one called Bivouac with eight sides, 10,000 times, Bivouac comes out on top around 60% of the time.
That gets us closer to the market view. Still, 40% of our 75% equates to Nature Strip winning 30% of the time which makes 3/1 a worthwhile gamble. A lot of messing around to end up throwing up a 3/1 chance as a good bet. But here we are!
After that long-winded ramble we will keep the each way play very brief.
Morvada got tired late on when resuming last time but his effort there was probably better on paper than it looked and he is typically rock solid over the Flemington 1400m.
Buffalo River is a better horse and Regardsmaree is in the zone but with the market all over that pair each way odds make Morvada a gamble worth having.
THE MELBOURNE MAIL
Bet Of The Day: Race 8 #1 Nature Strip @ $4.00
Each Way Play: Race 3 #7 Morvada @ $6.50